5 Reasons To Choose A Farmhouse-Style Home As Your First Property
Jan 4, 2023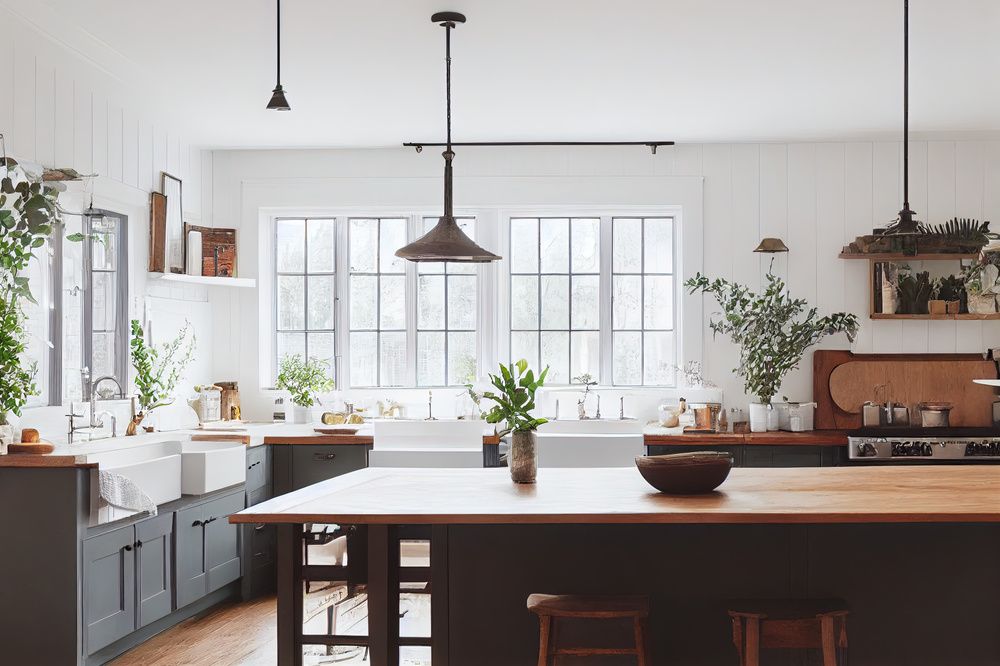 Farmhouse-style homes combine the appeal of rural architecture with modern comforts. They're characterized by large spacious kitchens, ample outdoor spaces, exposed wood, and large front porches. They emphasize functionality above all else. Whether vintage, classic, rustic, or traditional, farmhouse designs mimic the look and style of farmhouses in the past. They integrate simple and minimalistic décor with sturdy and practical furnishings.
Their modern versions incorporate a relaxed, comfortable style with modern touches, such as glossy accents and smooth lines to give a contemporary ambiance. Stainless steel appliances, sleek lighting, and modern designs are used to add sophistication.
With that being said, here are some compelling reasons why you should consider a farmhouse-style home as a first-time property owner:
1) Less Costly
Every aspiring homeowner wants a house or floor plan that meets their demands and also satisfies their aesthetic preferences and financial limitations. Typically, farmhouse-style homes are single or double-storied structures with simple and concise layouts. With its straightforward plan, a farmhouse-style house offers flexibility that can accommodate different aspects of your home needs. With rooms close to each other, you get to have larger open spaces for use and arrangement. They also give a clean and simple exterior.
A farmhouse-style home is a traditional and aesthetically pleasing style that doesn't require a huge budget. Compared to other building styles, you are more likely to find a home or plan that fits your budget and needs. You can hop over here to explore more farmhouse-style ideas.
2) Flexible Decor
A farmhouse-style décor is inspired by country style, practical furnishings comprising rustic design and natural materials that embrace friendly beauty. It exudes a warmth that many people want in their homes. Although everyone has their unique sense of décor style, most materials used in farmhouse designs are common. Some décor materials include dull and chippy finishes, repurposed materials, brick walls, and farmhouse signs. Reclaimed wood elements and antique clocks are used to refine the look and add contrast and character to spaces.
While a farmhouse-style décor has an inviting, soothing, and homeliness feel that embraces country and modern designs, it can be easily created. Utilizing elements that already exist, are found in flea markets, or even DIY projects make for farmhouse-style décor.
3) Easy To Update
Traditional farmhouses were mainly built using natural wood or bricks. The houses were durable and were expanded as the family grew. The modern farmhouse-style home borrows most of its aspects from the traditional one. Adding to the home is easier because the formal rooms are at the front while the rest are positioned toward the back. Due to its simple design, you can renovate your house and make it more functional and accessible.
Moreover, the décor elements and color pallet are easy to manipulate into different themes to suit your preferences. It makes it easier to update your home through the years.
4) Style Plays Well With Other Designs
Farmhouse-style mixes new and old and elements that don't necessarily match. The modern combination of metals and wood borrows from traditional-style farmhouse designs. Contemporary and vintage accessories combine to give a farmhouse-style home a unique personality. A farmhouse design enables you to customize your home by choosing various materials and finishes, including paintwork, countertops, flooring, and lighting. It makes playing around with different styles easy to get what you consider best.
It's easy to add touches of different styles to your farmhouse-style home without appearing awkward. Contrasting materials fit in well. If you want to refresh your home in the future, you can easily transition to another style or blend in elements of another style to get the desired outcome.
5) Appealing Characteristics
Farmhouse-style homes are likable because they have quality features while still maintaining their simplicity. The wood elements, white walls, doors, cabinets, and other items synonymous with farmhouse designs replicate their traditional counterparts. These aspects appeal to modern homeowners because the wood brings warmth, and the white makes the spaces look clean and attracts natural light.
The high ceilings that many farmhouse-style homes showcase enable air circulation and offer breathing space. The big porches earlier used as storage spaces for muddy boots and firewood are now inviting areas to unwind. They are also used for recreation.
Conclusion
As a new homeowner, a farmhouse-style home offers simplicity and functionality you'll appreciate. Now that you have an idea of what a farmhouse-style house entails, you have the opportunity to choose from a variety of designs. Whether you go for an industrial, coastal, Scandinavian, modern, or rustic design will all depend on your taste and preference.
Get in touch. Send us a message now.