Sellers save thousands with our low 1% listing fee
With a traditional brokerage, the total commission paid by a seller is typically 5%-6% of the home's selling price, and each agent gets 2.5%-3%.* At SimpleShowing, the listing agent fee is just 1%, which lowers the total commission to 4%.*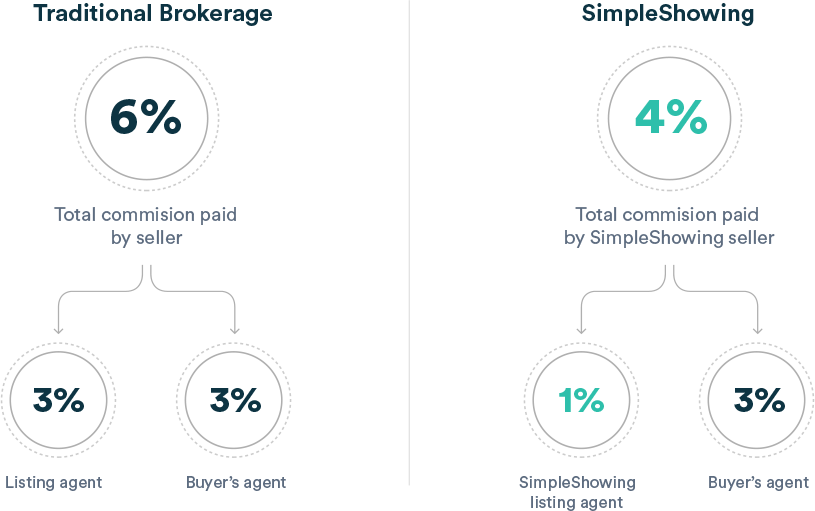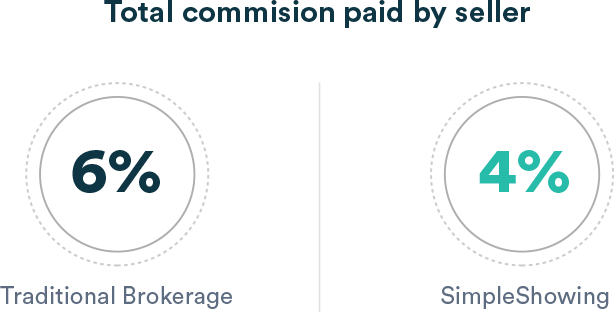 *May be subject to commission minimum, depending on market.
AS SEEN IN:





Sell your home for a 1% listing fee
Get started online. Let our team of real estate pros take care of the rest.
Step 1
Get a Free Home Valuation
We help you determine the most competitive price for your home.
Step 2
Schedule Professional Photos
We coordinate professional photos for no additional charge.
Step 3
Your Listing Goes Live
Your home will appear on the MLS and dozens of real estate sites.
Step 4
Our Expert Agents Handle Everything
We manage the showings, the negotiation, and all the paperwork.
SimpleShowing vs traditional agents
Get everything you would with a traditional agent, but only pay a 1% listing fee.
Traditional Agent

Local real estate agent

Listing on MLS, Realtor.com, Zillow, and more

Professional photos, lock box, and yard sign

Negotiation and paperwork support

Price assistance (CMA)

1% flat listing fee

Featured on SimpleShowing.com

Listing agent commission

3%

1%

Not including buyer agent fees
Customers love our service as much as our savings
Join hundreds of savvy homeowners who've listed for 1%
$5,062
Buyer Refund
Alpharetta, GA
$16,210
Seller Savings
Cumming, GA
$5,415
Buyer Refund
Tampa, FL