5 Tips to Create a Ranch-Style Interior for Your Home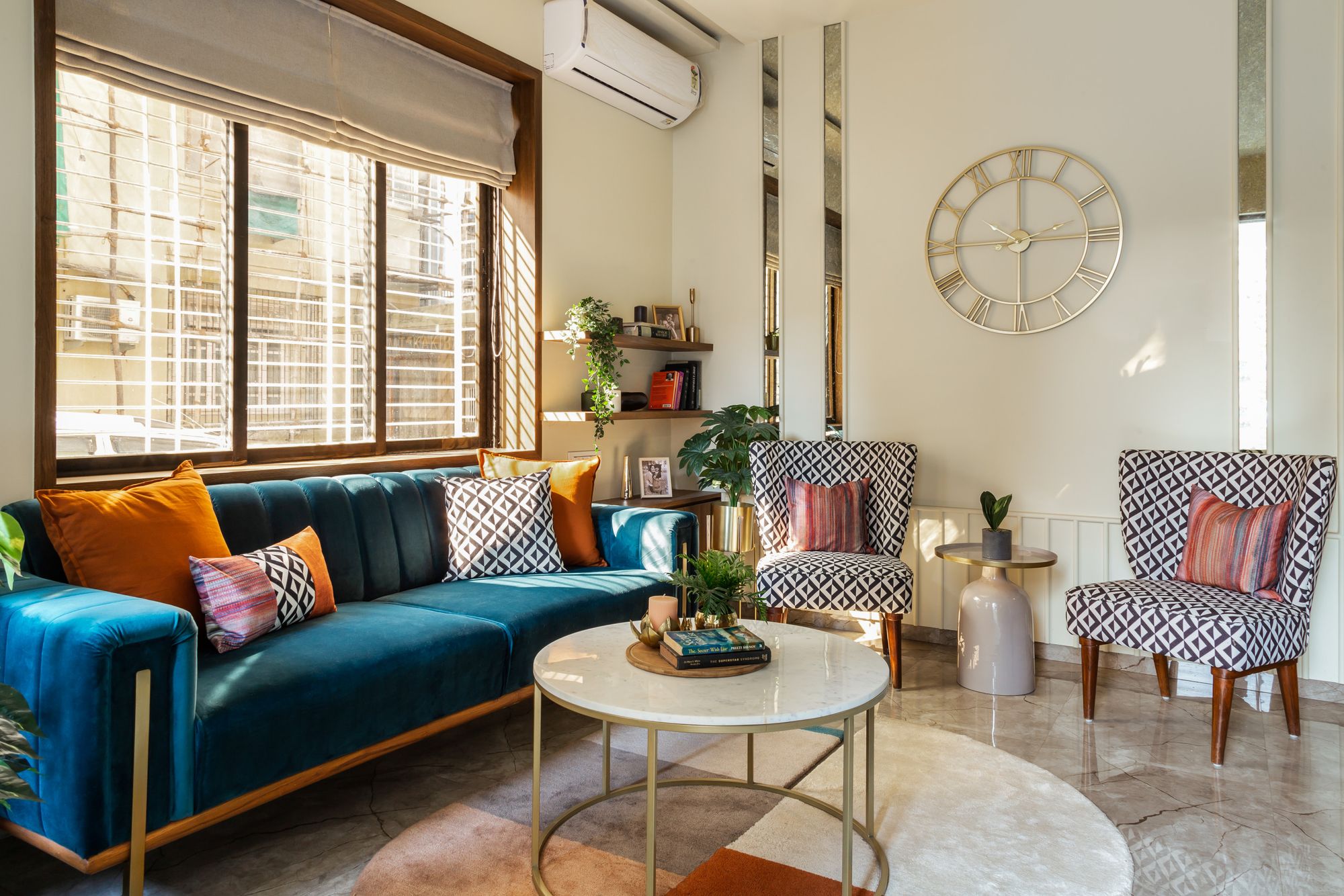 Sep 15, 2023
A ranch-style home in a nutshell is a sprawling, low-strung, single-story structure. The ranch-style design is all about rusticness, warmth, and connection to nature.
So, how can you incorporate this into your home? We have developed a list of 5 tips to create the perfect ranch-style interior for your home.
Open-Concept Floor Plan
A key element of ranch-style homes is the single-story open-plan living space. This cultivates the essence of togetherness and interaction within your home.

This open, casual, light, and airy layout requires you to make the most out of your space without cluttering it with excess bookshelves or room dividers. One floor in your house means easy maintenance! And no staircases means ranch-style is the ideal home design style for families with members of all age groups.

As much as you want to avoid room dividers, it's still important to create the illusion of various rooms. Use custom rugs to create a warm, welcoming atmosphere, and mix your flooring materials to break up the space naturally.

An open-concept single-floor plan can be cheated with split floors, which are still technically single-story. The slight height difference maintains visual spaciousness and puts everything on full display, while still separating room spaces.
Sleek Mid-Century Modern Elements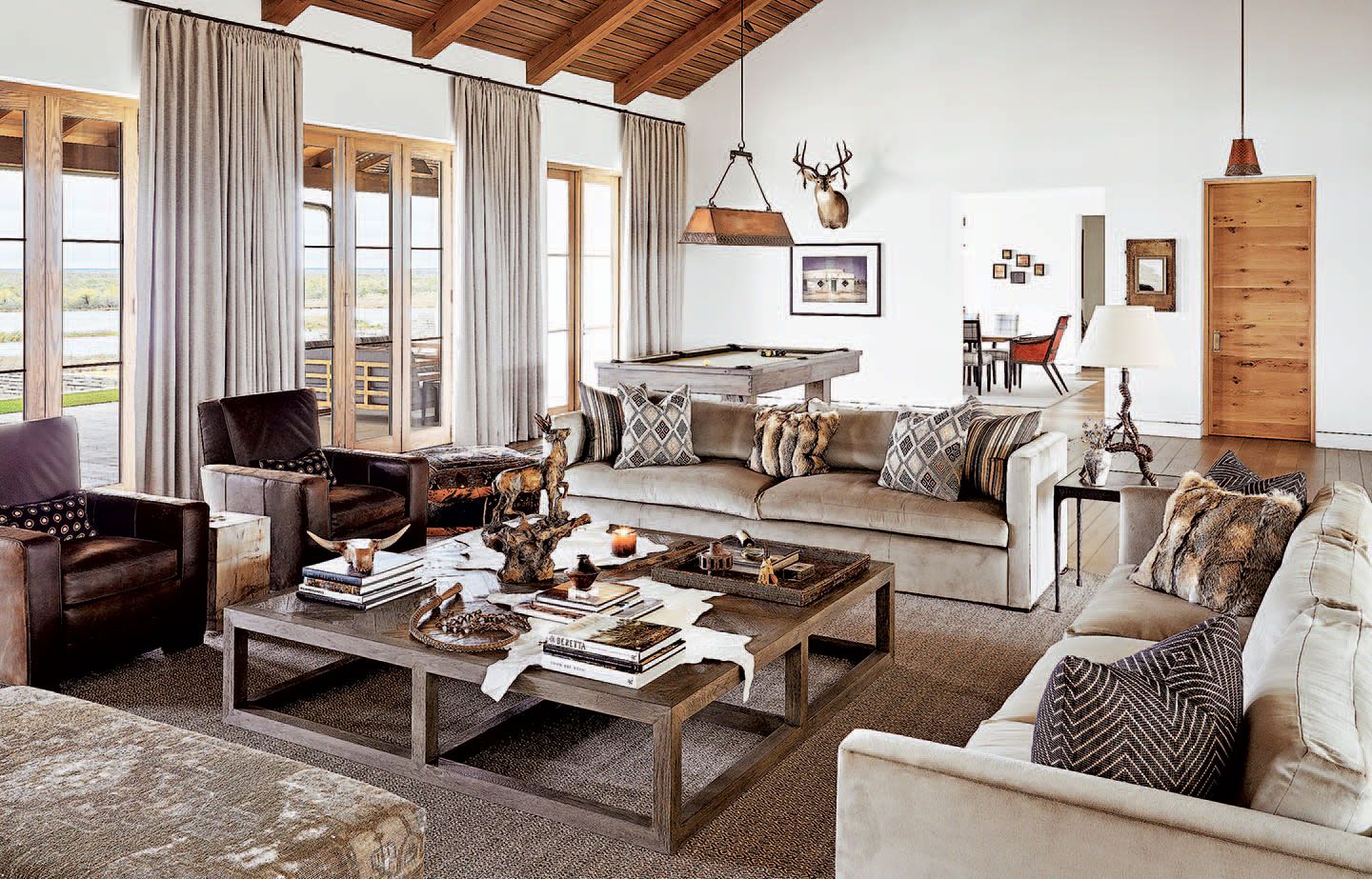 The ranch-style design focuses on comfort and functionality. Avoid introducing too much furniture that can obstruct movement and cause your home to feel chaotic.

The furniture you introduce should have slim, boxy, and streamlined silhouettes to align with the ranch-style concept. This style incorporates elements of mid-century modernism, which is very on-trend! Sleek, simple silhouettes create a lot of negative space, seamlessly emphasizing the gorgeous layout of your home.

Position sofas perpendicular to each other for clean lines, and to help frame the space and differentiate between rooms. Add extendable dining tables that you can configure to accommodate different activities.

We stress the importance of storage furniture that sits close to the ground. This creates high visibility from one room to another, encapsulating the ranch-style energy.

Based on your style, you may choose to balance out the boxiness with some curves for added coziness. Consider furniture styles that are overstuffed and tufted, with a general curved outline. This includes seating options such as ottomans, and round, hanging lighting fixtures.
Neutral Colour Palette
Paint color has immense mood-setting power. It's especially important in an open-plan layout when most colors are in view at once. A ranch-style home aims to create an open, warm, and inviting atmosphere.

Manifest this with earthy, natural tones and colors, muted hues, and subtle pastels. However, this doesn't imply an all-white house! Light and versatile neutrals can be in the form of browns, blacks, bieges, greys, light and soothing blues, creams, and off-whites.

Off-white paint colors are produced with a variation of undertones, such as grey, blue, green, and pink. Don't mix too many warm and cool undertones though, as this can be rather jarring. Make the perfect color combination by bringing home paint palettes before committing to your paint colors.

It may seem like the best option to use the same color in every room to enhance cohesion. This isn't necessary! Choose one or two colors to repeat in each room, even subtly with pillows or dining chairs.
Natural Materials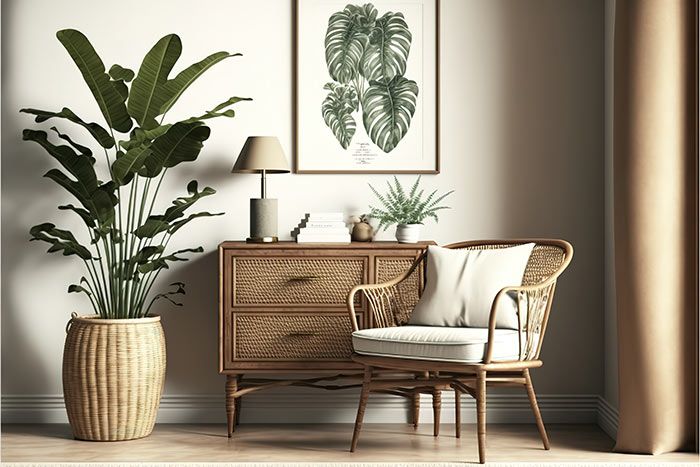 What makes a ranch-style home design so popular? We claim that it's the rugged qualities and connection to nature.

Enhance your home's earthy aesthetic with natural and natural-appearing materials. For example, wood, leather, linen, stone, brick, and stucco.

Cedar, redwood, cypress, teak, oak, and maple are all favorites. All of these raw wood types are incredibly strong and durable. Choose the reclaimed wood version of these for a boost of sustainability and protection of natural beauty.

Brick is classic, timeless, and rustic. Stone, whether limestone, granite, or fieldstone, adds sturdiness, practicality, and permanence. Choose between a smooth or textured finish on your stucco, which is a versatile and durable material.

We recommend introducing woven and textural fabrics into the mix. Jute rugs, wicker baskets, and rattan chairs give your home a nurturing tactile connection to nature. For decor, opt for indoor plants, pottery, driftwood sculptures, and woven wall hangings.
Bridge the Indoor-Outdoor Gap
This is what ranch-style dreams are made of! While focusing primarily on the interior aspects of your home, we encourage the perfect blending of your indoor and outdoor spaces. Ranch-style homes often come with a large yard area and expansive patio space, which are definitive elements of this design.

Your aim should be to treat your outdoor area like any other indoor room. Some great ideas to make this connection are to incorporate an outdoor kitchen or dining space, an enclosed deck or patio, or a hot tub area.

Keep your lawn, shrubs, trees, flowerbeds, and pathways well-maintained for an exceptional view from within your house. Large windows and sliding glass doors are often used to frame these beautiful views and to harness natural lighting. A skylight is also a welcome addition to augment the charm and welcoming atmosphere of your home.