Add-on Outdoor Kitchen Features That Will Boost Property Value
Dec 27, 2022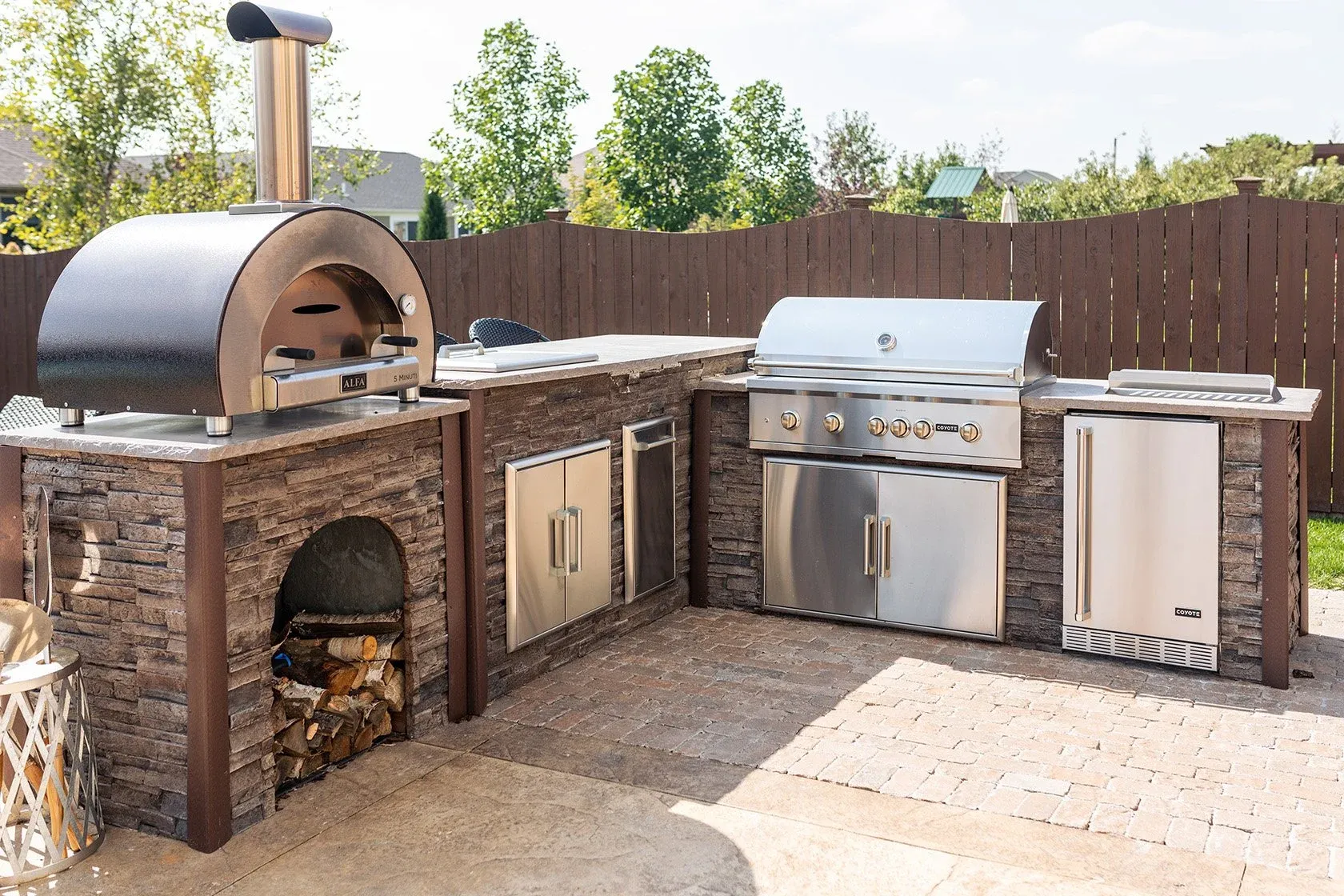 An outdoor kitchen is a great addition to any patio, new or old, because it allows you to spend more time outside, improves the quality of your meals, and makes your property more marketable. It is best to think about how you will utilize the area and how your patio kitchen will fit into your future outdoor living and entertaining plans while still in the planning phase so that you can incorporate those ideas into the final product. It may be impossible to do so because of constraints on resources.
Built-In Ice Tray
To keep drinks cold, a built-in ice trough might be a wonderful compromise between installing an expensive ice maker and utilizing an unsightly plastic cooler. These rtaoutdoorliving.com outdoor bar counter designs now feature a built-in ice trough for use when hosting guests on the deck. An elegant finishing touch is a coffee table unit that doubles as an ice trough for the in built lounge area during gatherings.
Grill For Barbecuing
When it comes to outdoor kitchens, nothing beats the simplicity and universality of a grill. You may show off your grilling abilities to your friends and family while you catch up over a casual meal. Even though a grill isn't the only thing needed for a fully functional patio kitchen, most backyards already have one. It should serve as the design's focal point and primary feature. Building a BBQ grill in your outdoor kitchen is a joint project. Size, power source, and placement are all factors to consider.
Outdoor Refrigerator Unit
An outdoor refrigerator is a great way to save time and energy when entertaining guests by avoiding treks inside the kitchen for drinks and other perishables. Keep soft cheeses and cured meats on hand, along with bottles of water, soda, and white wine, in the fridge before a party so that guests may help themselves to refreshments while the grill heats up. Most outdoor refrigerators have a capacity of a few cubic feet. The measurements make them just the right size to store beverages for a family or small party while fitting neatly beneath a kitchen island.
Gas Grill With Side Burner
Having a double sided grill is like going from a 4 burner stove to a 6 or 8 burner stove in the kitchen, only outside. It allows you to prepare several dishes concurrently and with more ease. You can use either gas or charcoal with some models of double sided barbecues. Many feature temperature indicators on the lids, allowing you to cook some things quickly while others take their sweet time. Vegetarians can benefit from a two sided barbecue because they can keep the meat and veggies separately.
Pizza Oven
Many people's ultimate wish is to have a wood fired pizza oven for their outdoor kitchen. It could be worth investing in a backyard oven to satisfy your cravings for wood fired pizza, bread, or roasts. Before starting any construction, know what permits are needed according to local building codes. While flames can overtake smaller wood fired ovens, reports indicate that larger ranges are much easier to cook in. More than one dish or pizza can be cooked simultaneously in the larger models.
An Open Fire Pit
If you are in the process of creating your landscape, you have or will have an outdoor fire pit. You can skip including a fire pit in your patio kitchen if it is located near your fire pit or will be short. Evaluate whether or not a fire pit would fit in the available space. A fire pit is a perfect place to host a get together with loved ones and friends, whether you're sipping hot chocolate or wine. You may use them to prepare food like marshmallows and hotdogs in your outdoor kitchen.
Warming Drawer
A warming drawer is an extravagance in any kitchen, indoors or out. While warming drawers have always been standard in luxury dwellings, moderately priced households are finally starting to embrace them in their kitchen renovations. It is a great addition to a patio kitchen, as it can be used to keep burgers and hot dogs warm while grilling a large quantity, to keep food made indoors warm while grilling the rest of the dinner, to warm up bread rolls, or to keep meals warm for visitors that arrive fashionably late simply. A warming oven is a practical addition to any outdoor kitchen because it can be used for various purposes, including slow cooking meats and other meals.
When building a new patio or renovating an old one to include a kitchen, it's important to plan for the wiring, plumbing, and ventilation required for future additions. Having a patio kitchen allows you to enjoy the outdoors while cooking. It means that your design decisions will revolve around your preferred cooking implement. Because of its importance, this is the first thing you'll think of when designing your kitchen. From there, you may go on to other concepts that will assist in tailoring the space to your needs.
Get in touch. Send us a message now.