7 Affordable Landscaping Ideas When You're on A Budget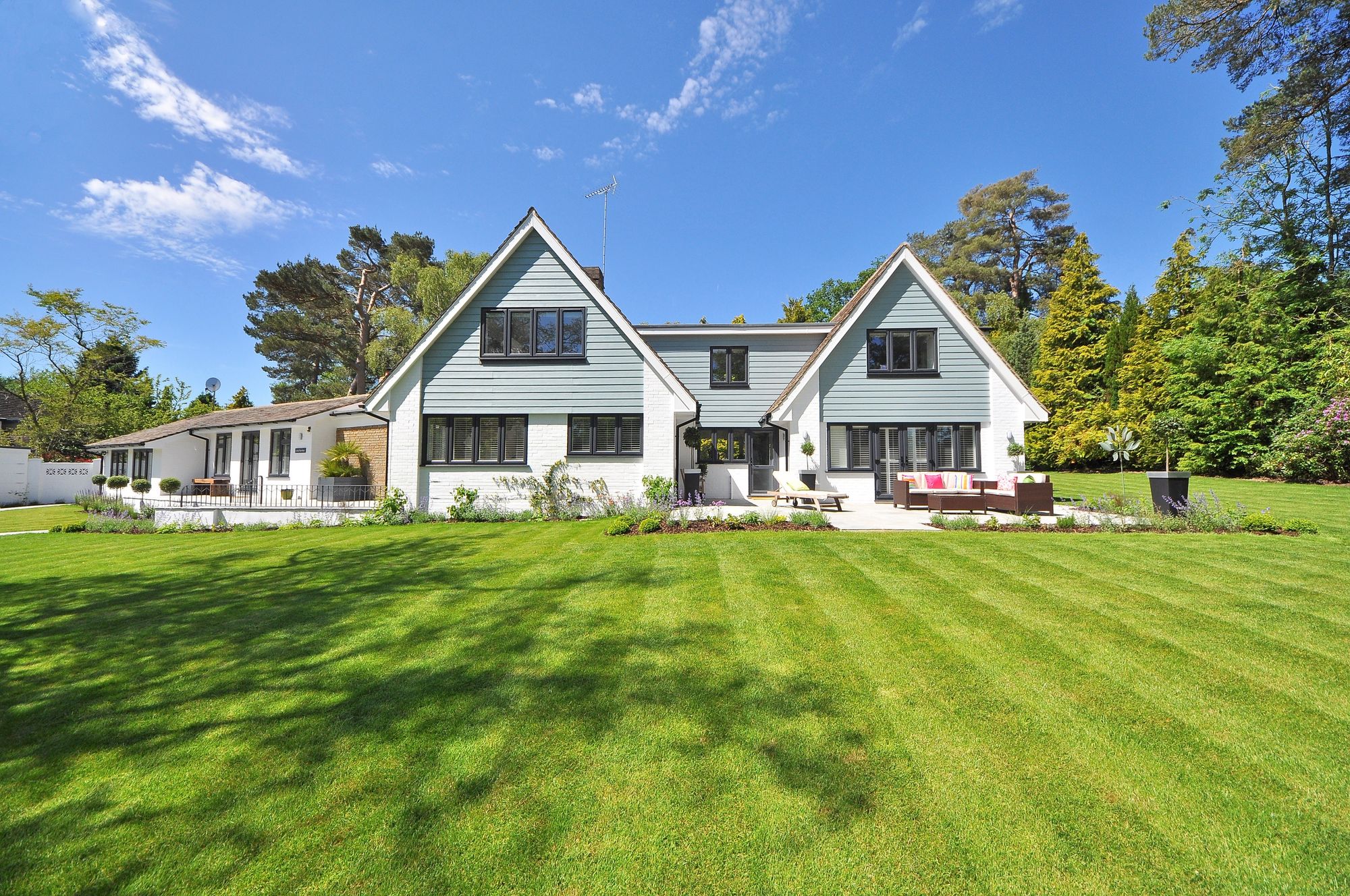 Jul 13, 2023
A nice yard has long been a staple for every homeowner. Other than improving your property's curb appeal, a well-manicured lawn also provides a wonderful place to cool down in the summer months and have nice barbecue parties with the neighbors.
Actually, you do not have to shell out wads of cash for a nicer yard. Sometimes, it just takes creativity, some tools, a nice sunhat, and a lot of hard work to achieve that amazing-looking, yet budget-friendly landscape.
We have compiled 7 affordable landscaping ideas to get your creativity going and kickstart your DIY project. From mulching, hanging some nice lights to recycling old furniture, there are many ways you can make a beautiful landscape at little to no expense.
1.  Mulch
Mulch is the most inexpensive way to level up your yard without costing you a pretty penny. Plus, it is also a healthy addition to your landscape. This cheap landscaping idea will not only help your plants grow but also make your flower bed truly shine.
To start, mulch is:
very inexpensive; only costing you around $4 a bag.
adds a nice ground cover texture to your flower beds, mulch beds, and garden beds.
helps keep annoying weeds at bay.
helps retain moisture and keeps it locked into the soil.
can help insulate the roots of young trees.
can add nutrients back into your soil.
If you are interested in mulching your yard, mulch can cost around $100-$300 for a 500 sq. ft. yard. You can use more organic mulch materials like wood chips, leaves, compost, grass clippings, and straw, all of which can be mostly found within your yard and are free.
The biggest drawback to mulching is that you must replace them every year. However, the pros always outweigh the cons on this one.
2.  Give Rock Gardens A Try
Next on our list of affordable landscaping ideas is taking a trip to your local creek, quarries, or construction sites nearby and scouring for rocks, stones, and pebbles that you can add to your garden.
Rock gardens are a great way to enhance your landscape especially if you are on a budget. For example, large rocks you find when combined with edging and moss/crawling plants, can help you create a stunning pathway.
Small stones or pebbles are also useful since they can fill the crevices between your larger stones and give your walkway a sense of uniformity. Rock gardens shine the most when in tandem with drought-tolerant plants since these require little to no water and maintenance.
Try incorporating mulch with your stone elements. Stone is great for making pathways and rock landscapes, while mulch is great to help keep stone that way since it reduces erosion down to a minimum.
A fire pit surrounded by stone and mulch, or a Japanese-inspired garden are wonderful ideas you can use as a blueprint to get your creativity going.
3.      Try Your Hand at Edible Gardens
For only $2 for a pack of seeds and a lot of free time, an edible garden can cut your grocery bill in half since you will be growing your own produce. Of course, gardens can be very time-consuming, labor-intensive and require a lot of careful planning and technical knowledge.
However, it is also one of the most cost-effective ways of beautifying your yard without shelling out serious cash for it since it will begin to pay for itself once you harvest your first batch of fruits and vegetables. Plus, this eco-friendly idea promotes sustainability and can reduce your costs as well as your water use by a large amount.
To start your homesteading journey, you can choose to plant low-maintenance produce like mint, garlic, tomatoes, and chives. You can also make your own fertilizers using compost and kitchen scraps to ensure your plants grow healthy and strong.
4.  Outdoor Lighting
Another idea to elevate your yard game is to use lighting, specifically, outdoor lights. Consider investing in outdoor string lights to illuminate your yard and give it a warm glow. This will leave visiting neighbors or relatives in awe.
If you are looking for a more long-term yet cost-effective option, we recommend investing a little bit more and getting solar-powered lights to illuminate your yard.
Not only are they practical and energy-efficient, but they also do not need fancy electrical wiring or installation. There is usually a manual provided with your purchase. There are also plenty of tutorials you can look up online.
You can install these lights along where there is plenty of foot traffic like pathways or outdoor seating. If you want to make your yard accessible while amping up the coziness, you can place these solar lights around your designated space.
5.  Double Down on Water Features
Adding a water feature in your home brings a beautiful focal point to your lawn, but it can also invite some welcome critters into your yard.
For starters, you can build a DIY garden pond with only a shovel and a lot of hard work. It is a very straightforward task that requires a lot of digging. However, because of the strenuous activity, this landscaping idea ideally need expert landscapers that offer affordable landscaping services.
After you finish digging, you can add some rocks and aquatic plants for variety. You can also install a small pump if you plan to populate it with fish once you fill it up with water.
Another great addition to your lawn is a birdbath. If you are not bothered by birds, squirrels, and the like, a birdbath is a great way to invite some fauna to your flora. The best part is you only need a large open container and a few minutes of your time to pull this off.
Placing your birdbath on a high enough wood or concrete pedestal then filling it with rainwater (or regular water if you want your little guests to be safe), is a surefire way to invite some thirsty birds to your yard.
Rain Barrels
If you are in Washington or Louisiana where it often rains, you can save a lot of money on your water bill by recycling old barrels and converting it as a rain catcher. Any kind of large container like trash cans will do.
When it rains, your repurposed rain barrels can now store rainwater that you can use for any of your landscaping needs. However, we do not recommend using it for your edible plantings since it may be contaminated with bacteria, birds and animal droppings, and residue chemicals from roofing.
You can also customize your barrel so it can blend in with the landscape. Most homeowners love painting over it and applying personal touches like decals or stickers. Wrapping it in organic materials like bamboo, rattan, or climbing plants are also a good way of customizing the design.
6.  Upcycle Old Furniture
The best way to renovate your landscape on a dime is to be highly creative. Repurposing your old furniture and giving it new life not only saves you from a whole new world of expenses, but it also adds a touch of personality to your lawn.
Here are a few inexpensive landscaping ideas you can do to create an environmentally friendly focal point that will surely wow your guests:
create wind chimes from seashells.
convert tires into plant boxes.
cut out plastic bottles into hanging plant pots for your vertical garden.
converting wooden pallets into signage or tool storage
decorate your stepping stones with ceramic tiles or glass.
repurpose stylish sinks into bird baths or fountains.
If you want a themed yard while still staying on budget, you can also try your hand at creating a "fairy garden" by repurposing old containers (old or broken plant pots and unused wooden crates) you have laying around.
For decoration, fairy gardens are usually furnished from materials like popsicle sticks, twigs, small stones, leaves, moss, and small flowering plants. If you want to highlight your fairy garden's more whimsical side, you can opt to use colorful materials like seashells and glass beads in contrast with the more natural materials.
Fire Pit
Everybody loves a fire pit. They are great for grilled marshmallows and barbecue parties during the day and supply a warm and cozy atmosphere for your family on cold nights.
If you are interested in building one, you can start by going on a trip to your nearest hardware store and buying bricks, cinder blocks, and a bag of gravel. If you are worried about spending more than what you bargained for, these materials are usually discounted and can fetch about $20-$40 depending on the store.
The next step is to find a safe location to put your future fire pit. Avoid placing it near easily combustible materials like firewood and straw. Then dig a shallow, circular pit and add gravel at the bottom for some extra safety.
7.  Grow Native Plants
Native plants are hardier than their exotic counterparts since they are already compatible with the area you are in. Whether its soil conditions or the climate, native plants are a cost-effective choice since you will not have to water them as much.
Here are 4 main things that give native plants an edge over their non-native counterparts:
helps prevent erosion.
don't need fertilizer.
don't consume as much water.
are naturally compatible with your local ecosystem.
If you are interested in introducing some indigenous plants into your lawn, you can instead try including ground covers and ornamental grasses to add some variety instead of going for the usual shrubs, trees, and flowers.
Xeriscaping
For people looking to save money while minding their water use, xeriscaping can be your best friend.
Xeriscaping is an already established landscaping trend in drought-prone areas like Nevada or Colorado since it can cut down 50-75% of your water use. This translates to more money in your pocket in the long run.
The most common xeriscaping elements are the following:
mulch
sand gardens
landscaping rocks
concrete
Homeowners make the mistake of identifying xeriscaping as a brutal desert garden that allows little to no greenery. This is not true. Limited turf and native plants are used in conjunction with xeriscaping since they significantly reduce erosion.
To start your xeriscaping experience, you can consider adding a gravel path as well as mulching more areas of your yard. These elements are an always welcome additions to your lawn that will add a lot of variety to your greenery.
Loved Our DIY Landscaping Ideas?
We hope you did! Whether you are looking for a more creative inspiration or just saving pins online, these design ideas are just what you need to elevate your outdoor space to the next level.
If you love our ideas and would like to know more, you can check out our other related articles on the site. If we still do not have the design, you are looking for, you can always tune in for updates.
FAQs
What is the cheapest type of landscaping?
While there are plenty of options out there in the market, no matter how you put it, nothing can beat DIY as the cheapest choice when it comes to landscaping.
Sure, it may be a very time-consuming weekend project, but it is always worth it knowing that you will save hundreds of thousands of dollars in expenses while getting the satisfaction that you made it yourself.
How can I save on landscaping costs?
The cheapest way to cut down on your landscaping costs is to do a lot of research before, during, and after you buy your first plant.
The first thing you should know are the native plants in your local region as well as how water-efficient it is for maintenance. Learn about local growing conditions such as soil and hardiness, then make a sizeable budget so you do not break the bank while browsing through the garden store.