5 Best Comcast Xfinity Modems in 2023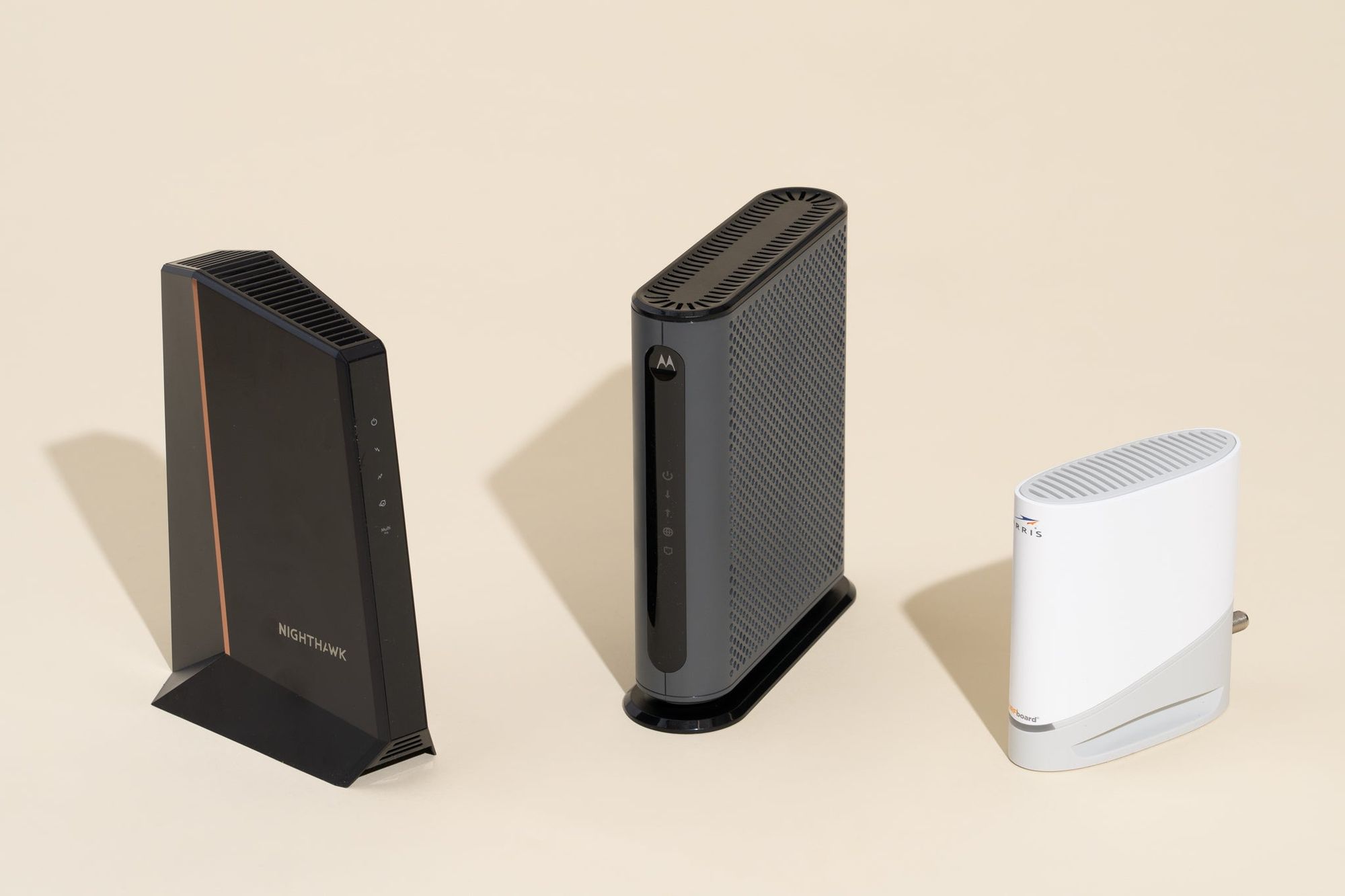 Jun 5, 2023
In an increasingly digital world, having reliable and high-speed internet is no longer a luxury but a necessity. If you're a Comcast Xfinity subscriber, chances are that you're leasing a modem from them. However, investing in your modem can improve your network's performance and save you money in the long run. So, which are the top 5 best Comcast Xfinity modems for 2023? Let's delve into it.
OVERVIEW: Best Xfinity Modems
Our Top 4 Picks For Comcast Xfinity Approved Modems
1) Motorola MG7700 Modem WiFi Router Combo
Eliminate up to $200 dollars per year in cable Modem rental fees. Certified by all leading cable service providers including Comcast Xfinity, Cox and Charter. Fast 24x8 DOCSIS 3.0 cable Modem Plus a built-in AC1900 Dual band (2.4GHz and 5GHz) Wi-Fi Gigabit Router with four Gigabit (GigE) Ethernet ports, power boost Wi-Fi amplifiers, firewall security, and more. The maximum modem speed is 1000 Mbps, supporting service speeds up to 650.
Specifications
| | |
| --- | --- |
| Max Internet Speed | 800 Mbps |
| Ports | 4x 1Gb ethernet |
| Data Channels | 24 downstream, 8 upstream |
| Router | Built in. Speeds up to 1900 Mbps. |
2) NETGEAR Nighthawk Multi-Gig Cable Modem CM2000
Best for cable provider plans up to 2.5Gbps. Works with any WiFi router. Connect any WiFi router to this modem's Ethernet port to support all your wireless devices.
Specifications
| | |
| --- | --- |
| Max Internet Speed | 2500 Mbps |
| Ports | 2.5Gb ethernet |
| Data Channels | 32 downstream, 8 upstream |
| Router | N/A |
3) Arris Surfboard SBG 8300 DOCSIS 3.1 Modem
The Arris Surfboard SBG8300 is another high-performance modem for Comcast Xfinity users. Also equipped with DOCSIS 3.1, this modem allows for internet plans up to 2 Gbps, making it perfect for large households or heavy internet users. Its dual Gigabit Ethernet ports offer versatile connectivity options, and its compact design saves you valuable space.
4) ARRIS SURFboard SB6190 DOCSIS Cable Modem
If you're looking for a budget-friendly modem that doesn't compromise on quality, the Arris SB6190 is your best bet. Though it's a DOCSIS 3.0 model, it supports speeds up to 680 Mbps, suitable for medium-sized households with moderate internet needs. The compact design and easy setup process make it a favorite among cost-conscious consumers.
Specifications
| | |
| --- | --- |
| Max Internet Speed | 800 Mbps |
| Ports | 1Gb ethernet |
| Data Channels | 32 downstream, 8 upstream |
| Router | N/A |
5) Motorola MB8600 DOCSIS 3.1 Cable Modem
This unit offers speeds up to 1000 Mbps and can easily handle multiple users streaming games and movies at the same time. High internet speeds for all multi-gigabit tiers. Plus, Wirecutter recommends this model as the best cable modem for people using Gigabit Internet plans. The device is easy to set up and use once connected.
Specifications
| | |
| --- | --- |
| Max Internet Speed | 1000 Mbps |
| Ports | 1Gb ethernet |
| Data Channels | 32 downstream, 8 upstream |
| Router | N/A |
What to Consider Before Buying a Comcast Xfinity Modem
Choosing a Comcast Xfinity modem can be a daunting task, especially with the plethora of options available. Here are some crucial factors to consider before making your decision.
Modem Speed
Before choosing a modem, first, assess your internet usage. If you use the internet for browsing, social media, and standard-definition streaming, a modem supporting speeds up to 100 Mbps may be sufficient. However, for high-definition streaming, online gaming, or running multiple devices simultaneously, a modem supporting higher speeds will better suit your needs. Devices like the Motorola MB8600 and the Arris Surfboard SB8200, both with DOCSIS 3.1 technology, offer top-tier speeds, suitable for heavy internet usage.
Combination Router/Modem Vs. Two Separate Devices
Deciding between a modem/router combo and separate devices depends on your specific requirements. A combo unit like the Motorola MG7550 provides convenience and saves space. It's also easier to set up and manage since you only have one device to deal with.
On the other hand, separate devices offer more flexibility and customization. You can upgrade your router independently from your modem to accommodate growing internet needs or take advantage of new wireless technologies. Additionally, if one device fails, you only need to replace that one, not the whole system.
Comcast Compatibility
Finally, it's essential to ensure the modem you choose is compatible with Comcast Xfinity. While most modems claim to be universal, not all will work optimally with every internet service provider (ISP). Comcast provides a list of approved modems, and it's worth checking it before your purchase. Remember that compatibility doesn't end with the ISP; the modem must also support your specific Comcast internet plan's speed.
Conclusion
To sum up, owning your Comcast Xfinity approved modem allows you to maximize your internet performance while potentially saving money over time. Motorola, Netgear and Arris provide some of the best options on the market in 2023. Whether you're a heavy internet user, a gamer, or a budget-conscious consumer, there's a modem out there tailored for your needs.
Remember to double-check that your chosen modem is compatible with your Comcast Xfinity internet plan before purchasing. Happy browsing!