Best Neighborhoods for Families in Houston, TX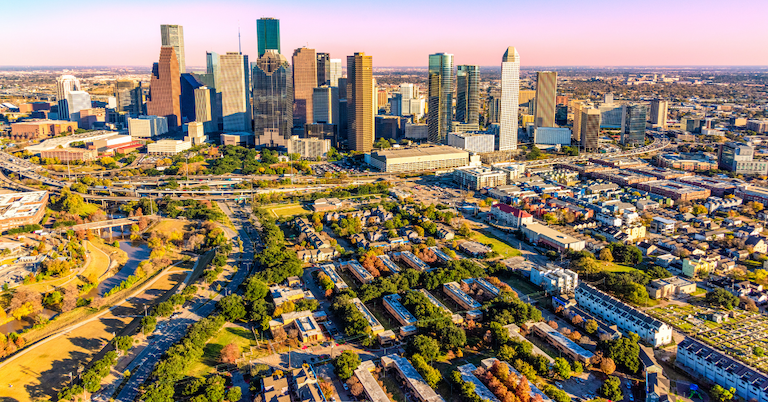 Jul 7, 2023
Houston is now considered one of the fastest-growing cities in Texas. The city has recorded the highest relocation rate in the state, with up to 275 people moving there every day. Some of the factors fueling the high relocation rate are the great job market, low cost of living, and family-friendly neighborhoods.
If you're moving to Texas with your family, you have to ensure you find the best neighborhoods in Houston to settle in. You'll need to find a house close to school for your children and close to your workplace. You'll also need to find a place that fits within your budget. So, where should you call home within the nine counties in the Houston metroplex? Take a look at our Houston neighborhood guide and make the most informed choice for you and your family.
The Woodlands
The Woodlands is no doubt one of the best neighborhoods in Houston for families. The Woodlands is designed for great experiences with access to some the some of the best schools in the area, top-tier community amenities, convenience to employment centers, and an overall unbeatable quality of life.
If you love a mixture of Houston suburbs and urban life, the Woodlands offers both with lots of open green spaces, as well as plenty of shopping centers. The neighborhood is bustling with restaurants, cafes, and many corporate campuses representing city life.  The suburb life is characterized by lakes,ponds ponds, parks, bike paths, hiking trails, and numerous other features. If you love golfing, tennis, kayaking, and other outdoor activities, The Woodlands is the place to be.
Sugar Land
Sugar Land dates back to the early 20th century when it was mainly filled up with sugar plantations. Once a sugar plantation, Sugar Land has since transformed into a welcoming community ideal for families looking for the perfect environment to raise their kids.
The town is perfect for raising a family, thanks to plenty of family-friendly events. The area is home to the Houston Museum of Natural Science and the new Smart Financial Center. There are plenty of concert venues that allow residents to enjoy with their favorite performers without traveling far.
Katy
If you're looking for a place where your kids can learn in the best schools, Katy is the place to be. The suburb hosts the famous Katy Independent School District and some of the best local amenities. It's near the Energy Corridor and Memorial City and hosts approximately 16,000 people.
If you live in Katy, you'll be only miles away from your employment centers as there are several companies in the area and shops within its boundaries. This is the place where you will find master-planned communities and subdivisions. You can choose to live in Cinco Ranch, Seven Meadows, Young Ranch, Pine Mill Ranch, and many more. If you love moving around on foot, you will surely enjoy this  walkable suburb.
If you're looking to rent a house in Katy, be sure that you'll find the best apartments here at lower prices. The city has convenient accessibility to the Energy Corridor and some major freeways, which contributes to making it one of the best Houston neighborhoods.
Katy boasts of some of the best family-friendly activities, making it a perfect place to raise kids. There are plenty of entertainment centers, shopping centers, parks, and many other amenities.
Spring Branch
If you're buying a home and looking to get plenty of space without sacrificing the convenience of the city, Spring Branch will be one of your best places to live in Houston. You'll get a vast home here with plenty of space for your children to play and your pets to run around. Just make sure you get a good realtor and pay an excellent real estate commission, and they'll help you find a house that suits your needs.
Spring Branch features mid-century ranch-style homes that are sure to accommodate your needs. This is a huge neighborhood that extends 610 miles giving plenty of room for home builders. The area enjoys proximity to Memorial City Mall and the City Center.
It's a perfect place for those who love the rich diversity but still want the freedom of access to a large plot of land. Spring Branch is not too far from the city but offers enough space so you won't feel the congestion of the city.
The Heights
The Heights is one of the first places to have planned communities in Texas. Now, the historic landmark city is experiencing a wave of apartments and townhomes with affordable rentals. This is the perfect place for renters with families as they can also get a backyard inside the loop for playing with children and pets running around.
There are notable developments like Heights Mercantile that give you walkable shopping and incredible dining experiences. This is the place to rent or buy charming bungalows with walkable streets. It provides you a perfect opportunity to escape the city's congestion and hustle of Downtown Houston, Montrose, and Midtown.
One thing you must understand before considering moving to Heights is that the neighborhood is a protected area. This means there are strict guidelines for building a home or a business in Heights, Texas. The home designs that you need to adhere to are the Craftsman, Folk National, and Folk Victorian. The Heights is an incredible place for just anyone, more so if you love century architecture.
River Oaks
If you love luxury and the sophisticated lifestyle, you can choose to live in one of the crème de la crème neighborhoods of Houston. River Oaks is well-known for its large historic mansions. Homes here are on the more expensive side meaning if you plan to buy here, expect to pay a higher price.
River Oaks carries a rich history as one of the most expensive neighborhoods in the U.S. The neighborhood is also considered one of the most spectacular displays of old money. In addition to historic mansions, the area is also experiencing new construction opportunities thanks to new residents making their mark on the neighborhood.
River Oaks is also a hotbed for great shopping and incredible entertainment. The shopping and entertainment centers include the Landmark River Oaks Theatre, River Oaks District, among others. The dining experience in the neighborhood is also at its peak offering some of the hottest restaurants in town.
Bottom Line
While Houston, Texas is a wonderful place for families to live, choosing the best neighborhoods  may not be easy, considering there are too many options at your disposal. Think about what you want in your new neighborhood. Is it good schools, employment, entertainment, or a quiet lifestyle? If you can answer this question, nothing can stop you from finding a perfect place in Houston, Texas.
Are you and your family looking to buy a home in the Houston area? Our dedicated team at SimpleShowing will help you find a quiet, comfortable, and welcoming place where you can call home for years to come.
Conclusion
Houston, TX, offers a wealth of vibrant neighborhoods perfect for young families and professionals alike. Downtown Houston, with its urban vibe, is becoming increasingly popular among young professionals, while the master-planned communities of Memorial neighborhood and League City provide convenient access to top-notch school districts and community events. These areas are the epitome of suburban life, offering a balance of work and leisure for residents.
Fort Bend County, home to many family-friendly areas, is especially renowned for its excellent schools and affordable housing options. Yet, living in Houston isn't solely about residential bliss; it's also about leisure and fun. Attractions like the Houston Zoo add to the appeal for families looking for a mix of educational and entertainment options in their chosen neighborhood.
Choosing the best neighborhood is a decision that varies based on individual family needs, but with the myriad of options in Houston, TX, there's undoubtedly a perfect match for everyone. Whether you're seeking the vibrant pulse of Downtown Houston or the tranquility of master-planned communities, Houston is ready to welcome you with open arms and a thriving community spirit.