Best Sage Green Paint Colors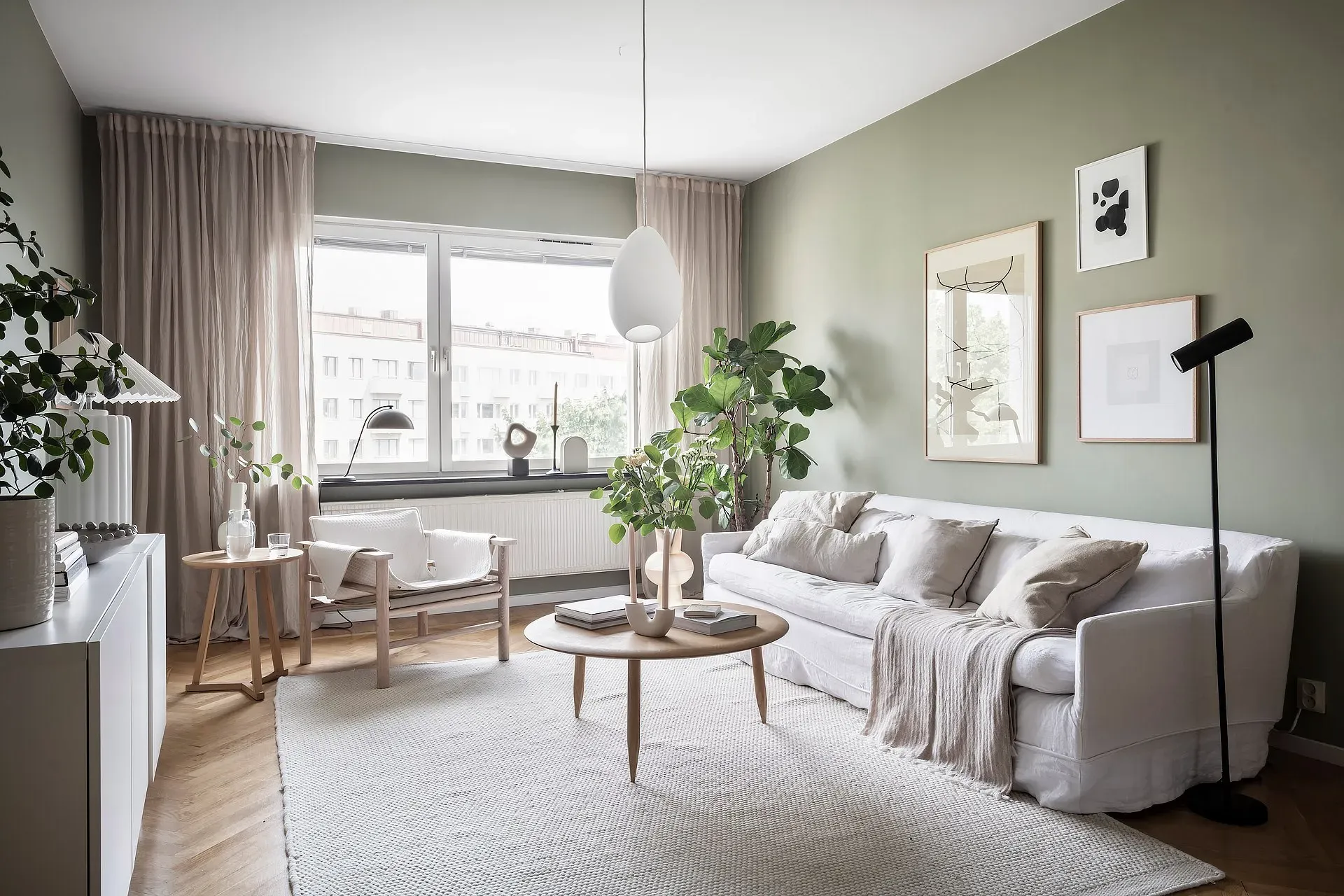 Mar 19, 2023
Are you looking to create a calming and serene atmosphere in your home? Sage green paint can be just the right option for that! It is an earthy shade of green with gray undertones, giving rooms a soft and peaceful feeling when used on walls, ceilings, trim, furniture or a shiplap accent wall.
Sage green can range from a muted to bright and crisp. Let's explore some of the best sage green color paint ideas available to create a warm and inviting environment in your home.
Sage Green Color
Establish A Relaxing Atmosphere
Sage green paint creates a calm and soothing atmosphere in any room, especially bedrooms, and living rooms. It pairs well with neutrals and adds dimension without overwhelming the senses.
Foster A Hospitable Ambiance
Sage green color creates a welcoming and hospitable atmosphere, in addition to its tranquil qualities. Combining sage green paint with warm wood accents like rustic furniture or exposed wooden beams enhances this effect, making guests feel at home.
Develop A Harmonious Appearance
Sage green paint brings balance and harmony to any room. Its neutral tone and soft hue make it perfect for creating a cohesive look throughout your home.
Enhance With Gold And Wood Accents
Light green Sage Color can provide the perfect backdrop for gold or wood accents such as frames on paintings or furniture pieces like chairs or tables. These accents can also add texture and depth to the room while creating visual interest in places where there would normally be none.
Introduce A Retro Vibe
Add vintage charm to your home decor with sage green walls, a popular mid-century modern shade. Pair with retro furniture like velvet couches and elegant chandeliers to complete the vintage vibe.
Sage Green Color
Emphasize The Roof Design
Soothing sage paint can create a natural balance of coolness and warmth in your home. Highlight roof details like beams or trusses with this soft hue, and enhance them with gold overlays or stained wood details for added visual interest while maintaining a peaceful atmosphere.
Brighten The Space With Sage Green Paint Colors
Use light green Sage Color shades to uplift darker elements in your home, like wood flooring or window frames. It complements more delicate furniture, creating a cohesive narrative.
Consider The Ceiling
Interior designers are using light shades of sage green to add pops of color to ceilings and draw attention upwards. It complements various decorating themes, from minimalistic to modern farmhouse styles, catering to every preference.
Revamp The Shiplap
Add texture to your walls by applying sage green over shiplap boards. This easy update invigorates classic designs and is perfect for traditional and rustic homes, increasing their value while preserving their timeless feel.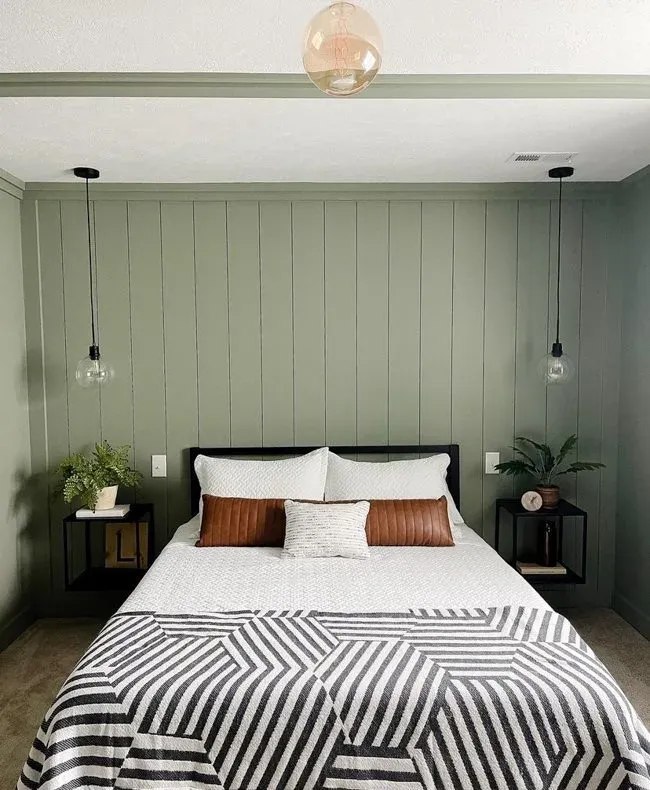 Sherwin Williams Clary Sage is a popular muted green with gray undertones. In certain lighting, it can look or a taupe. We are a big fan of this one!
Apply Sage Green Paint To A Half Wall
Sage Green Bedroom Paint
Transform your interiors with sage green bedroom paint by painting half-wall sections in different shades. This cost-effective method adds unique flare and can be used to break up adjoining rooms or along staircases, providing the desired outcome every time!
Enhance The Laundry Room
Light Sage Green Color
Light sage green paint colors often have subtle yellow undertones that can be an attractive option for nurseries, guest bathrooms and sitting rooms. Continue reading below to see a few of our favorite picks from Sherwin Williams and Benjamin Moore.
Consider adding a dark sage green to your laundry room! Sage green walls with bright accents around washing machines/dryers and windows can turn a mundane chore into an enjoyable activity, adding a personalized touch to your space.
Add Color To The Upper Wall
Use sage green to add color to the upper portion of your walls, creating a visually appealing accent and adding depth to the room.
Create A Comfortable Environment
Choose soft shades of sage green for a soothing atmosphere, perfect for creating a comfortable environment in any room.
Prepare For Rest
Use sage green in your bedroom to create a peaceful and restful environment that promotes relaxation and calmness.
Maintain A Fresh Space
Sage green is perfect for creating a fresh and airy space, especially with white or light-colored furniture and accents.
Eliminate Smoke
The light green sage color is known for absorbing and eliminating smoke, making it a great color choice for rooms where smoking may occur.
Preserve A Traditional Look
Sage green is a classic and timeless color that can help preserve a traditional look in your home, especially when combined with other conventional colors and materials.
Paint The Cabinetry
Adding a touch of elegance to your kitchen or bathroom is easy with sage green cabinet paint. This simple update can bring sophistication while maintaining a fresh ambiance.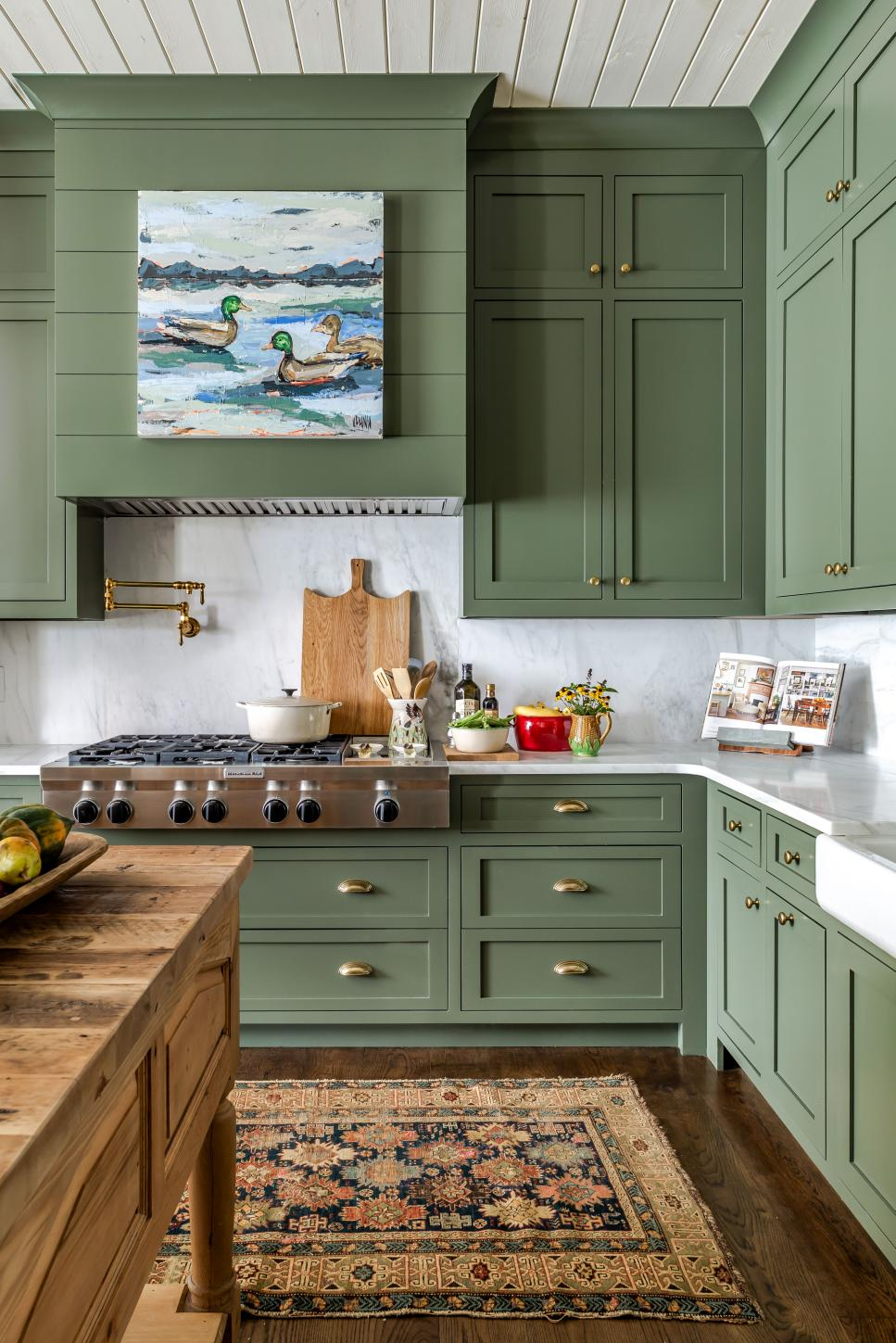 Best Sage Green Paint Colors
Dark Sage Green Paint
If you're looking for versatile color options in the sage green family, check out these best paint color choices:
Benjamin Moore, Lafayette Green
Benjamin Moore, Tate Olive
Sherwin Williams, Evergreen
Light Sage Green Paint
Sherwin Williams, Livable Green
Sherwin Williams, Healing Aloe
Benjamin Moore, Sage Wisdom
Conclusion
Infuse your home with a cozy and welcoming atmosphere using sage green paint colors. The calming hue of sage green can bring happiness, relaxation, and contentment to any space with its soft tones and earthy hints. Whether you're looking to get some life into your living room, create a wow factor in a bathroom or add accent pieces to your kitchen, sage green paint color can provide just the right amount of calming color.
Explore the various shades available to transform dull areas into something truly special!