Best Tech Tools and Resources for Your Home Search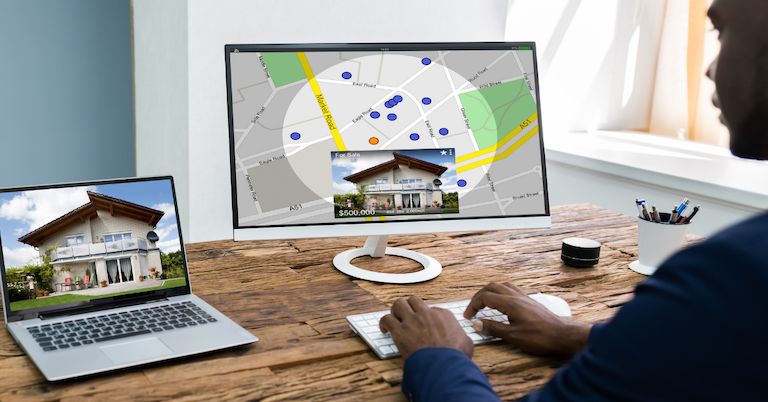 Dec 30, 2021
Long gone are the days of cruising through neighborhoods searching for "For Sale" signs,  skimming the local newspaper for the latest listings, and touring home after home for the perfect one. While home search is still not an easy process, modern technology and the information age has made it easier than ever to find the home of your dreams. Home search-related tech tools and resources are literally at right buyers fingertips. The only thing standing between them and a home is a simple swipe and click.

However, not all tech tools and resources are the same. Features vary greatly between them. Some tools offer features geared towards providing neighborhood data while others offer interior design assistance to help you envisioning a home's potential. Before you download an app or pay money for a service, check out some of our favorite tech tools and resources that can help you depending on your specific situation.
Best for Extensive Neighborhood Data: Neighborhood Scout
Before searching for homes, you'll want to do research on different neighborhoods you could potentially live in. If you are moving to a new area, this may be difficult to do. Neighborhood Scout is the most comprehensive database of hyper-local real estate data.
The free reports provide alerts about schools, crime, and other data. After the free report, it does cost to pay more, but the data is incredibly extensive. This makes it a great deal for investors wanting to ensure a secure investment, or first-time buyers moving to an unfamiliar neighborhood.

Best for Local Insight on Schools and More: Niche.com
If you want to save money but still get insight on potential neighborhoods and school data, consider Niche.com your new best friend. Niche.com is an all-in-one neighborhood research tool that helps home buyers pick where exactly in a city they want to live. Local schools, safety, cost of living, night life, and more are all graded on an A to F scale.
You can also get information that show the area's population, the median home value, and how many people rent versus own their homes. The site also includes reviews from local residents to provide a more personal source of information. This gives buyers a real feel of what life in the neighborhood is really like.

Best for Envisioning a Home's Potential: Houzz
Sometimes envisioning your life in a home is difficult without seeing what it would look like with your preferred style or upgrades in place. Luckily, Houzz lets buyers do just that. Through the website, buyers can see what a home would look like with their desired upgrades to help them to visualize the difference that investing in home improvements can make in a potential home.
Once you move in, buyers can use the site to find design inspiration, research and hire home professionals, and discover great products that they can use to complete home projects. The website is full of incredible resources to help homeowners out with all their home design and renovation needs.

Best for On-The-Go Convenience: Homesnap
Do you see a home while your out and about and wish you could know more information right then and there? Almost as if you could just snap a pick and pull up a home's information? Luckily, Homesnap brings this convenience to buyers with its photo-focused platform.
Using HomeSnap, buyers can simply snap a quick photo of a property to recieve instant home value estimates, interior photos, taxes, lot boundaries, school ratings and more. Because the platform is optimized for iPad, iPhone, Apple TV and Apple Watch, buyers can access these home listings anywhere.

Best For Streamlined Services and Savings: SimpleShowing
In order to search for homes and book showings, you'll need the right tools. While there are plenty of home search platforms available, SimpleShowing offers all the services buyers need for a successful (and savings-packed) home search. The search platform is fully integrated with local MLS to show new listings on the market right when they are listed.
Instead of chasing down an agent to access a property, buyers can book a showing directly from the site or app. Of course, SimpleShowing does more than simply show homes. The tech-powered brokerage's team of experienced agents assist buyers with everything from negotiation, inspection, and contract support.

With SimpleShowing, not only do buyers have access to an easy-to-use home search, on-demand booking system, and expert guidance, but they also receive the biggest closing cost credit in the industry. SimpleShowing's streamlined platform makes our agent's job and our buyer's life easier. As a low-commission brokerage, we're able to cut the 3% buyer's agent commission fee in half and give the buyer back the difference.
On average, SimpleShowing buyers get back $5,000 at closing. That is extra money to use towards home improvement projects, new furniture, or to put into savings! Of all the tech tools and resources you can use during your home search, SimpleShowing is one you wll definitely want to use from home search to home closing. Contact the team to learn how you can buy smart and save even smarter.