Fireplace Remodel Ideas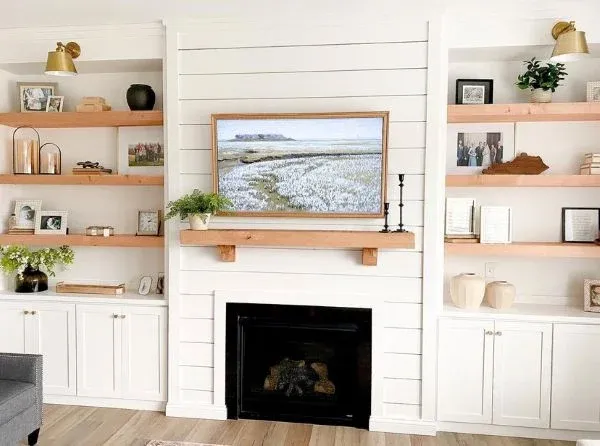 Mar 11, 2023
Figuring out how to remodel a fireplace can be daunting. There are so many elements and style options to choose from, which can get overwhelming. But we're here to help!
Keep reading for a few fireplace design tips to help you get started and our favorite fireplace makeover ideas you can use as inspiration!
How to Get Started
Before diving into our design ideas, let's talk about how to start planning your fireplace renovation.
Determine Remodeling Goals
When remodeling an old fireplace, you can redo the wall around it, add new elements, or remove and replace the entire fireplace. Consider why you want to remodel your fireplace. Is it for aesthetic purposes? Do you want to switch to gas or electric? Do you want to make the old fireplace bigger or smaller? Asking and answering these questions will help you set your budget.
Set a Budget
Now that you have your fireplace remodeling goals in mind, you need to set a budget. It can be flexible or rigid, but this will impact what materials you can choose from. The average cost of a fireplace remodel is $1,200, but you can spend between $400 and $2,500, depending on your goals and wants.
Settle on a Style
Choosing a style for your existing fireplace will usually depend on the room it's in. You don't want to use a modern fireplace if your living room has a Victorian, antique aesthetic, as it will look out of place. So define the room's style and use that as your inspiration. On the other hand, if you plan to renovate the room using the traditional fireplace as your muse, the possibilities are endless.
Choose Design and Materials
Once you settle on a style for your fireplace renovations, you can start working on your design plan, whether on your own or with the help of a contractor or designer. After that, you can choose the materials you want, whether it's exposed brick, marble, granite, wood, steel, tile, concrete, or natural stone.
If redoing the entire existing fireplace, you'll also need to choose door materials, such as glass, metal, or screens, and you'll need to choose between an electric or gas fireplace or log functions.
Fireplace Design Ideas to Inspire You
If you're excited to renovate your fireplace but are stumped in the design, we have some unique and fabulous fireplace design ideas to inspire you.
People who aren't sure how to remodel a fireplace to elevate their space may find the perfect idea below!
You can combine or adjust these decorating ideas to suit your preferences, so don't be afraid to get creative and think outside the box.
Add a Beautiful Mantel: It's a simple and budget-friendly idea, but adding a distinct fireplace mantel can elevate it and give you more shelf space without breaking the bank.
Incorporate a Stylish Screen: One of the cheapest ways to refresh your fireplace is to buy a new screen with a cool pattern or a funky color that will stand out.
Create TV Spot: Adding a TV above your fireplace makes it easy to watch your favorite shows while enjoying the fire's warmth and creates a clear focal point in the room.
Pick a Striking Tile: Tile is a classic way to decorate your fireplace. You can choose bold Moroccan patterns, colorful Mexican tiles, or something royal and extravagant.
Rustic and Cozy: Using wood and warm colors is an easy way to make your fireplace a super cozy and inviting spot to relax and feel safe.
Modern Black and White: If you want a contemporary and spectacular fireplace, combining black and white elements will make it stand out while still being elegant and refined.
Make it Shine: Using a gloss finish on your fireplace's surround and hearth gives it a luxurious, bright, enticing, and beautiful vibe.
A Hearty Hearth: The hearth is an elevated space in front of the fireplace. You can install a large hearth to create a dramatic look and keep things like small statues or books on the surface.
Colorful and Grand: American fireplaces have been muted in color traditionally, but you can break this tradition and opt for a sunny yellow or rich green to make the fireplace pop.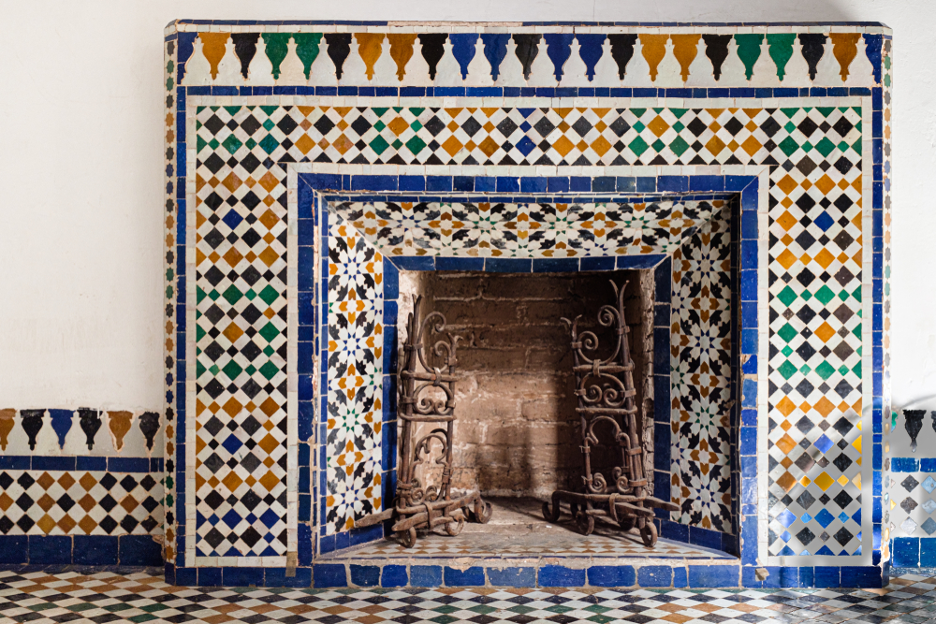 Whimsical Patterns: It's usually easy to incorporate fun patterns into your fireplace, whether using paint or tiles. Popular patterns for fireplaces are herringbone, stripes, and chevron.
Industrial Concrete: If you like a sophisticated and modern aesthetic, you can use simple concrete to redo your fireplace, creating a bold, cool, and commanding look.
Classic Brick: You can always keep it classic by redoing your outdated fireplace with an exposed brick surround and hearth. But you'd be surprised how many brick styles there are, so you can still make it unique.
Add a Mirror: Adding a mirror above the fireplace can elevate the area and make the space feel bigger, adding a touch of refinement and flair. We suggest choosing a large, statement mirror.
Lavish Marble: Nothing says luxury like marble. If you want your fireplace to radiate a lavish and royal style, a marble hearth, mantel, and surround is eye-catching and exquisite.
To the Ceiling: For a grand and dramatic look, your fireplace surround can go to the ceiling, making it the immediate focal point and a memorable feature.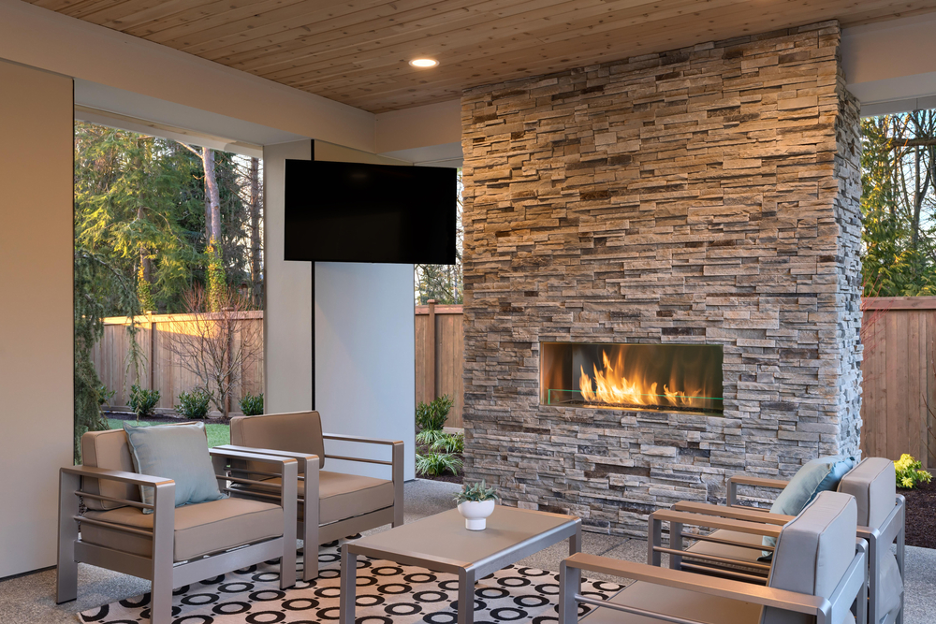 Round and Ravishing: Believe it or not, you can have a round fireplace now! This idea is expensive but super distinct and innovative, making your space truly unique.
Antique and Intricate: If you love old-fashioned Victorian fireplaces, you can incorporate intricate elements like a molded custom surround with small details carved in that has a lovely antique vibe.
Final Thoughts
Nowadays, fireplaces are highly sought after in homes and buildings. If your outdated fireplace doesn't bring you joy, don't wait any longer to revamp it with some of our fireplace makeover design tips, so it'll become your favorite spot in the house.