The Ultimate Buyer's Guide to Getting a Durable Wooden Carport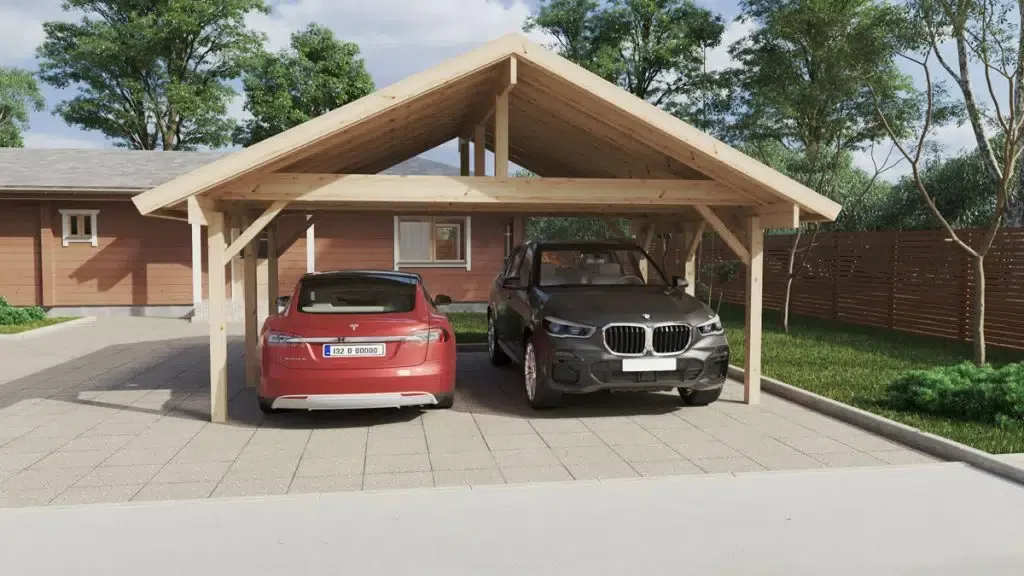 Aug 10, 2023
Purchasing a garage certainly isn't cheap and often comes with lots of red tape, such as regulations and planning permission.
However, it is much quicker and easier to opt for a wooden carport, not to mention much cheaper!
Here, we will discuss the benefits of investing in a wooden carport and how to ensure you choose the most durable option for your garden.
The Benefits of a Wooden Carport
Protection for vehicles
As you would expect, one huge benefit of opting for a wooden carport is that it shelters your vehicle(s) from harsh weather, such as snow, hail, or extreme winds.
Not only will this keep your car more protected, but it could also reduce your insurance fees, especially if you take it off the road at night.
Natural appearance
Opting for a wooden carport also allows it to seamlessly slot in alongside the natural beauty of your garden. Concrete or metal carports can sometimes look out of place alongside luscious grass and trees, but a wooden carport fits in perfectly.
Environmentally friendly choice
Wooden carports are also extremely environmentally friendly, as wood is a sustainable material, especially compared to other possible materials for carports.
At Summer House 24, the company only uses slow-grown Nordic spruce, ethically and sustainably sourced, so you can be confident that your wooden carport is high-quality and environmentally friendly.
How to Find a Durable Wooden Carport
Check the wood thickness
First and foremost, one of the key durability factors with a wooden carport is the thickness of the wood. The more thick the wood, the more durable the structure!
Summer House 24's wooden carports have 44mm thick walls as standard to ensure they are as durable as possible and can withstand even the most extreme weather.
Double glazing
Double-glazing also plays a crucial role in the durability of your wooden carport. By having thicker, double-glazed windows, they become more durable and able to handle more extreme weather.
They also store more heat, keeping your wooden carport warm and dry, preventing mould or other debris from accumulating.
High-quality materials
Alongside double-glazed windows and doors, and thick, high-quality wooden walls, all the other materials should also be of the highest quality. For example, the tongue and groove wall fitting system must be perfect, allowing for wood expansion in winter and retraction in summer.
That will prevent the structure from becoming unstable over time.
Customer Reviews
Finally, don't just take a company's word for it when they tell you they are the best in the business! Remember, it is a company's job to tell you how great they are, and it's your job to check if that's true. Reviewing what other real customers have said about their wooden carport is a fantastic way to do this and ensure you make an informed decision.
Summer House 24, for example, has a 4.9/5 star rating on Trustpilot, with over 180 reviews to date.
Final Thoughts on Buying a Wooden Carport
There are so many benefits to purchasing a wooden carport, but only if you ensure you opt for a high-quality, durable model.
Summer House 24 have over 20 different wooden garages and carports to choose from, helping you choose the perfect high-quality option for your needs.
Frequently Asked Questions About Wooden Carports
What is the best wood for a carport?
The best wood for a carport is slow-grown Nordic spruce due to its excellent strength, durability, and resistance to decay.
How do you reinforce a wooden carport?
To reinforce a wooden carport, you can add additional support beams or braces to increase its stability and load-bearing capacity. However, with a high-quality carport, reinforcement may not be necessary as it is designed to withstand typical loads and weather conditions.
How durable are carports?
The durability of carports varies depending on the company and the quality of materials used in their construction, with some offering better longevity and weather resistance than others. Companies like Summer House 24 are known for providing high-quality carports, which can be very durable and withstand the test of time and environmental elements effectively.