Home Renovation Ideas: Enhancing Your Space to Fit Your Lifestyle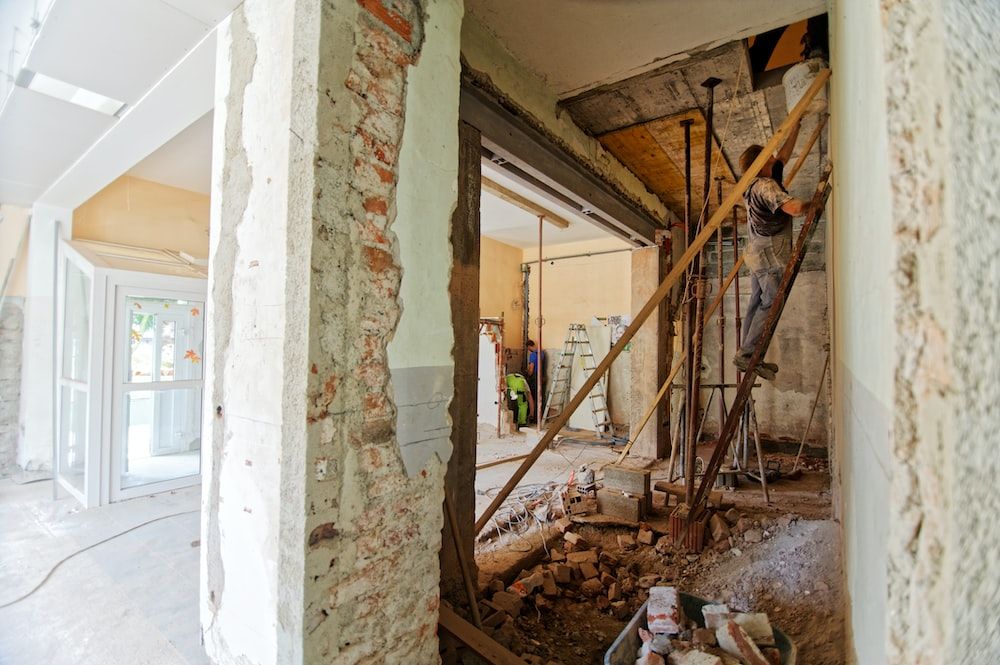 Aug 2, 2023
Your house is more than simply a structure; it is a reflection of who you are and the way you choose to live your life. It could be time to renovate your area if you get the impression that it no longer caters to your requirements or tastes the way it used to. Renovating your home presents an excellent opportunity to turn it into a customized sanctuary that is in keeping with the way you live your life in a way that is unique to you. This article will give you nine fascinating remodeling ideas to enhance your space, whether you are wanting to create a peaceful refuge, a practical workstation, or an entertainment hub. These ideas may be used in any room in your home.
1. Open Concept Living:
The removal of barriers and the adoption of an open concept for a living can help to produce an environment that is more open and breezy. You'll be able to cultivate a sense of togetherness, which will make your home more conducive to entertaining guests and spending quality time with loved ones if you combine the kitchen, dining, and living rooms.
According to Joseph Passalacqua, CEO of Maid Sailors, "It could be a good idea to knock down the walls that separate the kitchen, dining area, and living room to get a more open layout. Installing a kitchen island or breakfast bar that naturally divides the space while still preserving the feeling of openness is a great idea. To create a sense of continuity between the various sections of the room, use flooring that is consistent throughout. You will have a room that can be used in a variety of ways, which will promote socialization and add to the overall ambiance of your house if you create a living area with an open concept."
2. Creating a Home Office:
Because of the proliferation of work that may be done from home, many people now require their own private office space in their homes. Designing a practical home office that encourages work and sparks creativity requires either the remodeling of a spare room or the creation of a nook inside an existing area.
"Pick a space that has plenty of natural light and few distractions, such as a room or an area. To offer storage and workspace, you should install built-in shelves, as well as a large desk. Investing in furniture that is both comfy and ergonomically sound is the best way to be as comfortable as possible even when working long hours. To make the space more welcoming and energizing, personal touches like plants and artwork that are thought-provoking can be added. Your home office should be well-designed so that it helps you separate your professional life from your home life while also optimizing your productivity" expresses, Jonathan Faccone, Managing Member & Founder of Halo Homebuyers.
3. Outdoor Living Spaces:
Make the most of the space you have outside by designing an area that is both welcoming and pleasant, where you can rest and enjoy some entertainment. You might want to think about putting in a deck, patio, or a pleasant seating area where you can take in the fresh air, have barbecues, and make memories that will last a lifetime.
"To get started, examine the available space outside your home and pick the spot that would make the most sense for your living area. The base should be constructed out of long-lasting materials that are resistant to the elements, such as stone pavers or composite decking. Create a warm and inviting atmosphere by outfitting the area with plush seats, an outdoor dining table, and even a fire pit for those chilly evenings. To get some relief from the heat of the sun, you can install shade structures such as pergolas or umbrellas. To complete the transformation into a serene and inviting outdoor haven, finish by adding elements of decoration and vegetation" says, Gerrid Smith, Communications Manager at TEXAS PROPERTY TAX LOAN PROS.
4. Multi-purpose Rooms:
Renovating a room such that it may serve several purposes is a good idea if you are short on space. You might, for instance, maximize the use of the space in your house by installing a Murphy bed in a guest bedroom so that it can be converted into a home gym or an area dedicated to arts and crafts.
According to Derek Epstein, Owner of PAINTERS ROSWELL GA, "Choose furniture and fittings that can be readily shifted to different positions or folded away to meet a variety of uses. Put in place adaptable storage options such as built-in cabinets or shelves, which may house objects that can be used for a variety of activities. Make use of the differences in color and lighting to create distinct areas inside the space. You will be able to make the most of the space you have and modify it to meet your ever-evolving requirements if you have a multi-purpose room that has been thoughtfully planned."
5. Spa-like Bathrooms:
Incorporating elements that are reminiscent of a spa might help you turn your bathroom into a plush retreat. To make a room more relaxing and conducive to rejuvenation, consider putting in a soaking tub, putting in a rainfall showerhead, and including colors that are calming and natural features.
"Pick up luxurious-looking materials and fittings of excellent quality to use throughout the space. Install lights that may be dimmed to provide a soothing atmosphere. To make the space even more comfortable, think about installing heated floors or towel racks. To achieve the ambiance of a luxurious spa, decorate with components of nature such as potted plants, stones, and wooden accessories. To avoid having a cluttered and disorganized bathroom, you should include a lot of storage space in the design. A bathroom designed in the style of a luxury spa may become your little sanctuary, offering a calm haven from the hustle and bustle of everyday life" suggests, Michael Lees, Chief Marketing Officer at EZLease.
6. Smart Home Technology:
Utilize technologies designed specifically for use in homes to improve the capabilities of your dwelling. Installing voice-activated assistants, programmable thermostats, and automatic lighting systems can help to make your everyday activities more easy and efficient.
"Choose intelligent gadgets that are suitable for your needs and the way you live. Set up a voice-activated assistant in your house, such as Amazon Alexa or Google Assistant so that you can command a variety of different features. Invest in a programmable thermostat so that the temperature may be adjusted according to your tastes and the timetable you choose. To improve the energy efficiency of your home, consider installing automatic lighting systems that can be controlled from a distance or that can be programmed to turn on and off at specific times. Your life will become less complicated and more pleasurable as a result of the addition of technology that enables you to simply operate and monitor your property" suggests, Daniel Close, Founder, and CEO of Local Cash Home Buyer.
7. Energy-Efficient Upgrades:
Upgrades to your home's energy efficiency can help you cut down on your carbon impact and save money on your monthly power costs. To make a house more sustainable and environmentally friendly, you should upgrade any old appliances with newer ones that have an energy star rating, put in solar panels, and beef up the insulation.
"Carry out an energy audit to locate problem areas and potential solutions for improving energy efficiency. It is important to replace outdated appliances with newer models that have a higher energy star rating and use less power. Think about getting solar panels to reduce your dependency on traditional power sources and save the environment. Improving insulation by caulking gaps, installing weatherstripping, and insulating walls and attics is recommended to avoid heat loss or gain. These changes to energy efficiency will not only be beneficial to the environment, but they will also contribute to economic savings in the long run" says, Richard Adams, Lead Researcher at Within Home.
8. Customized Storage Solutions:
Personalized solutions can help you make the most of the space you have for storage. Create practical storage solutions for your house by putting in built-in shelving, adding closet organizers, and making use of under-utilized spaces such as under the stairs or in the garage. These steps will help you keep your home clutter-free and organized.
"Conduct an inventory of the things that need to be stored in each room and look for places where you may add bespoke storage. To offer storage solutions that are both practical and aesthetically pleasing, built-in shelving or cabinets should be installed in living areas, bedrooms, and kitchens. Utilize space-saving hangers and closet organizers to make the most of the space in your wardrobe. Make use of spaces that aren't being used to their full potential, such as the space beneath the stairs or the one in the garage. You can maximize the space in your house while also keeping it clean and well-organized if you choose to personalize the storage solutions you use" says, Mathew Bowley, Head of Marketing at Solmar Villas
9. Outdoor Landscaping:
Investing in outside landscaping will help you create a welcoming exterior for your property as well as improve the home's curb appeal. Create a stunning garden that not only shows your unique sense of design but also elevates the overall appeal of your property by planting flowers, trees, and bushes, as well as adding paths and lighting.
According to Warren Phillips, Co-Founder of Lantana Recovery, "To begin, evaluate the area you have available outside and think about the kind of landscaping that will work best in the environment you live in. You should plant a wide range of flowers, shrubs, and trees in your yard so that you have a change of hue and texture throughout the year. Stone or paver paths that are properly defined can be used to direct guests to the entrance of your business. Installing outdoor lighting will allow you to draw attention to architectural details while also producing an appealing atmosphere. You may raise the "curb appeal" of your property and make it feel more inviting to visitors if you take the time to plan out and implement attractive outside landscaping."
Final Thoughts:
You must be able to feel at ease and completely express who you are in the space that you call home. You have the potential to alter your space and create an atmosphere that is in line with your lifestyle and provides you joy if you undertake a home remodeling project. This gives you the ability to make your space more in line with your preferences. These nine home improvement ideas, ranging from open-concept living to outdoor gardening, will assist you in enhancing your space and making it seem more like your own. Take advantage of all the opportunities, use your imagination, and get started on a home improvement project that will give your house a fresh start.