How to Build a Small Cabin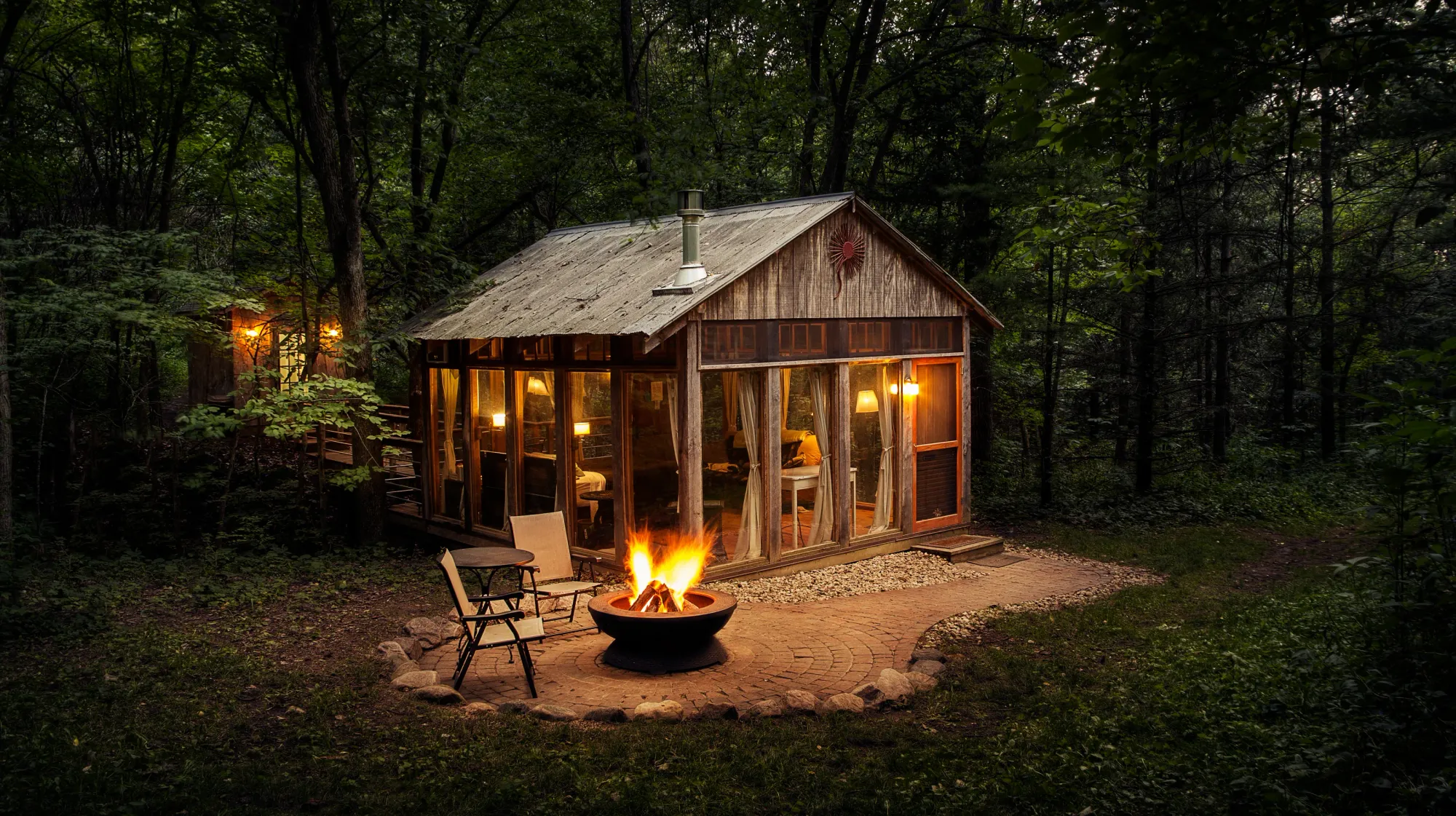 Mar 27, 2023
If you've ever dreamed of owning a small cabin in the woods, now is the time to make that dream a reality. With a little planning and some hard work, you can build your own cabin from scratch.
Building a small cabin is a DIY project that can serve multiple purposes, from a cozy vacation home to a full-time residence. It makes sense to use natural materials and save money where you can. Whether you want a year-round cabin or a seasonal getaway, building a small cabin is a great way to enjoy cabin living.
How to build a small cabin
Here we'll guide you through the process of building a small cabin, step by step.
Step 1: Choose a Location
The first step in building a house or small cabin is to choose a location. Look for a spot that is level, has good drainage, and is situated away from flood-prone areas. Also, make sure that the land you choose is zoned for building and that you have any necessary permits.
Step 2: Design Your Cabin
Once you have chosen a location, it's time to design your cabin. Think about how you will use the space, and create a rough sketch of the layout. Consider factors such as the number of rooms you need, the size of the cabin, and the type of materials you will use.
Step 3: Gather the Right Materials
Before you can start building, you'll need to gather the materials. You'll need to purchase lumber, roofing material, insulation, windows, doors, and other supplies. If you have access to electricity and want the cabin to having heating or air conditioning, you should also consider adding a ductless mini-split HVAC system.
Step 4: Build the Foundation
The next step is to build the foundation. The foundation is the base upon which your cabin will rest. There are several types of foundations you can use, including pier and beam, slab, and crawl space. The type of foundation you choose will depend on the terrain, grade/slope and soil conditions of your location.
Step 5: Frame the Cabin
Once the foundation is in place, it's time to frame the cabin. This involves constructing the walls, roof, and floors. Use the lumber you purchased earlier to create a sturdy frame.
When building a small cabin, the floor plan is crucial. You'll want to have enough room for living space, but you also don't want to waste floor space. Consider a loft area for additional sleeping or living space.
Step 6: Install Windows and Doors
Once the cabin is framed, it's time to install the windows, doors and house wrap. Make sure that the openings for the windows and doors are properly sized and that they are level and plumb.
Floor to ceiling windows will bring in natural light and make the living area feel larger. A front porch is also a great addition, providing a place to relax and enjoy nature.
Step 7: Install Electrical and Plumbing
Next, you'll need to install the electrical and plumbing systems. This includes running electrical wires and pipes, installing outlets and fixtures, and connecting to a water source and septic system if necessary. To create a cozy cabin, consider adding a wood stove for heat instead of an HVAC system.
Step 8: Install Insulation and Finish the Interior
After the electrical and plumbing systems are installed, it's time to add insulation and finish the interior. Use insulation to keep the cabin warm in the winter and cool in the summer. You can also add drywall, paint, and flooring to complete the interior.
Step 9: Install the Roof
Finally, it's time to install the roof. Use the roofing material you purchased earlier to create a sturdy, weather-resistant roof that will protect your cabin from the elements.
Tiny Cabin Tips & Advice
Are you ready to build your own small cabin? It's a great way to have your own retreat and enjoy cabin living. In this complete guide, we'll show you how to build a small cabin with just enough space for you and your family.
First, decide on the small cabin design you want. A tiny cabin, small house, accessory dwelling unit (ADU), or even an off grid cabin might be perfect for your needs. If you want to go with a classic design, consider a log cabin or conestoga log cabins. You can build the cabin yourself, or hire a licensed contractor to help.
Next, gather your building materials. You can save money by using mostly reclaimed materials, but you'll still need to purchase some new supplies.
Before you begin building, make sure to obtain any necessary building permits. You can also decide to go off grid, which will require some additional planning and consideration. Once you have your own materials, detailed instructions, and a complete list of building supplies, it's time to start building your small cabin. With a little hard work and determination, you can create your own dream retreat in no time!