How to Clean and Stage Your Closets to Sell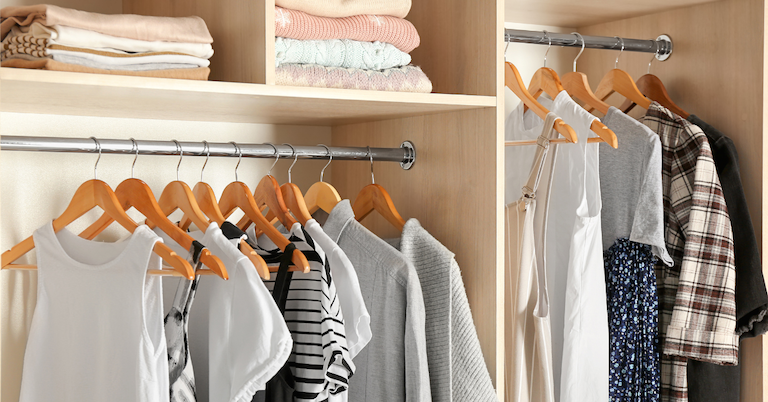 Sep 25, 2022
Cleaning and organizing your home is an incredibly important task if you want to sell your home, sell it quickly, and sell it for a good price. For many sellers, their idea of cleaning is to shove everything into the nearest closet. Out of sight out of mind right? Not exactly.
Unfortunately, that method might actually hurt your chances of meeting your home selling goals. When touring homes, buyers are going to want to thoroughly inspect all areas of the home - closets included. Think about it, closets provide essential storage within the home.
Considering storage is a huge priority for many homebuyers, you're going to want to highlight your closets in the best way possible. This often requires cleaning and staging. If you're looking to take your home's closet from chaotic to clean, here are a couple tips to help you clean and stage your closets to sell.
Tackle One Closet at a Time
The idea of cleaning every closet in the home can be stressful. However, there is no need to stress. Tackle one closet at a time focusing on the most looked at ones first such as the owner's suite closet. This the main closet in the home that buyers are going to be paying attention to as they view your home in person and online. If you're going to start somewhere, start here.
Leave Only What You Currently Use
If you aren't using it, don't keep it in the closet. The goal of cleaning out your closet to stage is to showcase the space within it. If bulky winter coats and backup linens are taking up all the closet space, it will be hard for potential buyers to see its size and functionality. Go ahead pack away items you are not currently wearing and using. The less there is taking up space in the closet, the bigger it will feel and more likely buyers will be impressed.
Swap Out Your Clothes Hangers
For consistency's sake, swap out your array of mismatched hangers and purchase some that are all the same kind. While wooden hangers have a nice visual appeal, velvet or chrome hangers are equally as aesthetic and practical for less of the price. Having matching clothes hangers makes the closet more decorative and appealing to buyers. Plus you'll have new hangers to take with you when you move into your new home. It's a win-win!
Add in Closet Storage
If you have small closets, storage will be your best friend. What your closet can't offer in space can be made up for with added organization. Add in closet shelving, install a door hanging organizer, or a cubby shelving unit. If you have the budget, consider the idea of custom closet features like built-in shelving. Buyers are always on the lookout for more storage and surprisingly, custom closet features have a great return on investment.
Develop Visual Appeal
When organizing your closet for staging, you want to consider visual appeal. If working with a bedroom closet, organize clothes by article time. This might look like all short sleeve shirts together, all long sleeve shirts together, and dresses or pants together. To take it up a notch, organize these sections by color to create an appealing closet aesthetic. Separating items by types could also work for bathroom linen closets and pantries by placing similar items together on the same shelf or area of the shelf. Help buyers visualize the closet's organized potential.
Repaint the Walls
Adding a fresh coat of paint before you sell can work wonders. This extends to your home's closets too. Closets tend to not have the best lighting which can often make them appear dark and cramped. After your closet is cleared out, give it a nice fresh coat of white paint to make the space feel lighter, cleaner and more spacious. If you have custom shelving units in your closet, make sure to paint those as well.

Add Closet Lighting
If your closet needs a bit more help in the brightness department, install closet lighting to illuminate the space and make it easier for you (and buyers) to navigate. When it comes to closet lighting, keep it simple. Fluorescent or LED bulbs are both popular choices because they run cool and are energy efficient. If you don't have the time or money to set up electrical wires, opt for wireless motion censored options instead.
Now that you know how to clean and stage your closets to sell, it's time to get the selling process rolling. Contact us at SimpleShowing to learn how you can sell your home and save thousands with our 1% listing fee. Experienced agents, professional photos, full-service MLS listing and more.

Fill out our free home valuation to get started!