How to Start an HVAC Business (10 Steps)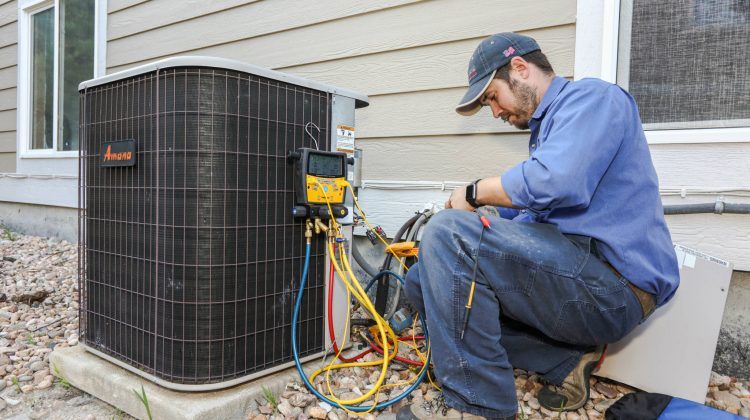 Feb 12, 2023
If you're looking to start your own HVAC (heating, ventilation, and air conditioning) business, you're likely passionate about providing quality services to your community while also being your own boss.
However, starting your own business can be a challenging process. Here are some tips to help you get started:
Gain Industry Knowledge and Experience
Before you start your HVAC business, it's essential to gain a solid understanding of the industry. This includes obtaining the necessary education, training, and certifications to work as an HVAC technician. You'll also need experience in the field to ensure you're equipped to manage the business and provide high-quality services.
Develop a Business Plan
To turn your HVAC business idea into a reality, you need to develop a business plan that outlines your goals, objectives, target market, financial projections, and other important details. A well-structured business plan is crucial in securing financing, creating a roadmap for success, and identifying any potential challenges that may arise.
Secure Financing
Starting an HVAC business requires an upfront investment in equipment, vehicles, and insurance, among other expenses. You may need to secure financing from a bank, credit union, or other lending institution. Be prepared to provide detailed financial projections, collateral, and a strong business plan to increase your chances of being approved for a loan.
Choose a Business Structure
When starting an HVAC business, you'll need to choose a business structure that best suits your needs. You can choose to operate as a sole proprietorship, partnership, LLC, or corporation. Each structure has its own advantages and disadvantages, so it's important to consult with a legal professional or business advisor to choose the best option for your business.
Obtain Licenses and Permits
To operate an HVAC business legally, you'll need to obtain the necessary licenses and permits from your state or local government. This may include a contractor's license, business license, and permits for HVAC work. Be sure to research the requirements in your area to ensure you're compliant with local laws and regulations.
Purchase Equipment and Tools
To perform HVAC work, you'll need a variety of equipment and tools, including HVAC systems, refrigerant recovery machines, air purifiers, and more. Consider purchasing high-quality equipment and tools to ensure you're providing top-notch services to your customers. You may also need to purchase vehicles to transport your equipment to job sites.
Develop a Marketing Plan
To attract customers to your new HVAC business, you'll need to develop a marketing plan that outlines your target audience, messaging, and advertising channels. Consider creating a website, social media profiles, and local advertisements to get the word out about your business. You may also want to partner with local home improvement stores or building contractors to expand your reach.
Hire and Train Staff
As you consider how to start an HVAC business, it's essential to carefully plan the hiring process for new HVAC technicians. Here are some key steps you'll need to take:
Step 1: Verify Your Candidates
Hiring new employees is an exciting milestone for your HVAC business, but it also comes with important considerations. Before hiring, it's crucial to double-check each HVAC technician candidate.
After your ideal candidate passes their initial phone screening and in-person interview, be sure to conduct a thorough background check to identify any potential liability issues. For example, if a candidate has a history of theft, they may not be a suitable hire for working in clients' homes and offices or operating expensive equipment.
To ensure clients can trust your HVAC technicians, it's important to avoid hiring any candidates with red flags in their records.
Step 2: Check Candidate References
Another key step in the hiring process is calling the 3-5 references your candidate provides. This will help you verify the information they've shared and gain insight into their previous work experiences and performance.
Step 3: Confirm Legal Eligibility
It's essential to make sure each candidate is legally authorized to work. This may involve obtaining necessary certifications or visas, depending on your business's location and needs. Ensure that your candidates are willing to invest the time and effort to obtain any required licenses or certifications to work in the HVAC field.
By following these steps, you can build a reliable and trustworthy team of HVAC technicians for your new business. Remember to prioritize careful screening and verification to protect your business and ensure client satisfaction.
Establish a Reliable Supply Chain
To provide quality services, you'll need to establish relationships with reliable suppliers and vendors. This includes sourcing HVAC equipment, parts, and tools, as well as office supplies, insurance, and other essential business services. Be sure to negotiate favorable terms and develop strong relationships with your suppliers to ensure your business is running smoothly.
Starting an HVAC business can be a challenging but rewarding process. By following these tips, you can increase your chances of success and provide quality services to your community. Remember to stay organized, seek professional guidance when needed, and never stop learning and growing in your
Leverage Home Service Software
One effective strategy for growing your HVAC business is to utilize high-quality HVAC software right from the beginning. By using top-notch HVAC field service software, you can enjoy a range of benefits, such as:
Faster payments for completed jobs
Easy creation of mobile estimates from any location
Efficient route planning and technician dispatching
Streamlined bulk invoicing for clients
Convenient access to job history and customer data from anywhere
Investing in reliable HVAC software can give you a competitive edge in the industry, enhance your business efficiency, and ultimately help you achieve greater success.