Top 9 Kitchen Countertop Materials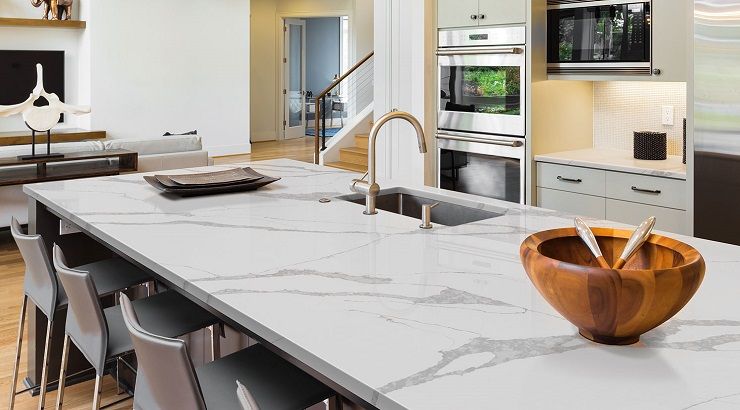 Oct 2, 2022
Is there a room in your home that is more important and beloved than the kitchen? The kitchen is truly the center of gravity for most homeowners. It stands to reason that nearly 30% of all home remodelling dollars spent in the US involve the kitchen. That's billions (with a "B") of dollars spent on things like kitchen cabinets, appliances, backsplashes and of course – countertops.
SimpleShowing publishes tons of content on home improvement, home design/decor and also tips for homebuyers and remodelers. Based on trends in 2022, here's our ranking of top kitchen counter material. Scroll to the bottom to see our winner!
9. Terrazzo
Advantages: Terrazzo today is not the same as Terrazo from 1984 - it's way better now! Terrazzo is a highly customizable, composite countertop material that is a blend of cement particles combined with chunks of marble, glass or granite. It's also heat tolerant and scratch resistant.
Disadvantages: Terrazzo is mostly available is colorful, unique and exotic patterns. As a result, it's typically most suitable for contemporary kitchens and may not pair well with a plain "vanilla" kitchen.
8. Butcher Block

Advantages: You can actually pick up butcher block from most big box hardware stores. Wood adds warmth and is easy to install and stain and ability to choose a tone and finish (gloss, matte, etc.) This gives you versatility that is not possible with other stone materials.

Disadvantes: Scratches can be common, particularly in busy surface areas or along the edges. Luckily, most nicks and scratches can be sanded out.
7. Concrete
Advantages: If you want your counters to stand out and have a "rare" look, concrete may be a great option. Concrete counters are "poured" onsite and polished once in place. The finished slab can be textured or acid-stained to produce colors. This gives the homeowner a variety of unique finishes to choose from.
Disadvantages: Probably the biggest downside of concrete is that it's most suitable for modern or transitional style kitchens. Generally a concrete counter isn't appropriate for a conservative-styled home or kitchen unless it's installed for an outdoor kitchen environment.
Also, the concrete "form" is installed onsite, which can be messy. And if installation is performed if not installed correctly, concrete can crack along an area where a joint was poured. It's best to install in one continuous section so as to prevent cracks. The porousness of concrete can be reduced with additives.
6. Recycled Glass

Advantages: Glass counters can provide an exotic and unique or rare look that fits well in contemporary kitchens. Large glass shards or finely ground glass can yield dramatically different looks for each slab. makes it less busy. Glass counters are also highly resistant to stains, cuts, scratches, and heat.

Disadvantages: Glass counters are typically limited in their appeal in terms of property resale. In other words, the look and feel of glass might turn off a would-be homebuyer that is more accustomed to mainstream granite.
5. Laminate

Advantages: It might sound ridiculous to see laminate ranked on a list of great countertop materials, but laminate is inexpensive, easy to install, and much better-looking than laminate products from the 1980's!  Today, manufacturers use advanced printing technology to create attractive designs and patterns that mimic granite. Also, most stains and heat don't damage the laminates products of today's age. Another bonus is that you can pick up laminate slabs from your local big box retailer, same day.

Disadvantages: Cutting and chopping directly on laminate could cause surface damage, so it's best to use a cutting board. The only other disadvantage is the perception that laminate is "cheap", however builders continue to use the material extensively and the product is also very common in starter homes and rental properties.
4. Limestone

Advantages: Limestone provides a natural, earth tone look while provide an element of heat resistance. Limestone can also provide a classic, elegant look with natural-stone features without large surface veins that often appear in marble slabs.

Disadvantages: Without professional sealants, limestone tends to show stains easily and in general is a softer material than a granite product.

3. Granite

Advantages: Each slab of this natural material is unique; rare colors and veining cost more. Heat, cuts, and scratches didn't harm granite in our tests. Polished and matte finishes resisted most stains when properly sealed, so pick the look you prefer.

Disadvantages: Periodic resealing is needed to prevent stains. Like quartz, edges and corners can chip and must be professionally repaired.


2. Marble

Advantages: Marble is a composite of a variety of minerals, including calcite, graphite, and more.  Slab designs such stemming from Carrara and Calacatta marble have become wildly popular in the last decade. In fact, as gray paint tones have grown in popularity, many homeowners chosen to outfit both their kitchen and baths with extensive marble slabs and tiles.
Marble provides a fantastic balance of both elegance and classic/timeless appeal that exudes luxury.

Disadvantages:  Marble is derived from softer natural stones, which translates to less durability. Nicks and scratches and even stains can occur. This may be a consideration if you do a lot of cooking or have young children that might not be careful with items placed on top of the counters.
1. Quartz

Advantages: Quartz is a man-made material that tolerates heat and is virtually impossible to scar with a knife. It is available in It modern colors and patterns that often resemble marble or granite. Quartz slabs are created by mixing quartzite particles with resins to create an extremely durable surface that resembles natural stone. This blend of natural stone and synthetic resins is more resistant to household cleaning supplies and chemicals than natural stone options.

Disadvantages: The price! Like marble, quartz and naturally occuring quartzite can both be very expensive.
Cost of countertop material (Price per square foot)
Here's a rough breakdown of what you can expect to spend, on average for each type of countertop material from above. Pricing varies based on finishes/styles of material as well as market, however these are averages nationally in US:
Quartz: $80/sf
Marble:$75/sf
Limestone: $70/sf
Granite: $55/sf
Recycled Glass: $55/sf
Concrete: $50/sf
Butcher Block: $35/sf
Laminate: $30/sf
Which countertop is best for your home?
Choosing a countertop material that suits your lifestyle and taste is often dictated by your kitchen cabinets, kitchen flooring and also the overall layout of your kitchen. We recommend choosing a material that elevates your existing look and can also remain timeless in years to come.