Top 9 Questions to Ask When Choosing a Home Solar Company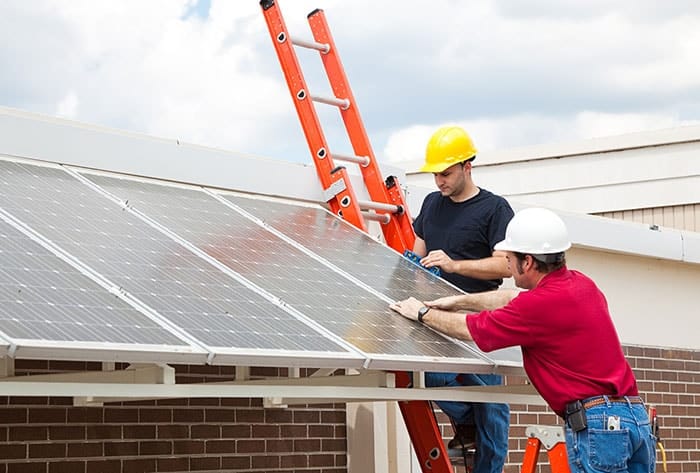 Jul 3, 2023
Solar installations are becoming more common than ever. What used to be a rare sight now makes up 4.4% of global energy production. And as time goes on, that number keeps increasing.
That's why it's no surprise that you want to install solar panels. But you need the right help if you want the job done right.
Knowing what questions to ask is vital for finding a reliable home solar company. Below are nine questions that will help you find the best installer for the job.
1. Are You Licensed in My Area?
Working with a licensed solar contractor is a must. Each location has rules that dictate how builders can do work. These rules can change a lot based on where you live, meaning you need someone who understands your area.
Governments give licenses to companies with the qualifications to work in an area. You should be able to get a license number from a solar company before working with them. Verify that the number is valid for your area before you hire a company.
2. Do You Have Insurance?
No matter how many safety measures you take, working on roofs is still dangerous. You're also dealing with electrical equipment. If something goes wrong, it can cause injuries to people or damage to your property.
That's why you can't afford to work with a company without insurance. You don't want to be on the hook for damages if something goes wrong during the installation process. Get verification for insurance coverage for both injuries and property damage.
3. When Can You Handle the Installation?
Timelines are challenging in construction today. There's a labor shortage, which means many contracting companies don't have the workers to handle many jobs.
This shortage means some companies may take some time to get to your installation. This becomes a problem if you want the job done sooner rather than later.
Get an installation timeline before you hire a solar company. Make sure it matches your expectations to ensure you get your installation completed when you want it.
4. Can You Handle a New Roof?
Solar panels won't work on every type of roof. They need to support the weight of solar panels and the brackets to hold them up.
You'll need to verify that your roof can handle the load before installing solar panels. And if they can't, you'll need to also get a new roof.
Ask if a solar contractor can also install a new roof for you. If you use the same contractor for both installations, you may be able to work out a better deal.
5. What's Your Warranty?
With how expensive a solar installation is, you don't want to take any chances regarding problems. In most cases, everything will work fine. But what happens when something goes wrong, and you don't have a warranty to cover the problems?
A warranty will ensure you get the help you need if your solar products aren't working. If it was an installation error, you'll have help fixing the problem. If there is a problem with the solar hardware, you can get a replacement from the manufacturer.
6. Do You Offer a Maintenance Plan?
After the initial installation, you may not need much maintenance on your solar panels. You primarily need to worry about the panels getting dirty. That means you'll need to regularly clean them to keep them working efficiently.
But as time goes on, they may need more maintenance. And when this happens, you might want to keep working with the company that handled the installation. Check if you have that option with the companies you're considering hiring.
7. Can You Install Battery Systems?
In the traditional scenario, a solar installer will tie the power system to the grid. It sends excess energy to the power company, and in return, you get a power credit that allows you to pull power at no additional cost.
But you may not want to be in this situation. You may want to be completely off-grid, which means you'll need to power your home at other times. A battery system will help you do this, so ask if it's an option from your solar installers.
8. Who Handles the Installation?
Subcontracting is a common practice in the home improvement space. One company handles the sales process but doesn't employ workers on their own and hires the job to other companies.
This practice is acceptable, but you should know about it before hiring a solar company. Ask if a solar installer uses solar contractors before hiring them. Ideally, you'll learn who handles the installation to vet them too.
9. Can You Offer Testimonials?
A solar company isn't the only source of information you should have when learning about companies. Some companies have great sales pitches. But they don't offer excellent service when it comes time to do the job.
The best solar companies should have plenty of happy customers if they do the job right. See if there is an opportunity to reach some of those people to learn more about their experiences. If that's not possible, you can still check online to look for public reviews.
Ask the Right Questions to a Home Solar Company
A solar installation is a big purchase. You're spending thousands of dollars on a reliable system. If you don't do your due diligence, you risk hiring the wrong home solar company and not getting your money's worth.
But you can set yourself up for success when you ask the right questions. You can use your interview with a solar contractor to learn more about their ability and see if they can handle the job. Be sure to ask the questions above to validate your solar company options.
Do you have any future plans to make home upgrades? Learn more about doing the job right by checking out the other website articles.