Top Real Estate Agents in Decatur, GA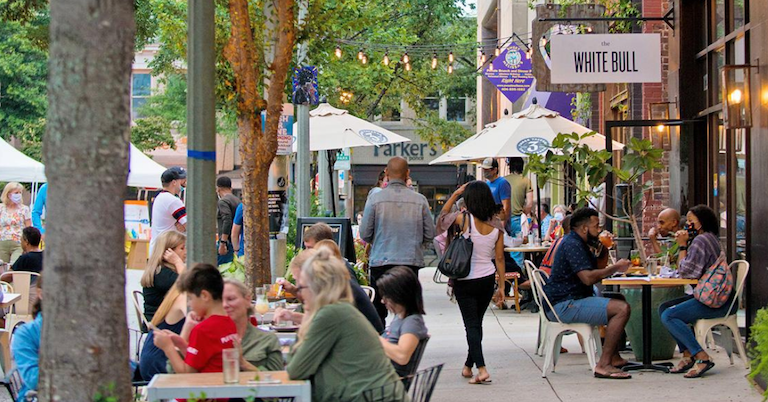 Jun 11, 2021
Just six miles from Downtown Atlanta, Decatur is a city bursting with a unique mix of both urban and suburban life. The metro city has quickly become a favorite among single professionals, young couples, and families alike due to its low crime rate, vibrant community, strong schools, and beautiful homes.
After suffering a decline in real estate values during the 1960's and 1970's, Decatur experienced a resurgence largely due to the development efforts made within the city's downtown area. Downtown Decatur is a thriving center filled with trendy restaurants, charming boutiques, art galleries, quaint coffee shops, local parks and neighborhood pubs. The downtown district is also hosts popular events including community concerts and holiday celebrations. In addition to all downtown has to offer, the city is also only 15 minutes from Atlanta attractions such as Mercedes Benz stadium, Zoo Atlanta, and Six Flags Over Georgia.
Decatur residents love the city for its progressive atmosphere and high civic involvement within the community. These factors are two of the many reasons Decatur was ranked the "#2 Best Place to Live in Georgia". Decatur's proximity to Atlanta makes the city the perfect place for those working inside the perimeter while the  well-regarded schools provide quality education.
How is the Housing Market in Decatur, GA?
If you are interested in buying a house in Decatur, it is important to understand the housing market you are entering. According to Zillow, the current median home value in Decatur sits at $472,300. Properties in Decatur typically sell for 95.9% of the asking price and are on the market for approximately 65 days. A total of 660  homes were sold in Canton last year while the median home price increased by 16.6%.
Decatur's growth over the past few decades continues to draw more people to the metro city. Due to its location near Atlanta and its historic setting, home prices in Decatur tend to be higher than other Atlanta suburbs. However, don't let that steer you away from this incredible city. With the right local realtor, you are sure to find your dream home for a dream price in Decatur.
Top Real Estate Agents Serving Decatur, GA
If you are looking to buy a home in Decatur, we've put together a list of some of the top-rated, local real estate agents to help you accomplish your goals. Below, you can see the number of recent sales and reviews to make it easier to choose which agent is right for you.
John Attaway, SimpleShowing Real Estate
Here's what clients have to say about John Attaway:

"Very much appreciated John's communication with us at all steps of the process, even after closing. That's over 3 months of dealing with our first-time-home-owner nonsense, everything from 'How do we put in a bid?' to 'How do we set up our utilities?'. Our experience with John and SimpleShowing has been stellar, and we got a little over $3,500 back the day of closing. I highly suggest them to anyone looking for a quality house-hunting experience, and can't wait to recommend them to friends and family."- Jessie S. (Google)

Mindy Carty, Keller Williams Realty Metro Atlanta
Here's what clients have to say about Mindy Carty:
Mindy's extensive knowledge of Decatur and it's surrounding areas, specifically where the public school system was concerned, provided tremendous help in narrowing the focus of our search. She was always available to answer questions or talk through concerns and she offered solid advice while also respecting our wishes and budget. She was a trusted guide for us during the entire process and we could not have been happier!"- Anonymous (Zillow)
Erika Brown, Adams Realtors
Here's what clients have to say about Erika Brown:
"My husband and I purchased our first home with Erika. Not only was she knowledgeable about the area and process, but she was extremely patient with us and explained (multiple times) everything we were doing and needed to do step-by-step. It made the process simple and much less stressful. We highly recommend Erika and would be thrilled to work with her on our future home purchases."- Lexie L. (Zillow)

Derek Wood, Golley Realty Group
Here's what clients have to say about Derek Wood:
"Derek took full account of our needs , wants & requests. He met our challenge with different price points, work requirements, home styles & desired location . His knowledge of the area was profound, making sure we knew all the in's & out's of each neighborhood. Derek even knew the best routes to school. We ended up with a home under construction, Derek managed our remote purchase like I've NEVER seen!"- Anonymous (Zillow)
If you've decided to search for homes in Decatur, you'll need a real estate agent that will help you make the best decision and get the best deal. SimpleShowing's team of dedicated agents provide buyers with negotiation, inspection, and contract support.

In addition to these traditional real estate services, homebuyers will also receive a buyer refund of up to half of our commission at closing. Use that refund towards closing costs, renovations or even your first few mortgage payments!
If you plan on selling with SimpleShowing as well, you will receive a low 1% listing fee, a real estate agent, contract and negotiation support, MLS listings, an open house, and more. It's the same real estate agent experience, just at a lower cost!

Take advantage of the market and find your new home in Decatur! Contact us today and we'll put you in touch with one of our top real estate agents in the Decatur area.