Top Real Estate Agents in Woodstock, GA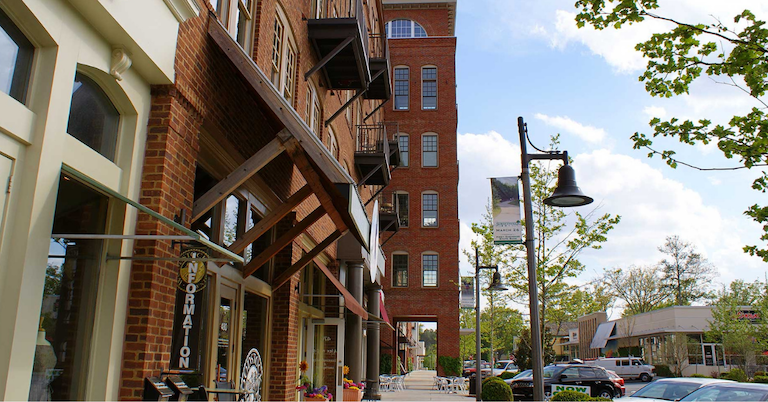 May 25, 2021
Located just 30 miles northwest of Atlanta, Woodstock more than lives up to its slogan: "A City Unexpected". Once a small railroad town, Woodstock is now a bustling community that offers all the vibrancy of city life within a more laidback suburban location.
Woodstock has grown tremendously over the past few years largely due to the revitalization of its now flourishing downtown area. Downtown Woodstock offers a great night scene with several restaurants, breweries, bars, and live entertainment venues. Local shops can be found throughout the city's downtown area while a larger variety of merchandisers can be explored nearby at the Outlet Shoppes of Atlanta. Outside of the city-inspired entertainment, Woodstock is also well known for its natural scenery with parks such as Olde Rope Mill Park.
Woodstock residents love the city for its historic ambiance and strong sense of community. The city is served by Cherokee County Schools which includes top-rated schools that outperform the state's average. The city's overall affordability, convenience to Atlanta and incredible attractions make Woodstock a popular city call home.
How is the Housing Market in Woodstock, GA?
If you are interested in buying a house in Woodstock, it is important to understand the housing market you are entering. According to Zillow, the current median home value in Woodstock sits at $282,186. Properties in Woodstock typically sell for 97.5% of the asking price and are on the market for approximately 54 days. A total of 4,143 homes were sold in Woodstock last year while the median home price increased by 7.6%.
Around town, you are likely to find housing options ranging from the modern high-rises and charming townhomes near downtown to larger planned subdivisions just a few miles outside of it. With the city continuing to expand and home values on the rise, Woodstock is a hot suburb to move to. Of course, before you move. you'll need the help of a local real estate agent.
Top Real Estate Agents Serving Woodstock, GA
If you are looking to buy a home in Woodstock, we've put together a list of some of the top-rated, local real estate agents to help you accomplish your goals. Below, you can see the number of recent sales and reviews to make it easier to choose which agent is right for you.
Fred McGill, SimpleShowing Real Estate
Here's what clients have to say about Fred McGill:
"We worked directly with Fred McGill and he was friendly, human and professional throughout the entire process. Even giving us a gift on closing day. He was always on hand to answer our notice questions with comforting responses (via sms too!). After a pretty flawless experience from offer to close we were excited to receive our Simple Showing refund of over $8,000 that was handed to us the minute we were done. An excellent way to wrap up buying our first home." – Luke Beard (Google)
Cathy Tomlinson, Berkshire Hathaway-Tomlinson Team
Here's what clients have to say about Cathy Tomlinson:
"We had the best buying experience with Cathy Tomlinson and would absolutely recommend her and her team! We focused our house search specifically in Eagle Watch in Towne Lake and she was very patient with us as we looked at just about everything that came on the market while we waited for the right home to finally come on the market. Cathy is extremely well-connected and knowledgeable about the area and did a great job coaching us through the negotiating and buying process."- Anonymous (Zillow)
Mike Wistrick, Atlanta Communities- The Wistrick Team
Here's what clients have to say about Mike Wistrick:
"Mike and his team are the best! Their knowledge of our market and our house was a huge help in getting our family the price we wanted for our house! Mike has also kept in touch with us for the last 5 years since we originally bought our house, and it shows his teams dedication to their customers. We are more than appreciative for his help and we would 100% recommended him to anyone looking to buy or sell their home!"- Anonymous (Zillow)
Donna Broadus, Broadus Realty Group
Here's what clients have to say about Donna Broadus:
"I was not looking forward to our move. We were moving away from friends and family and moving to a new, unknown community. Donna made me feel welcome immediately. She went above and beyond to really help us find, not only, the right house, but also, the right area of town that fit our family best. Donna worked diligently to make sure every detail went smoothly. She was able to offer us excellent realty advice on both the sale of our old home and the purchase of our new home."- Charity R. (Zillow)

If you've decided to search for homes in Woodstock, you'll need a real estate agent that will help you make the best decision and get the best deal. SimpleShowing's team of dedicated agents provide buyers with negotiation, inspection, and contract support. In addition to these traditional real estate services, homebuyers will also receive a buyer refund of up to half of our commission at closing. Use that refund towards closing costs, renovations or even your first few mortgage payments!

If you plan on selling with SimpleShowing as well, you will receive a low 1% listing fee, a real estate agent, contract and negotiation support, MLS listings, an open house, and more. It's the same real estate agent experience, just at a lower cost!

Take advantage of the market and find your new home in Woodstock! Contact us today and we'll put you in touch with one of our top real estate agents in the Woodstock area.