What Do You Need To Make A Great Outdoor Kitchen
Dec 28, 2022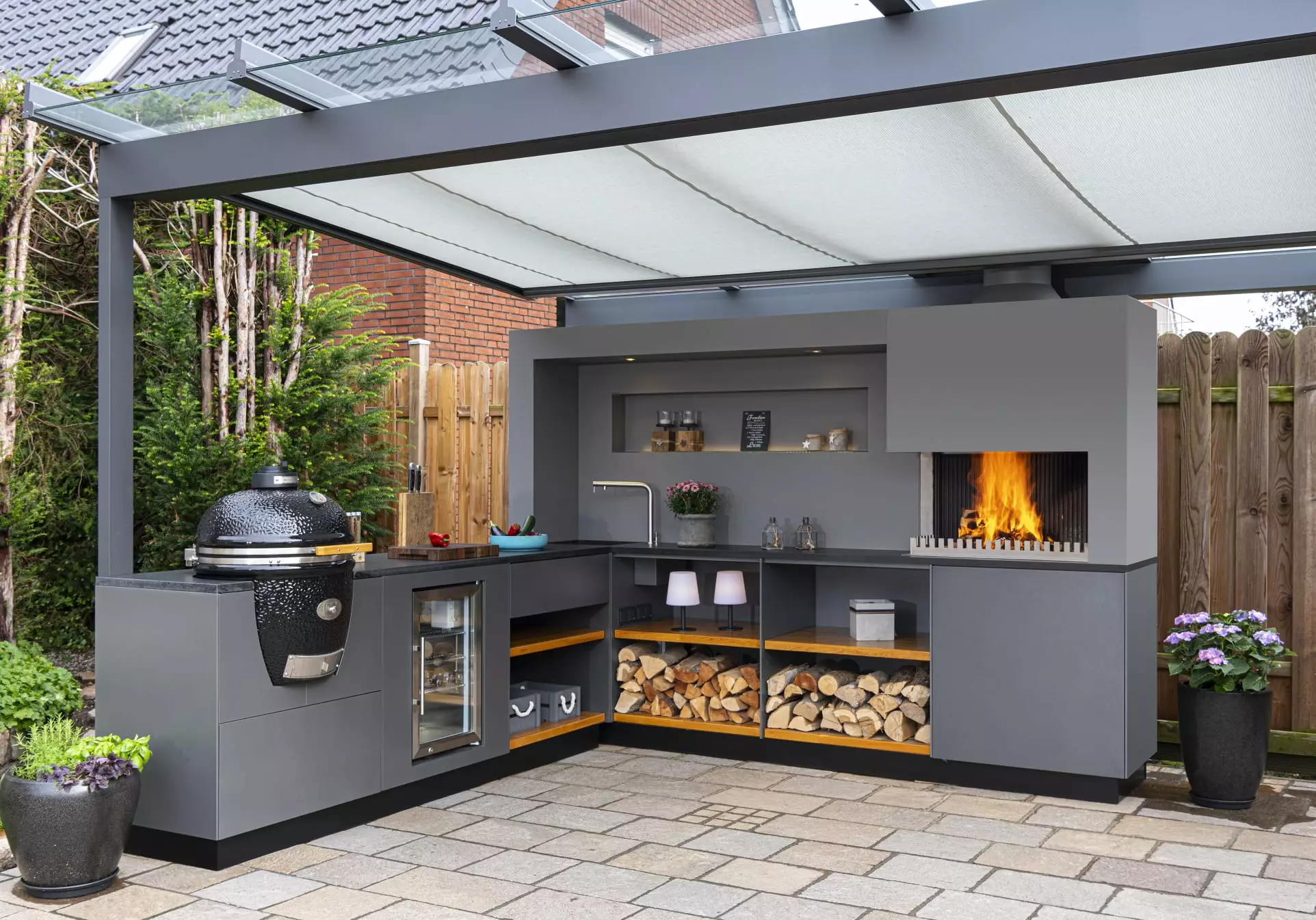 Imagine being able to cook and entertain guests in the great outdoors. An outdoor kitchen is an excellent way to extend your living area and make the most of your outdoor space. With a few simple steps, you can set up an outdoor kitchen perfect for hosting barbecues, pool parties, family gatherings, or any other event. Let's look at what you need to create the perfect outdoor kitchen.

Lighting
Creating a well-lit outdoor kitchen area is essential for comfort and security, day and night. Motion-sensor lighting can be a great added feature for extra security, while decorative string lights or lanterns can provide a festive atmosphere. Solar-powered lighting is an investment worth considering to reduce your energy costs in the long run. Setting your lighting on a timer will ensure that it turns off and on at set times, so you don't have to switch them manually. In addition, installing ambient lights around your patio area will create a warm and cozy atmosphere ideal for entertaining guests.

Storage
Remember to plan for adequate storage when designing your outdoor kitchen. You'll need somewhere to store your tools and supplies, such as grilling utensils, dishes, cutlery, and more. An outdoor cabinet with shelves is ideal for keeping everything organized and within easy reach. If you're feeling adventurous, you can even build your own custom outdoor cabinetry. Consider using freestanding storage units or under-the-counter drawers if you have limited space. Consider installing a hanging rack for pots and pans or a dish drain, so dishes dry faster after cleaning.
Smoker
Smokers are an integral part of crafting the perfect kitchen experience outdoors. They offer a unique cooking style that is hard to replicate elsewhere. Not only do Offset Smokers provide a smoky flavor to food, but they can also help create low-maintenance meals that require little practice or effort. Additionally, using this appliance increases the quality of food from the kitchen, allowing for restaurant-quality cooking at home. Integrating a smoker into any outdoor kitchen is essential for making delicious dishes, whether for an amateur chef or a professional cook.
Plants
Adding some greenery to your outdoor kitchen can make it come alive. Consider adding some planters with herbs and vegetables that you can use in your cooking. If you'd like a more decorative touch, consider flower gardens or clusters of succulents for a pop of color. Putting plants on wheels is also an excellent way to make them easily movable and even take them indoors if necessary. If you have enough space, consider planting shrubs or small trees to provide privacy and shade from the sun during hot summer days. Choose plants that are native to your area, and that can handle changing temperatures and weather patterns throughout the year.
Comfortable Seating
Make sure your seating options are welcoming and comfortable so that you and your guests can enjoy the area for hours. Choose a combination of chairs and benches depending on your available space. Consider adding some loveseats or couches for larger parties to make everyone comfortable. Look for furniture with waterproof cushions, easy-to-clean materials like polyester or nylon, and frames made from stainless steel or aluminum. If you're limited space, consider built-in benches or a banquette with storage underneath. Also, add some hammocks, beanbags, and other creative seating options for a relaxed vibe. Add some cushions, pillows for extra comfort, and even a few blankets if the weather gets chilly.

Pizza Oven
If you love pizza and want to take your outdoor kitchen to the next level, consider adding a pizza oven. This is a great way to entertain guests by making homemade pizzas for everyone to enjoy. Choose one that's large enough to accommodate your needs but still fits within your available space. Look for an oven with a high-temperature range to make the perfect pizzas and one with an adjustable thermostat for precise temperature control. Consider a wood-fired pizza oven for more authentic results. Add tools like a pizza peel, cutting board, and serving trays to easily prepare your pizzas before baking.

Creating an outdoor kitchen is a great way to bring your family, friends, and guests together to enjoy good food and company. With the right features, it can become an enjoyable part of your home that everyone loves to visit. Be sure to consider storage solutions for all your tools and supplies, plants for added life and decoration, comfortable and waterproof seating for everyone to relax, and even a pizza oven for an ultimate cooking experience. With all of these elements in place, you'll have a great outdoor kitchen that everyone can enjoy.

Get in touch. Send us a message now.