What Is a Craftsman Home?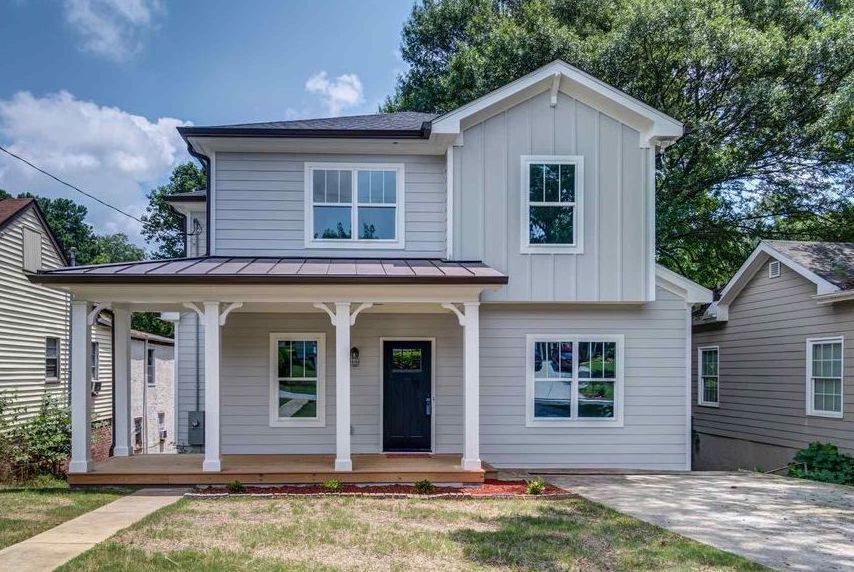 Mar 15, 2023
Everyone has their favorite type of architecture. Even if they can't necessarily name it, they know it when they see its telltale signs.
For example, they might love the big floor-to-ceiling windows of modern homes or the massive pillars that frame the exterior of houses made in the style of the Greek Revival.
Craftsman houses are actually beloved for a very different reason. Their humble designs exude charm and practicality, which is why they continue to populate neighborhoods throughout the country long after they first popped up in England.
History of the Craftsman Home
The history of Craftsman homes goes back more than a century, which says a lot for this particular type of residential architecture. Not many survive more than a couple of decades.
Speaking of which, Craftsman style houses largely came about in response to Victorian architecture.
For decades, Victorian homes were all the rage throughout England. Among other things, they were known for over-the-top extravagances. These homes were impossible to ignore and – arguably, just as important – impossible for most people to afford.
Owning one was an enviable status symbol because the intricate exteriors and complicated interiors usually meant a full staff was required to perform even basic upkeep.
If Victorian homes were a product of the industrial revolution, Craftsman style houses were a response from those who recognized that mass production often left a lot to be desired.
Craftsman architectural style highlighted the level of craftsmanship required to build them, hence the name. Owners took pride in homes that were designed by impassioned artisans, not disinterested industrialists.
At the same time, these were homes meant for "working people." In stark contrast to Victorian homes, Craftsman homes were easy to look after because the owners usually didn't have maids, although they did have plenty of other things to do.
It didn't take long for Americans to realize the appeal of these special homes. While the British Arts and Crafts movement is credited with inspiring the response to Victorian architecture, most people probably associate Craftsman homes with America. In fact, it's very common to hear this type of architecture described as "American Craftsman."
Why People Love Craftsman-Style Homes
More than 100 years later, people still love Craftsman homes, even though there are dozens of other architectural styles now available.
There are two main reasons for this.
First, Craftsman homes are modest but still very aesthetically pleasing. Victorian architecture is all about extravagance. You have to study these homes to appreciate every detail. The charm of a Craftsman home is evident with just one glance. Though it's a much simpler design, it's also easy to tell that a lot of thought went into it.
Secondly, Craftsman architecture is all about function. That was another large departure from its predecessors. Victorian architects first thought about fashion, treating function as an afterthought.
Craftsman homes offered their owners plenty of great features – like front porches and open dining areas – but were also extremely easy to maintain.
While modern Craftsman homes may include a number of bells and whistles that their ancestors lacked, they're still beloved for how low maintenance they are. It's easy to relax in a Craftsman home – even a large one – without worrying about all the work it will take to keep it looking beautiful.
What Makes It a Craftsman Home?
One central aspect of Craftsman homes is that they're all unique. Originally, owners either built them themselves or worked closely with those who did. Therefore, they could easily include certain features to accommodate their families or lifestyle.
Still, in order to be considered a Craftsman home, a house should include most of the following external features:
Covered front porches
Dual hanging multi-paned windows
Exposed rafters running under the eaves
Low-pitched roofs
Natural colors and earth tones
Partially-paned front doors
Pillars on either side of the entries
Single dormers often in the center of the roofs
Wide overhanging roof eaves
There are also certain interior features that are associated with Craftsman homes:
Built-in cabinets, shelves, and other storage options
Grand fireplaces often made with stone
Lots of wood, brick, stone, and other natural materials
Open, practical floor plans with a minimum of small rooms and hallways
Window seats
The 4 Main Types of Craftsman Homes
With those elements in mind, there are also four different types of Craftsman homes. While you still have plenty of room (literally) to add in unique features, most Craftsman homes fall under one of the following four categories:
1. Bungalow
Bungalows are the most traditional version of Craftsman houses. Many believe that one of the first outspoken proponents of these homes, Gustav Stickley, actually fell in love with the style after living in bungalows while spending time in Bangla, India.
When most people think of Craftsman homes, they're usually thinking of the bungalow style. These houses generally cover almost every feature included in the checklists above.
2. Prairie Style
One of the most famous architects of all time, Frank Lloyd Wright, was a big fan of prairie-style Craftsman homes. This subgroup is designed with prominent horizontal lines – the kind Wright made famous – and low-slung roofs.
3. Mission Revival
This type of Craftsman home marries the interior of the prairie version with Spanish-mission-style exterior features like stucco, arched doors and windows, and tiled roofs.
4. Four Square
These Craftsman homes feature four rooms on the first floor and four on the second, which is why they're called "four square houses." Like bungalows, they are also a direct reflection of the overall style's earliest roots. Their extremely simple design makes them easy to navigate, clean, and maintain.
Find the Perfect Craftsman Home
You absolutely cannot go wrong with Craftsman style homes. While other popular forms of residential architecture owe much of their popularity to impractical extremes, Craftsman homes have fans all over the world because of their pleasant exteriors and functional interiors.
Their designs also leave plenty of room for customization, too. For all of these reasons, you won't have too much trouble finding a Craftsman home for sale if you're in the market.