6 Best Neighborhoods to Live in Orlando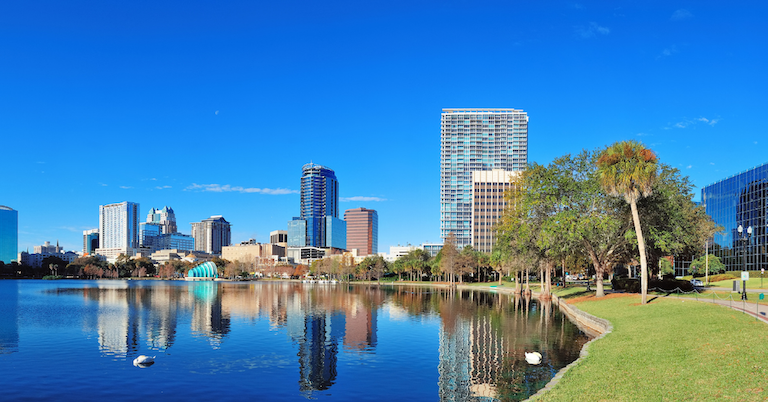 Mar 12, 2022
So you've dipped your toes into the pulsing pool that is the city of Orlando, Florida. You've decided to relocate to what is fast becoming one of the best places to live in the US, but which neighborhood should you choose?
Here are the top six areas you'll want to consider when moving to Orlando as well as neighborhoods to avoid, based on safety, culture, quality of schools, and entertainment.
Rated as the best place to live in Florida, according to Niche.com, is the Park Lake/ Highlands neighborhood. The quiet oasis situated north of Lake Eola with scenic views is home to many young professionals who enjoy various bars, restaurants, coffee shops, and parks in the neighborhood.
Notable local spots include the Orlando Urban Trail, which is a great way to pedal through the city and pop by one of the many local coffee spots for your morning cup of joe on your way to work. The neighborhood is also home to Lake Highland Prep, which has smaller campuses spread throughout the area and is one of the top academic schools in Park Lake. Homes in this neighborhood are in high demand and fall in the higher price bracket with properties starting at around $200,000- $399,000 but don't tick Park Lake off the list just yet.
If your budget is tight, there are various grants available for first-time homebuyers to reduce the costs of settling into a new home in Orlando. Other options to reduce home-buying or selling costs include home rebates which can see you earning back funds spent on property closing costs and could help boost your relocation budget.
Considered to be one of Orlando's most chic neighborhoods is Thornton Park, where Indie music resonates from various unique venues, and restaurants are nestled amongst bungalows and condos on the eastern side of Lake Eola Park.
Thornton Park is a fantastic neighborhood that is abuzz with restaurants, shops, festivals, and a weekly farmers market, which creates an urban-suburban feel. This might be an ideal neighborhood for young professionals. Being one of Orlando's central street districts, you will find that there's always a celebration to be had, which includes an Art & Wine Walk, which takes place every second Thursday of the month.
Thornton Park has been ranked as the second-best neighborhood in Orlando, and part of the area's beauty from its historic homes and luxury apartments is that it's a mere 10-minute walk from the Downtown business hub. Public schools in Thornton Park are rated as above average and include Hillcrest Elementary School, Howard Middle School, and Boone High School.
Considered to be the 'more sophisticated' slice of Orlando, is the Downtown area which has been rated by Orlando magazine as one of the best neighborhoods to live in. Lined with beautiful business high-rises that engulf the whole city, the metropolitan area is a thriving business district, ideal for those who like to live, work and play. Here you can find some of the best seafood markets to eat from as well as great theaters, clubs, museums, and parks to visit.
The nightlife is a major draw to the area as well as the Walt Disney Amphitheater, which is a popular place for festivals, dance performances, and outdoor concerts throughout the year. The area is also one of the safest neighborhoods in Orlando and has top-tier schools.
Delaney Park is home to one of Orlando's oldest parks, according to Niche.com, is the fourth-best neighborhood in Florida. The neighborhood has a family-oriented feel to it and an A-rated school zone, making the area ideal for new parents moving to Orlando!
Quiet residential streets are lined with giant spreading oaks, which characterize the picturesque area. At just about any day of the week, you will find residents out running or spending time with their kids on the playground under the big oaks. The neighborhood is close to surrounding parks and lakes and busy shopping districts and cultural venues to ensure your needs are catered to. It also provides easy access to almost anywhere in Central Florida.
Many young professionals choose to live in Delaney Park which is generally safe and has high-quality public schools.
If you're a nature lover, then the eco-village and award-winning shopping district, Audubon Park, may be the right fit for you. Located near Winter Park and Downtown Orlando, the Green Hub, home to the Orlando tree of life, partakes in the popular activity of "fleet farming" which helps neighbors to grow their own food. This allows any community members to plant fruit trees in their yards while locals and businesses are encouraged to enjoy them free of charge.
The area previously catered to the Orlando Air Force Base and the Naval Training Center; however, it has blossomed into a thriving community of unique businesses with seemingly endless events and activities. If you're looking for a community with vibrant energy, then you'll be happy to know that Audubon is an award-winning shopping district known for its quirky vintage shops, cafes, bakeries, and unique character.
Located less than 30 minutes away from Downtown Orlando is Altamonte Springs, which is considered to be 45% safer than other cities in Florida, based on 2021 crime stats. The area has an abundance of affordable homes, excellent dining and nightlife spots, and outdoor recreation activities. Great schools in the area, such as Saint Mary Magdalen Catholic School and Lake Brantley High School, also make it an ideal for families to settle in.
Interested In Living in Orlando, Florida?
If you're looking to move to the city, start your search by checking out the homes in these 6 neighborhoods. There's an excellent chance that one of those homes is perfect for you! When you're ready to start touring, get connected with a local SimpleShowing agent who knows the area. Plus, we'll give you $5,000 on average towards your closings costs. To get started, contact us or book a showing of any home in Orlando.