A Guide to Bar Dimensions: Creating the Perfect Home Bar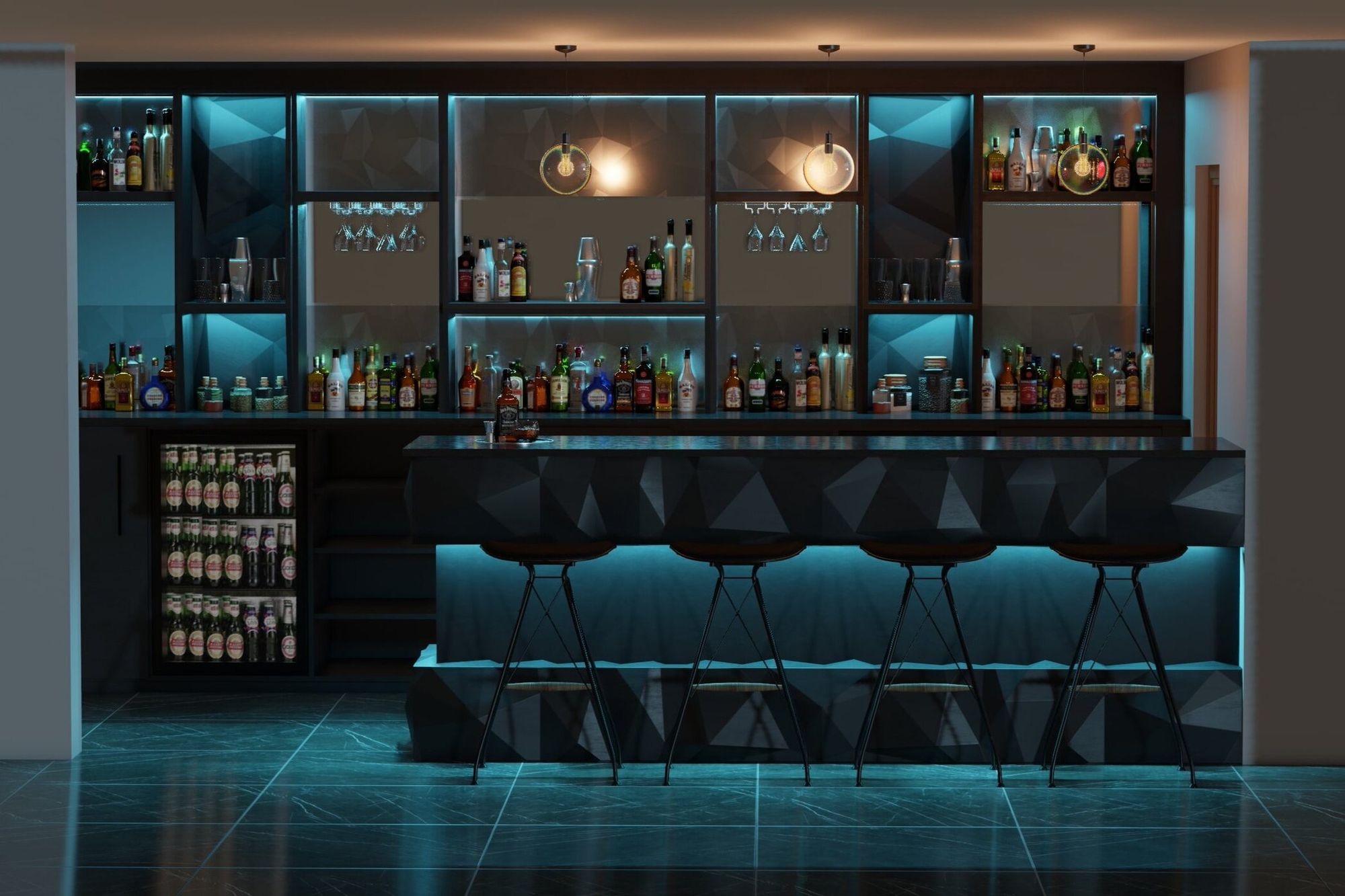 Apr 14, 2023
A home bar is a popular and versatile addition to any living space, offering a stylish and functional area for entertaining friends and family. When planning a home bar, it's important to consider the dimensions of the bar, ensuring there's ample room for both seating and serving. In this article, we'll dive into the essential bar dimensions and provide tips on creating the perfect home bar experience.
Main Bar Dimensions
Standard Bar Dimensions and Bar Layout
Bar Height
The height of a home bar typically falls into one of two categories: counter height or bar height. Counter height bars are typically 36 inches (91.44 cm) tall, while bar height bars are usually 42 inches (106.68 cm) tall.
Counter height bars are ideal for casual settings and provide a comfortable surface for dining and conversation. Bar height bars offer a more traditional pub-like atmosphere, with taller stools and a slightly elevated serving area.
Bar Width
The width of a home bar is determined by the available space and desired seating capacity. A typical home bar width ranges from 16 to 20 inches (40.64 to 50.8 cm) for a single-row seating arrangement.
If you'd like to accommodate multiple rows of seating, consider a wider bar top, ranging from 24 to 30 inches (60.96 to 76.2 cm). It's important to allow for ample elbow room and space for drinkware and accessories.
Bar Length
The length of your home bar will ultimately depend on the available space in your home and the number of guests you'd like to accommodate. A good rule of thumb is to allow 24 inches (60.96 cm) of space per person for comfortable seating.
For example, a six-foot (1.83 m) long bar can comfortably seat three people, while a twelve-foot (3.66 m) bar can seat six. Be sure to consider the space needed for walking and serving behind the bar as well.
Seating and Spacing Considerations
Tall Bar Stools and Bar Counter
Bar Stool Height
Selecting the appropriate bar stool height is crucial for comfort and functionality. For counter height bars, stools should be approximately 24 to 26 inches (60.96 to 66.04 cm) tall. For bar height bars, stools should be around 28 to 30 inches (71.12 to 76.2 cm) tall.
To ensure adequate legroom, there should be a 10 to 12 inch (25.4 to 30.48 cm) gap between the top of the stool seat and the bottom of the bar top.
Bar Stool Spacing
Proper spacing between bar stools is essential for comfort and accessibility. Allow for 26 to 30 inches (66.04 to 76.2 cm) of space between the center points of each stool.
This ensures that each guest has ample elbow room and can easily enter or exit their seat without disturbing others.
Behind-the-Bar Space
To create an efficient and functional serving area, it's important to leave enough space behind the bar. A minimum of 36 inches (91.44 cm) is recommended for walking and serving.
If you plan on incorporating a sink, refrigerator, or additional storage, you may need to allocate additional space.
Additional Tips for the Perfect Home Bar
Bar Equipment and Bar Rails
Lighting
Good lighting is essential for creating an inviting and comfortable atmosphere in your home bar. Consider installing dimmable overhead lighting, as well as accent lights such as under-cabinet or LED strip lighting to highlight the bar top and shelving. Pendant lights can also add style and character to your bar area while providing focused lighting for the bar top.
Storage and Shelving
Incorporate ample storage and shelving in your home bar design to keep your glassware, spirits, and other bar accessories organized and easily accessible. Floating shelves or glass-fronted cabinets can showcase your liquor collection while providing a decorative element. Consider adding a wine rack or stemware holder to keep wine glasses and bottles within easy reach.
Materials and Finishes
Choose materials and finishes that complement your home's decor and personal style. Popular choices for bar tops include wood, granite, quartz, and even concrete. High-quality, durable materials will ensure your home bar stands up to regular use and wear. For a cohesive look, match the bar top material with your barstools or other elements in the room.
Customization
Customize your home bar with unique touches that make it your own. Personalize the space with a custom neon sign, artwork, or a collection of vintage barware. Adding a built-in beer tap or an ice well for chilling drinks can also elevate your home bar experience. Check for bar equipment manufacturers for these add-ons.
Ventilation
If you plan on smoking cigars or cigarettes in your home bar, ensure proper ventilation to keep the space comfortable for all guests. Consider installing a ventilation system or investing in an air purifier to maintain good air quality.
Conclusion
Standard Bar Layout Dimensions
Creating the perfect home bar requires careful consideration of bar dimensions, seating, and spacing. You can take the experience you get in a commercial bar to your own home bar. By following these guidelines and incorporating your personal style, you can design a functional and inviting space that's perfect for entertaining friends and family. Remember to take into account lighting, storage, materials, customization, and ventilation when planning your home bar to ensure a comfortable and enjoyable experience for all.