Best Neighborhoods for Families in Austin, TX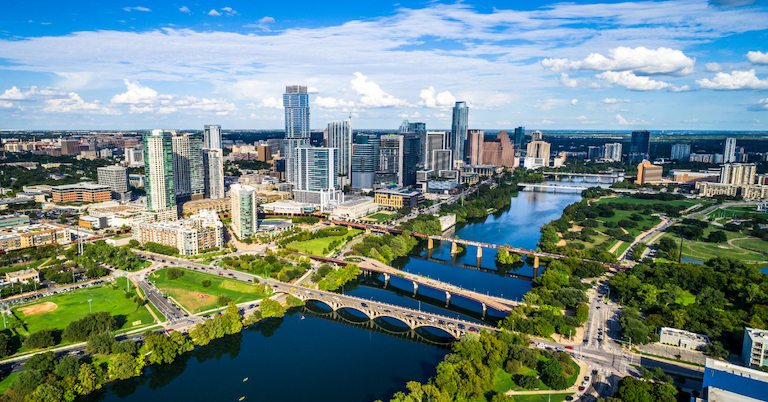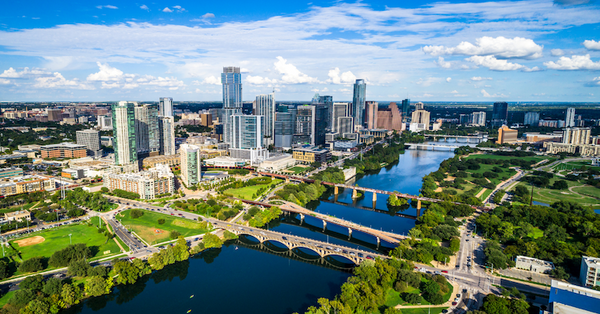 Jul 7, 2023
When you're moving to Austin, Texas, it's natural that you'll want you and your family to live in the best neighborhood possible.  However, what you consider as the best neighborhood in Austin varies with many factors, and the preferences may differ from family to family. Many families consider neighborhoods with the best schools, walkability, perfect housing market, home life, among other things.
Regardless of your neighborhood choice, Austin is one of the fastest-growing city's in the country and one of the most popular places in Texas in terms of home sales. Take a look at some of the best neighborhoods in Austin, offering good schools, enjoyable lifestyles, affordable homes, and excellent community amenities for families to enjoy.
1.  Downtown Austin
Downtown is one of the best neighborhoods to live in Austin for small families, or those who love to live in luxury condominiums or a small garden-style apartment. This neighborhood offers its residents a perfect urban lifestyle.
If you're the type of person who doesn't like spending their life indoors, Downtown Austin will treat you to all kinds of events and activities. Living in Downtown Austin, you can participate in recreational activities, including kayaking, biking, paddleboarding, and more. Downtown also offers a diverse culinary scene along with a variety of museums, theaters and attractions for entertainment. There is never a shortage of fun things to do in Downtown Austin.
Those looking to buy a home in Downtown have multiple opportunities to find the home of their dreams. Although real estate in Downtown Austin is relatively more expensive than other neighborhoods, the sophisticated lifestyle is well worth the cost of housing. Children residing in Downtown Austin have access to the Austin Independent School District, as well as great charter and private schools in the neighborhood.
2.  Cherrywood
Cherrywood gives you the experience of the Southern vibe with fresh air coming from plenty of tree shades. The centrally located neighborhood is a perfect place to enjoy the East Austin vibe. Most of the homes were built for families returning home after World War II. They feature a variety of styles including bungalows, wood-frame homes, and Craftsman-style houses.
The neighborhood's residents feature a mix of retirees, professionals, students, and service workers. Cherrywood has maintained its walkability to lively corridors and streets. The place is highly attractive to students thanks to its close proximity to University of Texas Campus while maintaining a quieter atmosphere.
Cherrywood is one of the few remaining central neighborhoods that has maintained its residential core. This allows for easy walkability throughout East Austin, as well as helps create a strong sense of community within the neighborhood.
3. South Manchaca
Austin locals new and old have turned to South Manchaca to escape the high prices and tourist scene of downtown. This charming south Austin neighborhood is well known for its friendly community, slower paced lifestyle, old town charm, and affordable homes.
Despite being south of Downtown Austin, South Manchaca is still close enough to popular attractions. The neighborhood also has its own mix of more low-key bars and shops that fit perfectly into the relaxed feel of the area.
The housing market in South Manchaca consists of smaller single-family homes. These homes date from the 1950's to the present and tend to be densely spaced. Buyers will be happy to find lower home prices here than in the northern south. However, homes are increasing in value as people continue to move further south of downtown.
4.  North University
While North University's proximity to the University of Texas Campus might not be everyone's cup of tea, the neighborhood's richness goes far beyond that association. Here you can find some of Austin's favorite coffee shops, bars, restaurants, and more. Once considered the countryside, this Austin neighborhood is home to many generations of academics and maintains an old-school feel.
Despite North University being convenient to University of Texas, Downtown, and local businesses, it still boasts reasonable home prices. Here buyers will find both small and medium-sized homes ranging from quaint bungalows to those featuring Craftsman-style designs.
The North University area is also home to tons of beautiful and substantial historic homes that compliment the area's sophisticated appeal. This Austin neighborhood is no doubt a wonderful place to settle with your family.
5. Crestview
What was once just farmland in north-central Austin now stands as one of the city's most beloved neighborhoods, Crestview. Residents love Crestview for its smaller scale and walkability to local businesses including restaurants, pubs and grocery stores.
The Crestview neighborhood is a magnet for young professionals and families seeking a quiet, small town lifestyle without having to compromise on convenience to big city amenities. Overall, the city maintains a relaxed residential atmosphere with modest homes and a strong sense of community among its residents.
In addition to recent contemporary builds, the neighborhood consists of primarily older homes built between 1940 and 1960. These small to medium sized homes feature mostly ranch-style designs.  Surrounding neighborhoods that offer a similar low-key vibe include Brentwood and Allandale.
6.  North Loop
North Loop was formerly located beneath the flight path of the old Austin airport. The place was dominated by the working class and the bohemian cohort. The area is now booming with restaurants, bars, coffee shops, vintage record stores, and other local businesses that families will love. It's one of Austin's less expensive neighborhoods with desirable walkability through charming, leafy streets.
If you're buying a home in North Loop, you'll likely find traditional craftsman-style along with remodeled bungalow homes built in the 1940s. Others in the area have been replaced by appropriately scaled contemporary homes to create a unique mix of home styles.
The busy corridors and streets of North Loop feature a mix of both old and new multifamily complexes. Rentals are also common in this area, thanks to the large number of students, workers, and families looking for apartments to rent. All around, North Loop is the perfect place for those looking for affordable housing and incredible walkability.
7.  Mueller
If you love a neighborhood with a touch of modernity, then Mueller in East Austin, is a great neighborhood for you and your family. This eco-conscious neighborhood features beautiful lake paths, offices, local retailers, and stunning community centers. Houses in Mueller come in a mix of lofts, townhouses, and apartments suitable for those looking to buy or rent.
The master-planned community features new homes and condos for sale. Within the neighborhood there are tons of restaurants to eat at and shops to explore. The neighborhood even has a museum for children, as well as dental and vision care services. The residents here have their own grocery store and a weekly farmers' market. Life in Mueller is both fun and affordable, especially with its Affordable Home Program.
Choose Your Best Neighborhood in Austin
Are you considering moving your family to Austin? The above neighborhoods will serve you with an Austin vibe whether you're looking for city life or the quiet life of the suburb. Depending on the neighborhood and your family's budget, building new might also be an option.
So, are you ready to settle in one of the best neighborhoods in or around Austin? Our team at SimpleShowing will help you find a suitable place for you and your family. Get in touch with us, and we'll help to find you the best home in the best neighborhood.
Conclusion
Austin, Texas, offers an abundant selection of family-friendly neighborhoods with amenities that cater to the diverse needs and interests of young families. The best Austin neighborhoods such as Windsor Park, known for its close-knit community, and Avery Ranch, with its breathtaking Texas Hill Country views, exemplify the vibrant and nurturing environments that the city has to offer. Windsor Park's residential neighborhood charm is complemented by the acclaimed Lamar Middle School, making it an ideal choice for families prioritizing education.
On the other hand, Avery Ranch brims with family-friendly amenities, including parks, pools, and even a golf course, that make it more than just a place to live. Imagine having most of what your family needs within walking distance—restaurants, shops, and recreational facilities—it truly brings a new meaning to convenient family living. Regardless of the neighborhood you choose, you're sure to find a warm, welcoming community and a place that feels like home in Austin.
This vibrant city's diverse range of neighborhoods, each with their unique character and charm, makes it a haven for young families seeking a perfect blend of city and community life. It's no surprise that Austin neighborhoods are consistently regarded as some of the most family-friendly in the country. With such a vast array of top-notch educational institutions, outdoor activities, and cultural experiences to choose from, it's clear why families are increasingly choosing to call Austin their home.