Do Hardwood Floors Increase Home Value?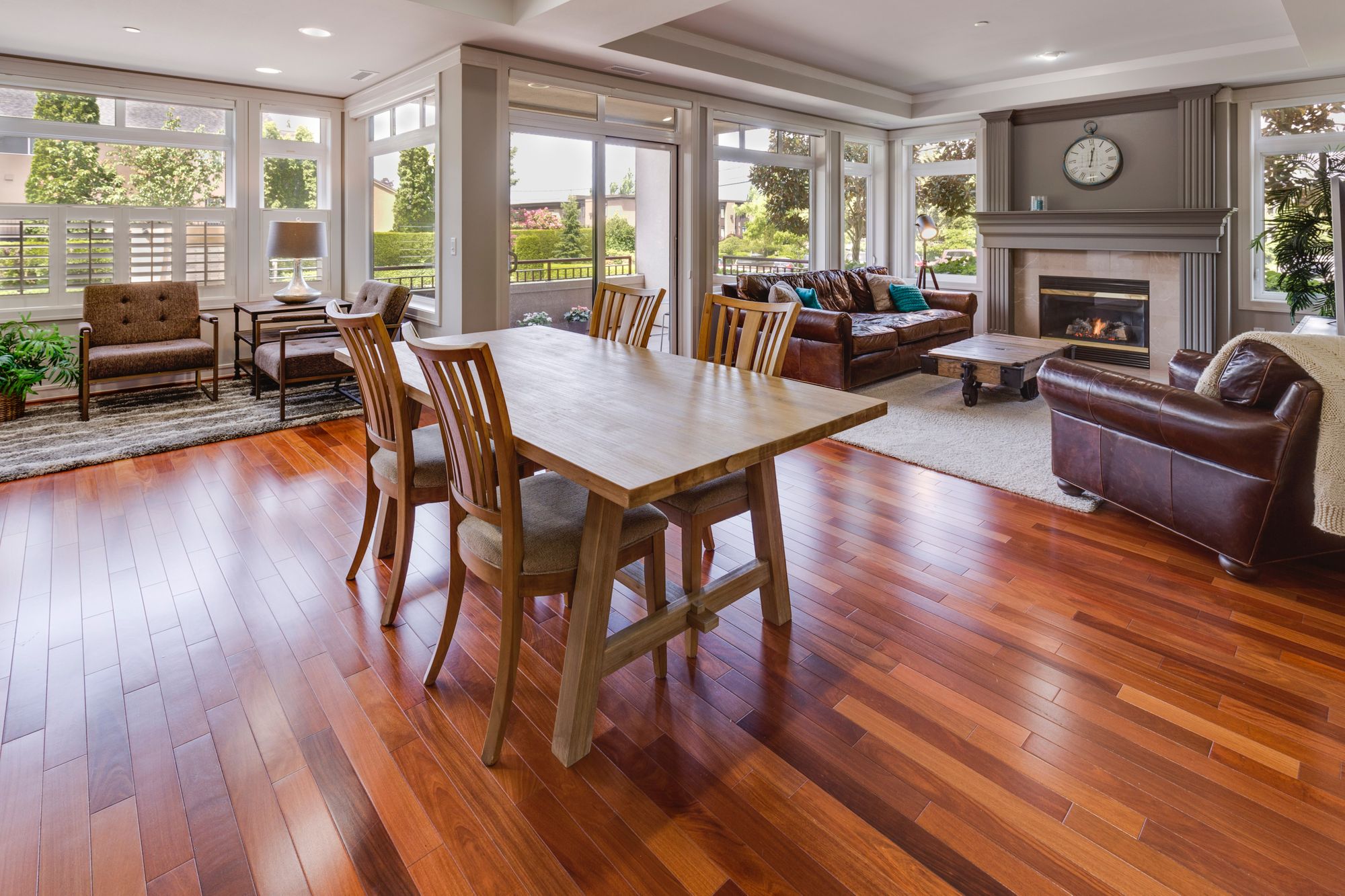 Aug 15, 2023
Every home is different, but one thing every house has in common – whether it's a three-bedroom craftsman or a sprawling colonial – is flooring.
Of course, floors don't always get a lot of credit when people are considering their favorite styles of architecture, but there's no escaping that they play one of the most prominent roles in any house. They're literally in every single room.
So, it shouldn't come as a surprise that many homeowners eventually consider how to spruce theirs up a bit. Hardwood is easily the most popular consideration, especially when the owner is thinking about selling soon.
But do hardwood floors actually increase a home's value?
Are Hardwood Floors Worth It?
The average cost for hardwood floors is about $4-6 per square foot, plus another $4-8 per square foot for installation. Depending on how many square feet you intend to cover, it could also take a few days or even a week before installation is complete.
Still, every year, countless homeowners will have them installed because they really do look amazing.
As CNN reported, hardwood floors can also increase home value by 3-5%. This makes them a very attractive prospect for anyone looking to sell their house in the near future.
However, even if you don't plan on moving any time soon, hardwood floors may still be a good investment. Interestingly, when the National Association of Realtors (NAR) conducted their 2017 Remodeling Impact Report, they found that after homeowners install hardwood floors:
"Eighty percent of homeowners have a greater desire to be home since completing the project, 68 percent have an increased sense of enjoyment when they are at home, and 79 percent have a major sense of accomplishment when they think of the project."
So, the value of these floors goes far beyond the asking price for your house.
3 Factors to Consider About Hardwood Floors and Home Value
With that being said, don't rush into installing hardwood floors. Even though they'll improve your home in more than one way, it's still a big decision.
To make sure it's the right one, consider these three factors before proceeding.
1. Not All Hardwood Floors Are the Same
As we touched on at the beginning, the average cost for hardwood floors per square foot can fluctuate a bit. The main reason for this fluctuation is the type of wood you choose.
For example, using pine might only cost you $3 per square foot, whereas Brazilian walnut, mahogany, or tigerwood could run you as much as $14.
Also, keep in mind that hardwood floors will only contribute to the value of your home if they're well-maintained. So, if you already have hardwood floors, don't expect them to boost your asking price if they're in poor condition. In fact, that might actually do more harm than good, as potential buyers will need to factor in the cost of replacing them.
Fortunately, the aforementioned NAR report points out that refinishing hardwood floors produces a similar amount of satisfaction in homeowners as installing them for the first time. Therefore, it might be worth it to have yours redone even if you won't be selling for some time.
2. Other Updates May Be More Valuable
The NAR report also concluded that, while hardwood floors are almost always a valuable addition to any home, there are plenty of other projects that tend to add more to a home's value.
For example, in terms of both "appeal to buyers" and "likely value to home for resale", the top three projects were the same:
In terms of projects that are likely to be more valuable if you sell, adding a new bathroom or master suite also beat out "new wood flooring."
You also need to think about your unique home. Maybe it has certain weak points that you should address before adding hardwood floors or any of those other upgrades we just listed.
There is a long list of home-improvement options that homeowners can use to improve everything from perceived square footage to curb appeal to energy efficiency.
If you're hoping to sell in the near future, it's worth considering where your money might be better invested before putting it toward hardwood floors.
3. The ROI of New Hardwood Floors
It's extremely important that you consider the return-on-investment (ROI) of any home renovation, especially hardwood floors.
As we've already touched on, new hardwood floors could increase your asking price by as much as 5%.
However, the keyword in ROI is investment.
Again, if you choose a cheaper material, your investment will be less, but the returns you can realistically expect will be, as well.
ProBuilder puts the ROI of hardwood floors at 70-80%. So, if you spend $15,000 on installing them, you could expect a little over $10,000 back when you sell – maybe more. Depending on how much you paid for your house, that could easily add 5% to its price.
That's exciting, but you have to keep the actual "investment" in mind when you're deciding whether or not hardwood floors are worth it. Look at how much you have in your budget and then the estimated ROI it would produce when you decide to sell. You might find it's better to spend the money on something else or simply keep it in your savings.
Hardwood floors vs LVP
While the return on investment is attractive for hardwood flooring, you may be able to achieve a similar or higher ROI when installing LVP (luxury vinyl plank) flooring, which can resemble hardwood.
For example, a theoretical spend of $5,000 on LVP flooring might increase the value of your property by $10,000 (a 200% ROI). It's important to consider the overall value of your home before deciding the % of spend on flooring.
Speak to an Experienced Real Estate Agent About Improving Your Home's Value
Few would argue that hardwood floors don't look incredible.
Most would also agree that there's a certain allure to them, as well. People simply associate hardwood floors with greater value.
Nonetheless, it's a bit more complicated than that.
If you're thinking about selling your home in the near future, it makes sense that you'd consider spending some money to increase its price. It's just that hardwood floors aren't guaranteed to be your best option.
At SimpleShowing, we'd be happy to connect you with an experienced real estate agent who can help you with this decision. Best of all, they only charge a 1% commission when you sell.
Contact us today and we'll explain exactly how it works.
Final Thoughts
Wood floors have long been a sought-after feature in homes, and as our understanding of home valuations has evolved, their significance in resale value has become clearer. Whether it's the timeless elegance of solid hardwood flooring or the versatility of engineered hardwood, installing hardwood flooring can be a prudent investment. While laminate flooring offers a budget-friendly alternative, there's no denying the unparalleled aesthetic and durability that solid hardwood brings to a home.
Hardwood flooring costs can indeed be an initial concern for homeowners. However, when considering the long-term benefits and the potential increase in a home's worth, the expenditure often justifies itself. If you're contemplating whether to install hardwood flooring, remember that while trends may come and go, the allure of wood floors in enhancing a home's appeal remains steadfast.
In summary, adding hardwood flooring to your property is not just about aesthetics; it's an investment that could significantly boost the resale value of your home. Whether you opt for solid or engineered varieties, the charm and longevity of hardwood are undeniable and can make your home stand out in a competitive real estate market.