Vinyl vs. Laminate Flooring: The Pros and Cons
Oct 2, 2022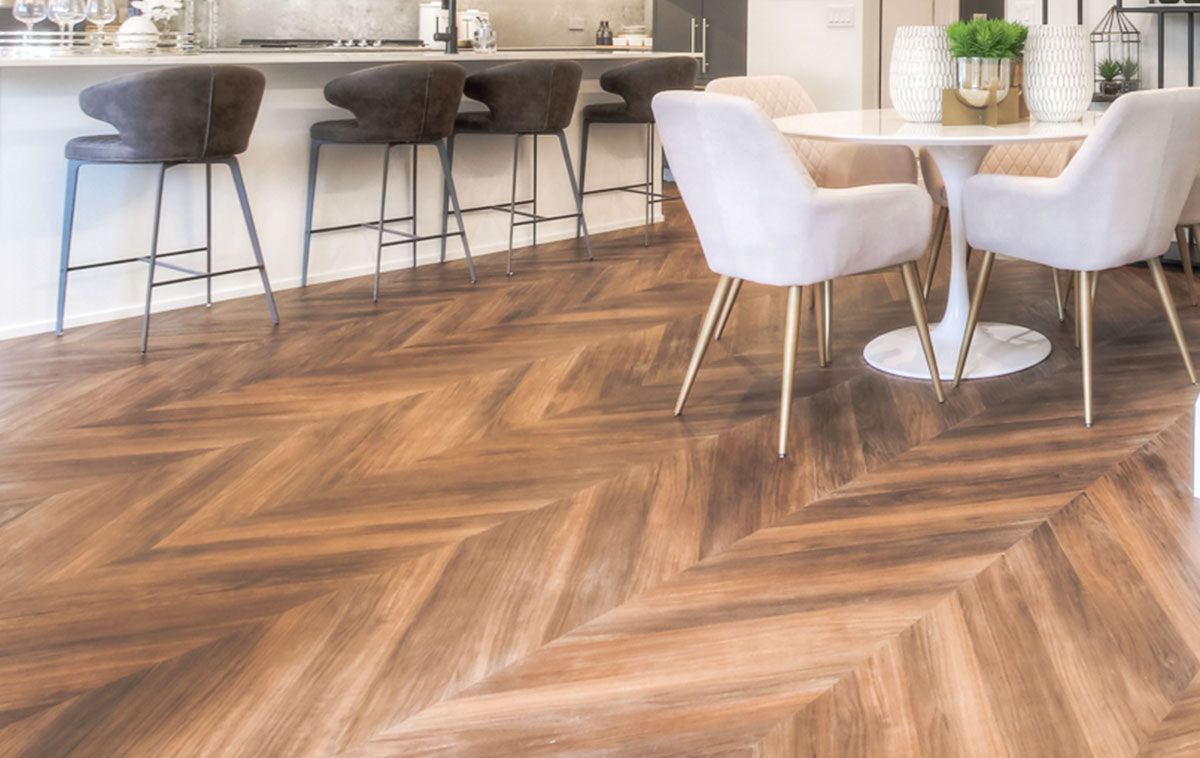 LVP, EVP, LVT - oh my! All the acronyms, but what's the difference and which one is better? If you're wondering about the difference and want to know which one is the best - vinyl or laminate flooring - check out our guide below!  
Spoiler alert: Neither vinyl or laminate are necessarily "better" than the other. They both have their own unique advantages, which we will explore in this article.
Faux wood flooring is very popular and for good reason. Most LVP and many laminate flooring products can provide you with the appearance of hardwood for a fraction of the cost, plus a few added benefits.
What is LVP and LVT?  
LVP stands for Luxury Vinyl Plank and LVT stands for Luxury Vinyl Tile. Luxury Vinyl Planks look like planks while LVP looks like Tile (e.g. ceramic or porcelain stone).  LVP and PVT are similar in the sense that both are individual pieces of vinyl, but not sheets.
LVP or "vinyl planks" typically resemble hardwood, or at least attempt to mimic the look of hardwoods. Whereas LVT or "vinyl tile" typically attempts to mimic the look of tile. However the manufacturing process and the materials used is identical for both products.
LVP compared to hardwoods
Real hardwood flooring is almost always more expensive than vinyl products. The average cost for hardwood materials alone starts around $4 -5 per square foot for typical oak flooring, for example. "Site stained" hardwoods like oak will generally need to be sanded and stained as well - which adds to the cost of installation. Solid hardwood flooring installation is done by a professional outsourcing because the planks must be installed on a subfloor and often require nails or a glue adhesive depending on the subfloor.
There's also a waiting game for hardwood installs because most hardwoods require a stain layer plus a 1-2 finish coats of polyurethane to protect against scratches. The installers usually wait 24 hours after the stain is applied before adding poly to the surface. When you combine the steps for installation, sanding, staining and poly - it's suddenly a week long process to install hardwoods!
Luxury vinyl flooring background
The first luxury vinyl plank products from the late 1990's and early 2000's were only available in a glue down form.  These vinyls could be glued down directly to a concrete subfloor or plywood.  They were very thin and were glued directly to a concrete subfloor, without any underlayment or cushioning.
Years later, manufacturers began introducing vinyls that were not adhered directly to the subfloor. This style is considered a "floating" product. Floating means that the floor wasn't glued to a concrete slab or plywood subfloor. One benefit is that floating floor installation is much easier for homeowners to complete, rather than hiring a flooring company. So, rather than calling a flooring contractor, you could demo your old flooring on your own and then watch a YouTube video for installation tips!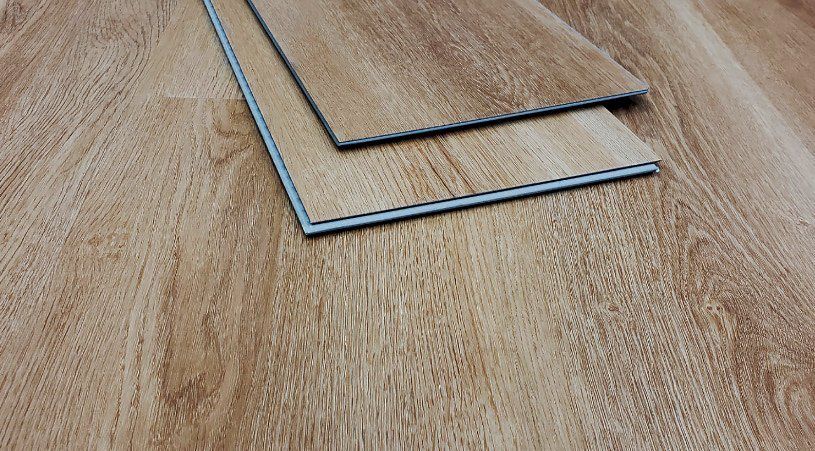 LVP Pros:
LVP is Affordable
LVP is a cost-effective way to make a big impact in your space, it's less expensive than hardwood while offering a similar look.  
LVP is Modern
Linoleum vinyl planks attempt to mirror a wood look but can provide a splashes of color with various grains that make the planks look more elegant or rustic.
LVP is Versatile
Most LVP products are moisture and water-resistant. As a result, LPV can be installed in high traffic areas like hallways and entryways where you don't have to worry about those accidental spills.
LVP is Durable
LVP is almost indestructible. Not to the level of actual hardwood, but close. LVP is scuff and scratch resistant and can manage traffic of active households.
LVP Cons:
Installation is easier than hardwood but is not fast
Many LVP products feature interlocking edges or "click-lock" edges, which helps to make the overall flooring surface more secure and to prevent ripples along the surface. While this type of installation can still be performed by a homeowner, you'll still need a circular saw and a decent understanding of how the click-lock installation process works.
What is the value add for resale?
LVP is not hardwood. It's produced from a synthetic materials. If you want to add value to your home, vinyl plank will not yield the same ROI as real, solid hardwood. Another consideration is that LVP can't be refinished like most hardwoods, if a new homebuyer wants to change the finish.
Not a good form of insulation
LVPs are generally not a good insulator. This means that LVP is typically going to allow the transfer of heat (or cold) from the subfloor or slab, rather than insulate against it.
What Is Laminate Flooring?
So, now we've looked at vinyl flooring, but what about laminate flooring? And how does it compare to LVP?
Laminate is a multi-layer flooring made of both natural and synthetic materials. From the bottom, those materials are:
A high-density fiberboard base layer
A photo-realistic image layer
A heavy-duty wear layer
This construction makes laminate both durable and affordable. Like LVP, it does a relatively good job of mimicking hardwood.
Laminate Background
Laminate has been manufactured in the US since the 1970s, when it became popular thanks to a boom in the US housing market. Since it was cheaper than hardwood (and quite durable), it ended up being used extensively and was most commonly installed in sheets or rolls (not planks like today).
Laminate gained a reputation for looking cheap despite it being nearly indestructible at your grandmother's house!
But that perception changed once laminate was forced to compete with high-quality luxury vinyl flooring. LVP manufacturers, as described earlier in the article, began offering beautiful, inexpensive, and durable alternatives to hardwood—but with the added benefit of being waterproof. In order to compete, laminate flooring manufacturers had to improve as well.
Laminate Flooring AC Rating
An AC rating is given to all laminate floors to measure how well they stand up to daily wear and tear. The rating is on a scale of 1–5, with 1 being the least durable.
A laminate floor with an AC rating of 1 is only meant for use in closets and other very light-traffic areas. A floor with an AC rating of 5, on the other hand, can handle heavy commercial use.
In General, Is Laminate Flooring Waterproof?
Now we get to an important question: "Is laminate flooring waterproof?"
The answer is no.
Most laminate flooring is "moisture resistant" but not entirely waterproof. Some waterproof laminate flooring does exist, but it is a specialty product used in special applications.
Many laminates are destroyed by water
Water doesn't typically damage the wear layer of a laminate plank. However, if water repeatedly get into the core the plank, it will swell and warp.
Surface scratches: LVP vs Vinyl vs Hardwood
Hardwoods are susceptible to scratching and scuffing in high-traffic areas. If you have pets or kids, this should be a consideration. Hardwoods and also susceptible to warping or creaking if exposed to water or moisture for prolonged periods of time. Wood floors require attention and care to maintain appearances and will require refinishing over the years.
One unique benefit however, is that if your hardwoods do get severely scratched or scuffed, you could use the opportunity to completely re-stain the floors and change the color of the flooring. The process isn't cheap - typically costing about $2-4 per square foot for sanding and re-staining. Most real hardwoods can be sanded and restained 5-6 times depending on the thickness of the plank.
Conclusion
In general, vinyl flooring is ideal for laundry rooms, wet bathrooms, and mudrooms. Think of vinyl in a similar context to ceramic tile flooring due to its moisture resistance. For areas that are typically dry, such as living rooms, dining rooms or bedrooms, laminate flooring works well. In terms of styles and selection, you'll usually find more style choices with laminate flooring versus vinyl flooring.
Get in touch. Send us a message now.