Floating Floors: Positives and Negatives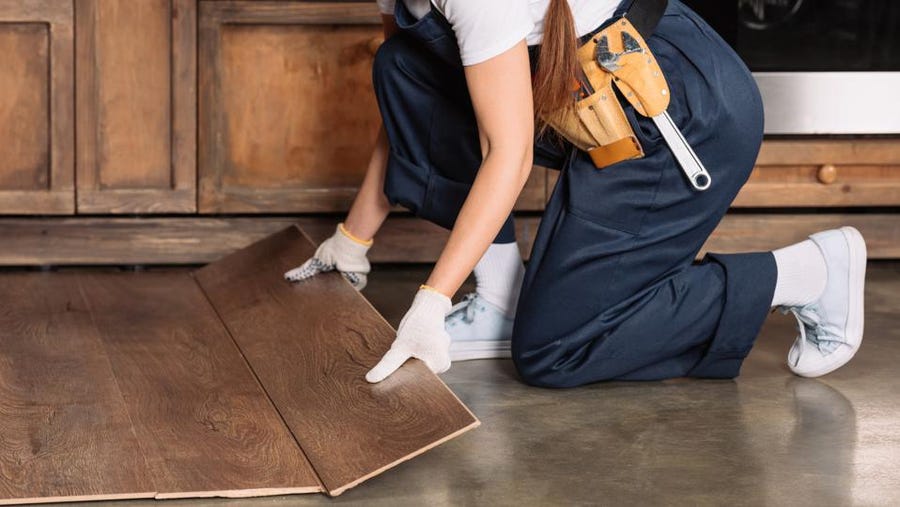 Jan 16, 2023
A floating floor is a type of flooring installation that does not require the use of nails or a glue adhesive. Instead of nailing down wood planks, an installer will attach them by snapping the planks together like a puzzle. So, the new flooring material is "floating" instead of being firmly attached to it.
The floating floor approach makes installation fast and simple. This method works for installation on top various surfaces and substrates, including a concrete slab, plywood, sheet vinyl or even older ceramic and porcelain tiles.
Types of Floating Floors
There are three main styles of flooring that are most commonly installed with a floating floor approach:
Laminate flooring: The prime example of a floating floor is laminate flooring, which is almost never glued down to the subfloor. The floating method allows the flooring to respond to changes in a room's relative humidity by expanding and contracting without buckling. Laminate flooring planks are generally joined together along the edges and end with a modified tongue-and-groove system, often known as "click-lock" or "fold-and-lock." The shape of the interlocking grooves may vary from manufacturer to manufacturer, since there are several proprietary methods of connection.
Luxury vinyl flooring (LVP): Sometimes known as vinyl plank flooring or luxury vinyl flooring usually snaps together board-to-board, in much the same fashion as laminate planks, although some types can also be glued to the subfloor. Tiny tongues and grooves engineered into the boards allow them to lock together. Some forms of LVF are semi-flexible planks, while others are quite rigid.
Engineered wood flooring: Some engineered wood flooring is installed by nailing or stapling it down to a plywood subfloor. However, other brands are installed as floating floors. Similar to laminate flooring, engineered wood flooring is designed with a decorative surface layer glued over a plywood or MDF core.
Negatives of Floating Floors
While there are tons of benefits for floating floors, here are a few of the potential drawbacks versus other products:
1) Floating floors are not as durable as hardwoods or ceramic tile
Most floating floor products are relatively thin - particularly the laminate forms of floating floors. As a result, you may see them warp or deteriorate over time - especially in areas that experience moisture like kitchens and bathrooms. If you do buy floating floors, make sure to invest in a thick surface and underlayment/backing layer in order to increase the durability.
2) You may feel gaps and uneven spots along the surface of the floors
As you may imagine, a floating floor could feel a bit hollow under your feet if not installed correctly, or if the subfloor is not prepared correctly in advance. Plus, heavy traffic across the floating floor might result in signs of wear more quickly than you would expect.
3) They may not have a strong impact on property value
While, they are easy to install, many floating floor products are still deemed cheap when added to the value of a house. So, if you are planning on selling your property soon, it might be a good idea to avoid this type of floor unless it's a higher end engineered wood product or LVP. Without a doubt, floating floors command lower resale value than other traditional hardwood flooring.
4) You can't sand or stain them
Floating floors cannot be refurbished, sanded or stained like solid wood floors. Extreme and frequent changes in moisture and temperature can cause the flooring to expand and contract and once this happens you'll need to replace the planks individually. Make sure to keep an extra box of the product in storage, just in case!
Floating Floor Manufacturers
Below are a few large flooring brands for all three types of floating floors.
Laminate flooring:
Armstrong: One of the biggest laminate and vinyl flooring manufacturers that produces their flooring in the US and serves the residential and commercial flooring sectors.
Luxury vinyl flooring:
Mohawk: Mohawk started out as one of the best carpet brands before expanding to other types of flooring. Based in Calhoun, GA, they manufacture 200 different styles of luxury vinyl flooring.
Engineered wood flooring:
Shaw: Shaw is based in Georgia and produces nearly every type of flooring product - including carpet, vinyl, hardwoods, etc.
Benefits of Floating Floors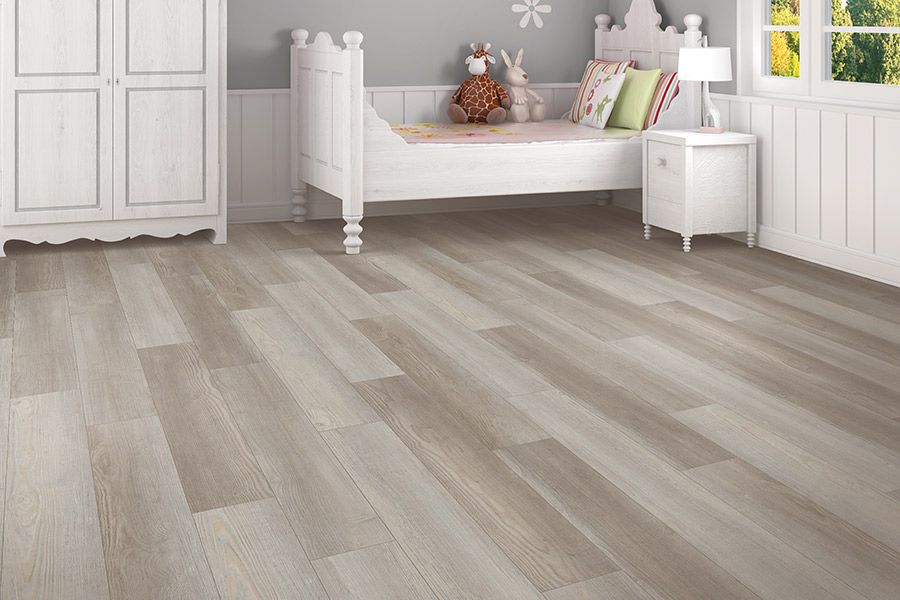 Overall, we give floating floors high marks because of the following features and characteristics:
Versatility of uses
Cost and value
Ease of installation; ability to DIY install
Speed of installation
Comprehensive selection of styles
One untold feature with floating floors is that you can truly mimic real hardwood with some of the high end engineered floor options on the market. And in certain situations, engineered wood might be a better option than hardwood - for example, when you're installing directly onto a concrete slab.
On the other hand, if you have a small budget, you can quickly transform a room with low-end laminate and not break the bank.
Floating Floor Cost
Costs of a floating floor vary considerably and are based mostly on the type of material and its quality. In general, professional installation of a floating floor is considerably less expensive than most glue-down or nail-down wood floors, since installation only requires one step and no sanding or staining.
The average costs for flooring materials plus labor/installation are:
Laminate flooring: $3.00 - $8.00 per square foot; cost varies depending on type and finish.
Luxury vinyl planks (LVP): $5.00 - $9.00 per square foot.
Engineered hardwood: $6.00 to $10.00 per square foot.