Tile Flooring vs Vinyl Flooring
Jan 15, 2023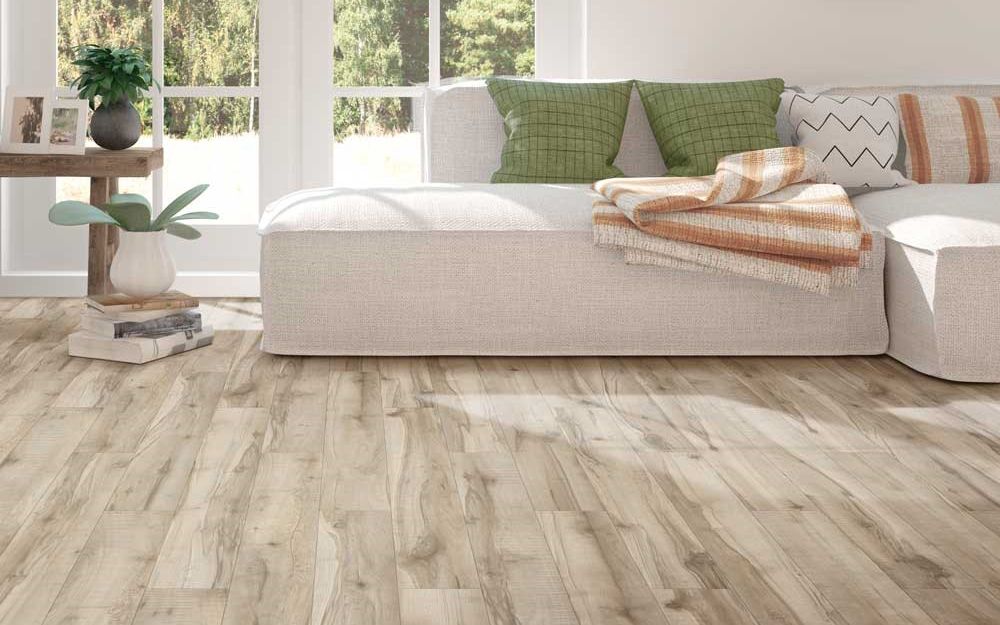 Whether you're looking to increase your home's value in preparation for a sale or because it's time for a flooring upgrade, ceramic (or porcelain) tile and "LVT" both deserve consideration.
Both tile and vinyl flooring have their own advantages and disadvantages and it depends on the specific need and preference of the user to decide which one to choose.
Main benefits of vinyl flooring
Vinyl tile is often designed to replicate the look of wood or stone. In general, vinyl is water-resistant on the surface but if the water seeps under the edges of the planks, it can cause the rubber or adhesive backing to deteriorate over time. Many home builders and contractors avoid vinyl plank flooring in bathrooms because the humidity can cause it to warp, even though it's water-resistant.
Affordable: Vinyl flooring is often less expensive than tile.
Easy to install: Vinyl flooring is easy to install and can often be done as a DIY project.
Variety of styles: Vinyl flooring also comes in a wide variety of colors, patterns, and styles.
Main benefits of tile flooring
Ceramic and porcelain tile flooring is a more versatile, more durable, and more low-maintenance compared to vinyl. One of the main advantages is that it's low maintenance. Ceramic tile doesn't require a lot of upkeep and in general, tile flooring is nearly indestructible - which makes it a popular choice for busy homeowners and landlords.
Durability: Tile is very durable and can last for many years with proper care.
Waterproof and heat resistance: Tile is a good option for areas where there is a lot of moisture and heat, such as kitchens and bathrooms.
Easy to clean: Tile is easy to clean and maintain. It is resistant to stains and spills.
Variety of formats/sizes: Tile comes in a wide variety of sizes and patterns - such as hexagonal, square, rectangular and mosaic.
While tile may not be appropriate for all bedrooms or living rooms, tile is easily the best choice for bathrooms. If you're redoing bath floors, here are our top 10 bathroom tile floor ideas that will transform your space to a dream bathroom!

Cost of Vinyl vs Ceramic Tile:
When evaluating the material cost alone, vinyl planks are generally more budget-friendly than ceramic and porcelain tile. That being said, depending on the type of tile you are choosing, low-end ceramic can actually cost less than vinyl planks. However, it can cost 30-40% more to install ceramic tile.
Generally, vinyl planks are easy to lay and don't require any special adhesive or floor prep. However, ceramic tile requires a mastic, mortar or "thinset" when laying the tile. You'll also have to grout the joints of the tile once the mortar is dry. These extra steps make the installation or labor costs higher than vinyl installation.
Durability of Vinyl vs Ceramic (or Porcelain):
Ceramic tile is made from a combination of natural clay and other minerals. The raw materials are mixed together, formed into shape, and then fired in a kiln at high temperatures to harden the tile. This makes the tile very durable, long-lasting and nearly indestructible if cared for properly.
On the other hand, vinyl flooring will only last between 10 and 20 years. Vinyl flooring is made out of a synthetic material called polyvinyl chloride (PVC), which is a type of plastic. PVC is mixed with a variety of other chemicals and additives to create the final product. While the PVC material is still very sturdy, tile is still the winner when it comes to overall durability.
Return on Investment of Vinyl
It's extremely important that you consider the return-on-investment (ROI) of any home renovation, especially flooring.
When ranking flooring ROI, new hardwood floors typically have the highest return on investment. However, high-end vinyl isn't too far behind.
Again, if you choose a cheaper material, your investment will be less, but the returns you can realistically expect will be, as well. Here's a ranking of flooring options in terms of return on investment:
#1 Hardwood (oak, pine, etc.)
#2 Engineered hardwood
#3 Porcelain tile
#4 LVP flooring
#5 Ceramic tile
#6 Carpet
#7 Laminate flooring
Despite being the lowest on our list, many homeowners nowadays are evaluating laminate flooring vs LVP. Laminate tends to be the most inexpensive option when it comes to material plus labor/installation costs, making it an attractive option for low-budget rehabs.
Final Thoughts
Installing new flooring is another great way to add value to your home. New floors will make your house more attractive to potential buyers and increase its resale value.

If you're planning to sell your home in the near future, it's a good idea to choose neutral flooring that will appeal to a wide range of buyers. On the other hand, if you're not planning to sell anytime soon, you can choose flooring that's more personalized to your taste and budget.
Get in touch. Send us a message now.