Kitchen Cabinet Height and Sizing Guide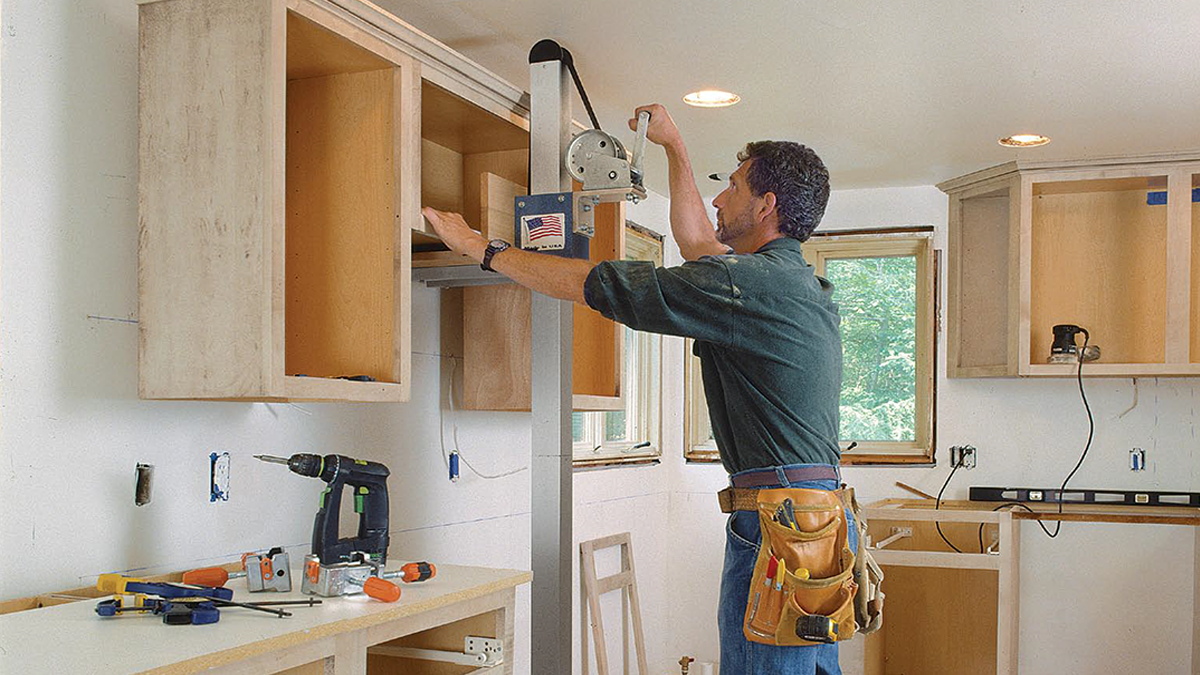 Oct 20, 2022
Stock kitchen cabinets from big box retailers are typically sold in 2-3 different height and depth options for both wall (upper) cabinets and base (lower) cabinets. When it comes to cabinet width, there are more than a dozen options. As a result, there are several different combinations that might work for your particular kitchen.
Base Cabinet vs Wall Cabinets
Base (lower) cabinets are where large kitchen items like pots and small appliances are stored. Items that aren't accessed regularly are also good items to stick under the countertops and into the base cabinets.
You could actually design an entire kitchen with only base (lower) cabinets and no out wall (upper) cabinets, but you can't really have a fully functioning kitchen without base cabinets.
When choosing base cabinets, remember that the height is measured from the floor to the top of the base cabinet. Heights do not include the thickness of the countertop that will sit atop the base cabinets. Installed directly on the floor, base kitchen cabinets determine the layout of the kitchen.
Kitchen base cabinets are generally most expensive of all kitchen cabinets, often because they contain drawers, which increase the material and production costs. Updating your kitchen is a top choice for homeowner remodel projects and it's easy to do if you use stock or pre-assembled cabinets. Here are the stock sizes that are generally available from big-box retailers and cabinet manufacturers:
Base cabinet dimensions:
Height: 34.5"
Depth: 24"
Standard widths: 12", 15", 18", 21", 24", 30", 33", 36", 42", 48"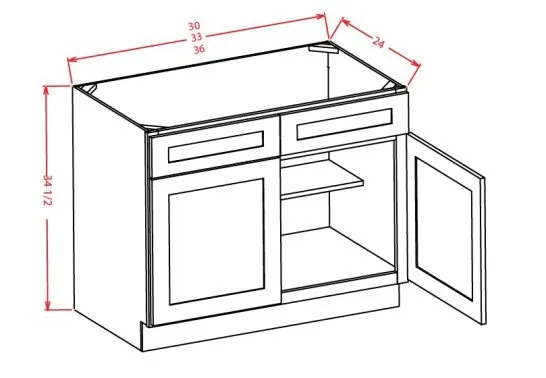 Base Cabinet Height
Kitchen base cabinet height is almost always 34 1/2 inches tall, except for handicap accessible heights - which are typically 24-28" high.
After installing countertops on top of the cabinets, the final height of most base cabinets is between 35 and 36 inches, depending on the product used in the countertop. Some corian or fabricated counters can be as thin as 3/4", while some stone products can be as thick as 2.5". The average countertop thickness is 1.25" (3 cm)
Base Cabinet Depth
The depth measurement for kitchen base cabinets is taken from the front outside, front edge of the cabinet to the wall. Most base cabinets are manufactured to be 24 inches deep. That said, it is possible to purchase custom depths that are 18" for smaller kitchens or 30" for large, custom kitchens.  
One drawback of deeper base cabinets is that it becomes difficult for you to reach the back of the countertop. Also, some building codes may prevent deeper cabinets, depending on building ordinances.
Also, keep in mind that countertops typically overlap the base cabinets at the front, the overall depth (with countertop) usually measures 25 to 26 inches.
Base Cabinet Width
Base cabinets come in several different widths, providing you tons of choices of layouts. Widths generally range from 12 to 48 inches and are often aligned symmetrically with the wall cabinet that is installed above the base cabinet.
Base cabinet guide:
Standard widths with single door and drawer: 12", 15", 18", 21", 24"
Widths available for sink basin: 30", 33" or 36"
Widths available for double (2) doors and single drawer: 30", 33", 36", 42", 48"
Wall Cabinets
Wall cabinets are used for storing mugs, glasses, plates, food, spices, etc. They are attached directly to the wall or less commonly, can be suspended from the ceiling or attached to a soffit.
In recent years, many homeowners have installed painted wall cabinets on top of wood-stained lower cabinets - or vice versa. You could also installed wall cabinets with glass doors, rather than a solid wood veneer. No matter what design you choose, here are the most common sizes available:
Wall cabinet dimensions:
Height: 12", 15", 18", 24", 30", 36", 42"
Depth: 12", 15", 18", 24"
Standard widths: 12", 15", 18", 21", 24", 30", 33", 36", 42", 48"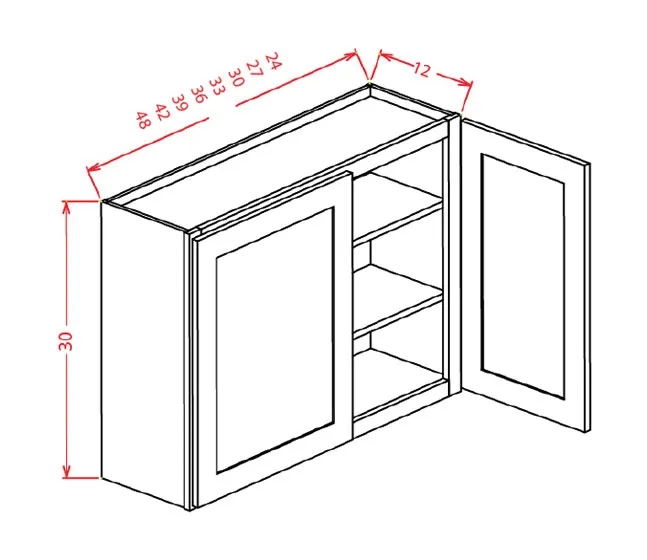 Kitchen Wall Cabinet Height
Wall cabinet heights tend to be constrained to 2-3 stock sizes in the big box stores. Common wall cabinet heights are 30, 36, and 42 inches. In standard kitchens, the wall cabinets are typically 30 or 36 inches tall, with the space above either open.
If you want the cabinets to reach all the way to the ceiling, 48-inch cabinets are the most common choice - particularly if you have 9 or 10ft ceilings. A 15-inch tall wall cabinet fits neatly over a refrigerator or microwave and provide a more "built-in" look.
Kitchen Wall Cabinet Depth
Most wall cabinets are 12 inches deep, since this provides a good balance of storage space in the kitchen cabinets without taking away from countertop access space below the cabinet.
Cabinets above microwave and fridge
If you have a built-in microwave above the range, a 12, 15 or 18-inch deep cabinet is common. Also keep in mind the refrigerator and if you might want to install wall cabinets above the fridge. Most refrigerators are 30 - 36 inches deep, unless you buy a "counter-depth" refrigerator. Therefore, any wall cabinets placed above fridges should align with the depth of the fridge.
Kitchen Wall Cabinet Width
Wall cabinets are usually 12 to 48 inches wide and come with a single door. Some stock cabinets allow for installation such that the door could swing open to the left or the right. Keep this in mind if you have tight spaces or you want to place the door hardware on one side and not the other side.
Distance between the countertop and upper cabinets
The bottom of the upper cabinets is generally around 18 inches above the countertop. This usually works for people of average heights to be able to access all parts of the upper cabinets.
Upgrading cabinets before a potential home sale?
Upgrading a kitchen can cost between $7,000 and $40,000 according to the National Association of Home Remodelers. With such a big range, it's important to not "over-improve" your home if you're considering selling. Learn more about you can save an average of $15,000 in Realtor commission by selling for a 1% commission with SimpleShowing.