Moving Guide to Dallas, TX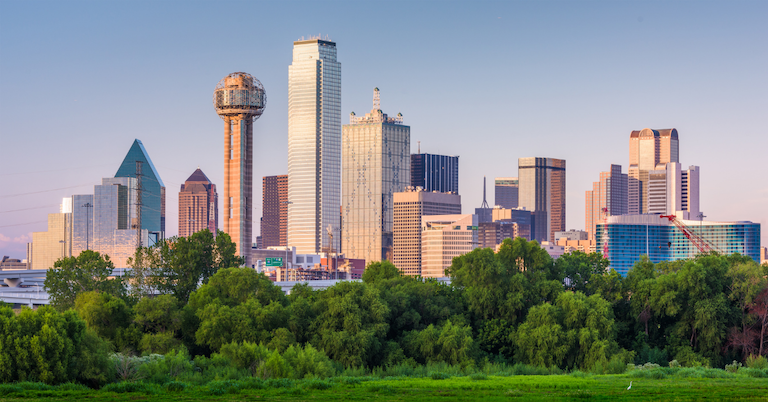 May 19, 2021
Dallas is considered by many to be one of the best places to live in Texas. The city has a thriving  job market, as well as a vibrant lifestyle characterized by a host of sports and cultural activities. In 2017, Dallas was ranked among the fastest-growing cities in the U.S. with a population consists of over 300,000.
Before you think of moving to Dallas, TX, you must take into consideration the living costs and whether you can afford it. Think about your status in life and whether Dallas's lifestyle will suit you. Are you employed, a student, or a family person? Where can you live in Dallas, and how easy will it be for you to find a job?
This article will help you understand what living in Dallas is like and whether it's a good decision to move there.
Is Dallas a Good Place to Live in?
Whether Dallas is an excellent place to live in or not depends on a variety of factors. You need to consider things like the Dallas population, the job market, living costs, transportation, schools, real estate market, among other things. Here are some things that can make a living in Dallas, TX right for you.
Dallas Neighborhoods
When it comes to choosing a specific place to live in Dallas, you'll be spoiled with choice. Some areas are very affordable, while others need a little bit more of bigger pocket size. But one thing you'll love about the neighborhoods is the calm atmosphere. Let's have a look at some of the best neighborhoods in Dallas, Texas.
Central Dallas is where you'll find all the action with businesses booming and restaurants cropping up every day. The neighborhood has a superb lifestyle, vibrant nightlife, lots of food, and an incredible shopping experience. This is a central location in Dallas from which you can access everything and move quickly to any other part of the city.
Uptown is the place to work, live, and play with a host of activities at your disposal. The neighborhood is filled with everything you need to keep going, including cafes, restaurants, clubs, and bars. Uptown welcomes people of all ages, including singles and family people. If you're a professional, you can settle comfortably in townhomes located near Knox and Cole Streets.
If you're a big fish who loves to live a luxurious lifestyle, then Park Cities will suit you perfectly. This place is just a few miles from central, and it boasts of the wealthiest real estate market in Dallas. The home value in this area is higher than a million dollars. Park Cities boasts great shopping, beautiful attractions, and a superb dining experience at the Lover's Lane.
Are you an outdoor enthusiast who can't get enough water sports? East Dallas should be your perfect neighborhood with proximity to White Rock Lake. The water body is what constitutes life in this part of Dallas and is open to the public. This is the place to go swimming, kayaking, paddleboarding and is also a fantastic picnic destination.
East Dallas homes are suitable for rentals and those who prefer finding homes for sale in Dallas. It offers an affordable cost of living and is perfect for someone who loves enjoying the outdoors.
The west side of Dallas is also a good place to live in, with lots of activities to get you engaged throughout the year. The area is near Arlington and Fort Worth, and is great for those who love history conservations. The west part of Dallas also provides affordable housing and is welcoming place to everyone.
Weather in Dallas TX
If you hate the snow, then you're welcomed to move to Dallas, TX.  Dallas is known for mild winters and thunderstorms in spring.While it rarely snows in Dallas, this place does have very hot summers. If you love a snowless winter, it's better to deal with the heatwave and stay warm throughout the year.
Transportation
You don't really need a car if you live in Dallas because public transportation is cheap and readily available. An excellent example of public transportation is the Dallas Area Rapid Transit (DART), which is open daily from 5 am to midnight. Dallas is also a walkable and bike-friendly city with an abundance of bike trails.
One negative thing about transportation in Dallas is the congested highways. Dallas, TX traffic is the biggest drawback of living there. Many residents have to deal with longer than normal commute times. INRIX ranks Dallas 20th city in the US with the heaviest traffic.
You'll Never Get Bored in Dallas.
If you're an active person, you can never run out of things to do in Dallas TX. The place is filled with exciting attractions, parks, art museums, restaurants, shops, and more. Moving to Dallas will be the best decision you ever make if you love art because the place is full of intriguing art galleries to visit. Food is in abundance here with all kinds of eateries, cafes, and restaurants. The area is welcoming to everyone regardless of their interests or age.
Is Dallas Expensive to Live?
One great thing about Dallas is that it provides you with high chances of finding a job. In other words, it is rare for you to be unemployed here. If you have a job, then you can most likely afford to live in Dallas.
The cost of living in Dallas ranks two percent higher than the national average. However, that's not a lot compared to other major metros like New York City or Miami. A rented studio apartment in Dallas goes at the cost of $960 a month, but with an average salary of $59,885, that price is easily affordable. Although other places in Texas have their cost of living lower than the national average, the job market there is not nearly as impressive as it is Dallas.
Dallas Job Market
Dallas is one of the cities in the U.S that have experienced quite a steady job growth with a competitive income. The median household income in the city is $75,200. Dallas boasts of the highest job growth percentage among the 12 largest metro areas. According to the Bureau of Labor and Statistics, the job growth in Dallas stands at 2.4% year after year.
The Cost of Housing in Dallas, TX
Dallas/Fort Worth region has a median home value of $256,000. Dallas has experienced a 2.4% increase in home value, and this rise is expected to continue as many people continue to crave the urban lifestyle. Dallas neighborhoods like Highland Park and Plano are have the most expensive housing market because of their desirability.
Renting a house in Dallas will cost you an average of $980 monthly for a one-bedroom apartment, with a two-bedroom one going for $1,180 per month. Popular neighborhoods have even higher housing closing costs. While the price is slightly above the national average, many people consider this affordable.
Relocating to Dallas, TX
Dallas is a great place to live if you're a person who enjoys a vibrant lifestyle and the outdoors. The neighborhoods here are incredible, with an affordable housing market. Even though rent is slightly above the national average, the job market is impressive; hence many people can afford it.
The cost of living in Dallas, TX, is also slightly above the national average but is still lower than the biggest Metros in the US. Generally, moving to Dallas, TX, is the best decision you can ever make.
If you're considering relocating to Dallas, SimpleShowing will be your best guide to this incredible city.