The Best Flooring for Dogs: 2023 Edition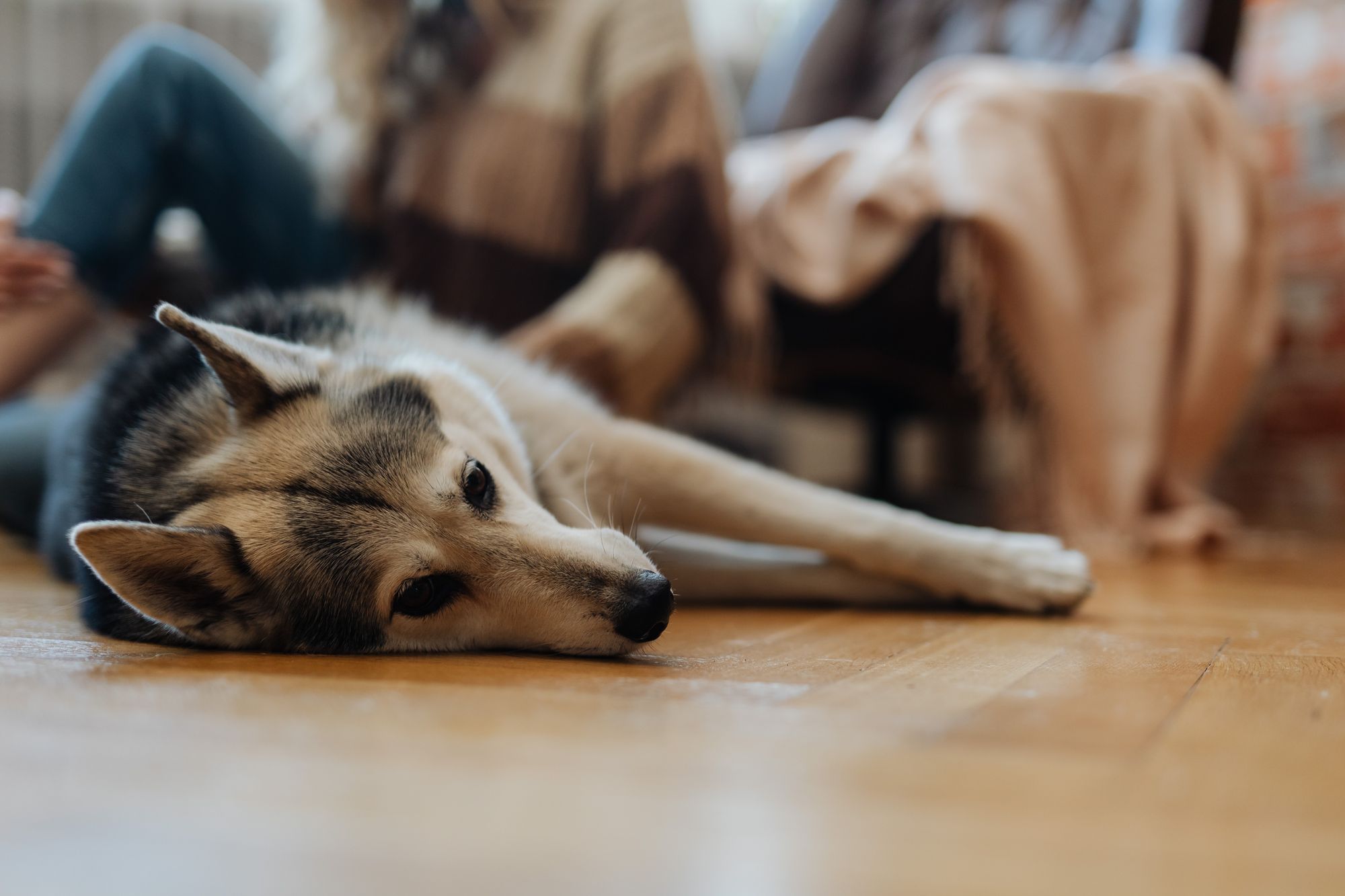 Apr 28, 2023
As a proud dog owner, you know that the love and joy your furry friend brings into your life are priceless. However, with those adorable paws comes the potential for scratches, stains, and all sorts of messes on your floors. Finding the best flooring for dogs can seem like a daunting task, but don't worry—we're here to help!
In this comprehensive guide, we'll discuss the top flooring options for pet-friendly homes, so you can choose the perfect one for you and your four-legged family member.
Your Best Options for a Dog-Friendly Flooring
1. Luxury Vinyl Flooring
Luxury Vinyl Plank Flooring
Luxury vinyl flooring has become increasingly popular among dog owners in recent years—and for good reason. This durable, water-resistant material is designed to withstand the wear and tear of daily life with pets. Its scratch-resistant surface means you won't have to worry about your dog's nails damaging the floor, while its stain-resistant properties make it easy to clean up any accidents.
In addition to its durability, luxury vinyl flooring offers an impressive range of styles and colors, allowing you to find the perfect match for your home's decor. From authentic wood-look planks to elegant stone patterns, there's something for everyone.
2. Laminate Flooring
Laminate Floors
Laminate flooring is another excellent option for dog owners, thanks to its durability and easy maintenance. This budget-friendly material is composed of multiple layers, including a high-resolution image layer that mimics the look of real wood or stone. Laminate's protective wear layer is designed to resist scratches, stains, and fading, making it an ideal choice for households with active dogs.
When shopping for laminate flooring, look for options with a high AC (Abrasion Class) rating, which indicates the level of resistance to wear and tear. An AC rating of 3 or higher is recommended for homes with pets.
3. Bamboo Flooring
Bamboo Floors
If you're looking for a more eco-friendly flooring option for your dog-friendly home, consider bamboo. This rapidly renewable resource offers a unique, stylish look and is harder than many traditional hardwoods, making it resistant to scratches and dents.
When choosing bamboo flooring, opt for strand-woven bamboo, which is the most durable variety. Additionally, look for options with a low VOC (volatile organic compound) finish to ensure a healthier indoor environment for you and your pet.
4. Engineered Hardwood Flooring
Solid Hardwood Floors
While traditional hardwood flooring may not be the best choice for homes with dogs due to its susceptibility to scratches and water damage, engineered hardwood offers a more durable alternative. Composed of a real wood veneer on top of multiple layers of plywood or fiberboard, engineered hardwood is less prone to warping and can withstand the impact of your dog's nails better than solid hardwood.
To maximize durability, choose an engineered hardwood floor with a thick wear layer and a high-quality finish. Look for options with aluminum oxide or ceramic bead finishes, as these provide additional protection against scratches and stains.
5. Tile Flooring
Scratch-Resistant Tile Floors
Tile flooring is another excellent option for dog owners, thanks to its durability, water resistance, and ease of maintenance. Porcelain and ceramic tiles are especially well-suited for homes with pets, as they are resistant to scratches, stains, and moisture.
One downside to tile flooring, however, is its hardness and coldness underfoot, which may not be comfortable for your dog to lie on. To address this issue, consider adding area rugs or pet beds in your dog's favorite lounging spots to provide additional warmth and comfort.
Conclusion
For the Pet Owners
There's no one-size-fits-all solution when it comes to the best flooring for dogs. The ideal choice for your home will depend on your budget, design preferences, and your dog's specific needs. With the options we've discussed—luxury vinyl, laminate, bamboo, engineered hardwood, and tile flooring—you're sure to find a pet-friendly flooring solution that meets your requirements.
Cork Flooring
When selecting the best flooring for your dog-friendly home, consider factors such as durability, scratch resistance, water resistance, and ease of maintenance. It's also essential to prioritize your dog's comfort, so think about adding area rugs or pet beds to ensure they have a cozy spot to relax.
Porcelain Tile
Ultimately, finding the perfect flooring for your home and your furry friend is about striking the right balance between functionality, aesthetics, and comfort. By keeping these factors in mind and exploring the options we've covered in this guide, you'll be well on your way to creating a beautiful, pet-friendly living space that you and your dog can enjoy for years to come.