Top 5 Steam Cleaners: A Guide for Your Ultimate Cleaning Experience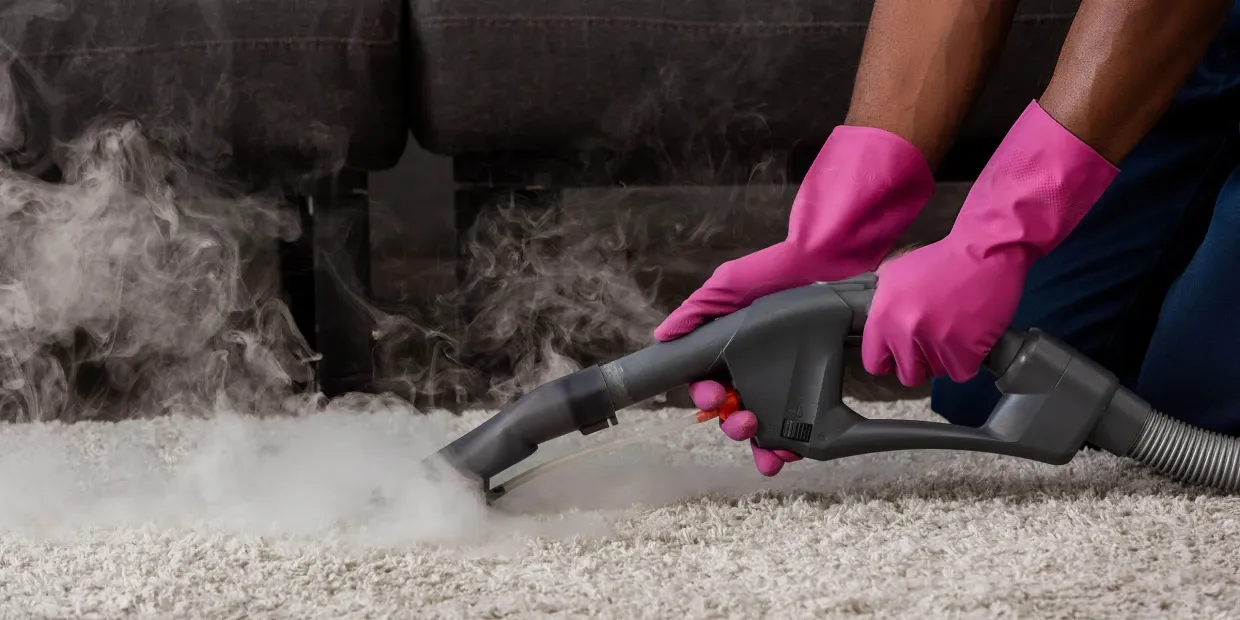 May 1, 2023
Steam cleaners have become an essential tool for maintaining a clean and healthy home. These versatile machines use the power of steam to tackle dirt, grime, and germs on a variety of surfaces, from carpets and upholstery to tile and grout.
With a wide range of steam cleaners available, finding the perfect one for your needs can be overwhelming. This comprehensive guide will help you choose the best steam cleaner, explore its benefits, and offer practical tips on how to use it effectively.
Best Steam Cleaners for Your Home
Handheld Steam Cleaners and Steam Mops
The McCulloch MC1375 is a powerful canister steam cleaner that delivers exceptional performance on various surfaces. With a 48-ounce water tank, it provides up to 90 minutes of continuous steam.
Its 20 versatile accessories, including a floor mop, scrub pads, and a brass brush, ensure that you can clean every corner of your home. The MC1375 also features variable steam control, allowing you to adjust the steam pressure according to your needs.
The Bissell PowerFresh Slim is a 3-in-1 steam cleaner designed for hard floors, above-floor cleaning, and grout. Its slim and lightweight design makes it easy to maneuver, while the swivel steering allows for effortless navigation around furniture.
The PowerFresh Slim includes multiple attachments, such as a grout tool, angle tool, and bristle scrub brush, making it ideal for cleaning hard-to-reach areas. Its on-demand steam trigger allows you to control the amount of steam needed for each task.
The Wagner Spraytech C900053.M SteamMachine is an all-in-one solution for deep cleaning and sanitizing your home. Its large 40-ounce water tank provides up to 45 minutes of continuous steam, and the machine heats up in just 8 minutes.
The SteamMachine comes with 17 accessories, including a floor mop attachment, brass brush, and squeegee, making it suitable for various cleaning tasks. The built-in accessory storage ensures that your tools are always within reach.
The Dupray Neat Steam Cleaner is a high-quality, heavy-duty steamer suitable for both residential and commercial use. Its large 54-ounce water tank delivers up to 50 minutes of continuous steam, and the machine reaches a steam temperature of up to 275°F.
With 18 included accessories, the Dupray Neat is perfect for cleaning and sanitizing floors, grout, appliances, and more. Its smooth-rolling wheels and retractable handle make it easy to move around your home.
Benefits of Using a Steam Cleaner
Canister Steam Cleaners
Chemical-Free Cleaning
Steam cleaners use only water to clean and sanitize surfaces, eliminating the need for harsh chemicals. This not only reduces the risk of irritation and allergies but also makes it an eco-friendly cleaning solution.
Kills Germs and Bacteria
The high temperature of steam effectively kills bacteria, viruses, mold, and other allergens, ensuring a deep clean and a healthier living environment.
Versatility
Steam cleaners can be used on a wide range of surfaces, such as carpets, upholstery, tile, grout, and hardwood floors. Their various attachments and accessories make them suitable for cleaning and sanitizing different areas of your home.
Time and Effort Savings
Steam cleaners can quickly loosen and dissolve dirt, grime, and stains, making the cleaning process more efficient and less labor-intensive. Additionally, the heat from the steam dries surfaces faster, reducing the time it takes to complete your cleaning tasks.
Improved Indoor Air Quality
By effectively eliminating allergens, dust mites, and pet dander, steam cleaners can significantly improve the indoor air quality of your home, making it a more comfortable and healthier environment for you and your family.
Tips for Using Steam Cleaners
For Most Steam Cleaners for Steam Clean
1. Read the Manual
Before using your steam cleaner, carefully read the user manual to familiarize yourself with its features and recommended usage guidelines. This will ensure that you use the machine safely and effectively.
2. Pre-Cleaning Preparation
Before steam cleaning, remove any loose dirt and debris from the surface. For carpets and upholstery, vacuuming is essential to remove surface dirt and dust. For hard floors, a quick sweep or vacuum will suffice.
3. Test on a Small Area
Before using your steam cleaner on a new surface, test it on a small, inconspicuous area to ensure that it doesn't cause any damage or discoloration.
4. Use Distilled Water
Using distilled water in your steam cleaner can help prevent the buildup of mineral deposits in the machine, prolonging its life and ensuring optimal performance.
5. Regular Maintenance
To keep your steam cleaner in top condition, clean and maintain it regularly according to the manufacturer's instructions. This may include descaling the boiler, cleaning the attachments, and wiping down the exterior.
Conclusion
Multipurpose Steam Cleaner and Steam Mop
Steam cleaners are an indispensable tool for maintaining a clean and healthy home. With a variety of top-rated models available, you can find the perfect steam cleaner for your needs. The benefits of using a steam cleaner, such as chemical-free cleaning, germ elimination, and versatility, make it a worthwhile investment for any household. By following the tips provided in this guide, you can ensure that your steam cleaner operates efficiently and effectively for years to come.