Top 7 Best Hot Tubs Brands (2023)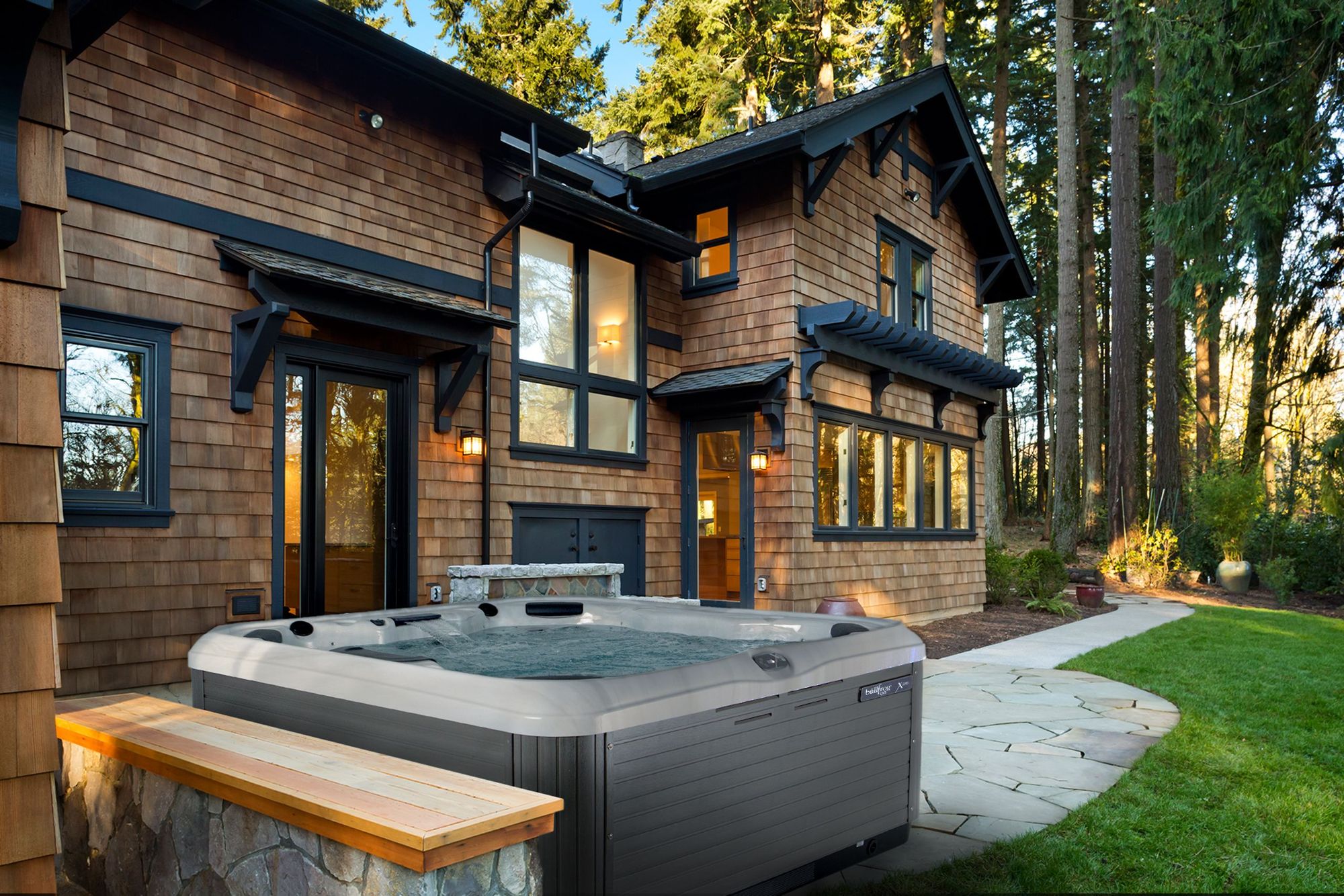 Oct 30, 2023
There's nothing quite like the experience of soaking in a hot tub after a long day at work, or to spend quality time with friends and family. With an overwhelming number of hot tub brands available in the market, it can be a daunting task to find the perfect one for your home.
To make your search easier, we have compiled a list of the top 7 best hot tub brands in 2023 that offer luxury, relaxation, and durability. Not only will these hot tubs enhance your outdoor living space, but they also come with excellent features and robust construction.
Hot Tub Models Available
1. Jacuzzi
When it comes to hot tubs, Jacuzzi is often the first brand that comes to mind. With more than 60 years of experience in the industry, this hot tub company is synonymous with quality and innovation. Their hot tubs are known for their advanced hydrotherapy systems, ergonomic seating, and energy-efficient designs.
The Jacuzzi J-400 series is a popular choice among consumers, featuring adjustable PowerPro jets and the ClearRay UV-C water purification system. If you're looking for the ultimate hot tub experience, Jacuzzi is a top contender.
2. Hot Spring Spas
Hot Spring Spas is another leading hot tub brand, offering a wide range of high-quality products. With their innovative FreshWater Salt System, Hot Spring Spas provide a natural and low-maintenance water care solution. Their NXT line showcases advanced design and engineering, including the patented Tri-X filters for efficient water filtration.
The Highlife Collection, a luxury line of hot tubs, boasts the Moto-Massage DX jet system for a relaxing and rejuvenating experience. Hot Spring Spas is a perfect choice for those looking for a combination of comfort, technology, and durability.
3. Bestway SaluSpa
Bestway is definitely your best option for inflatable hot tubs, including the Helsinki Hot tub and the Miami Hot tub, both which are top options for under $1,000.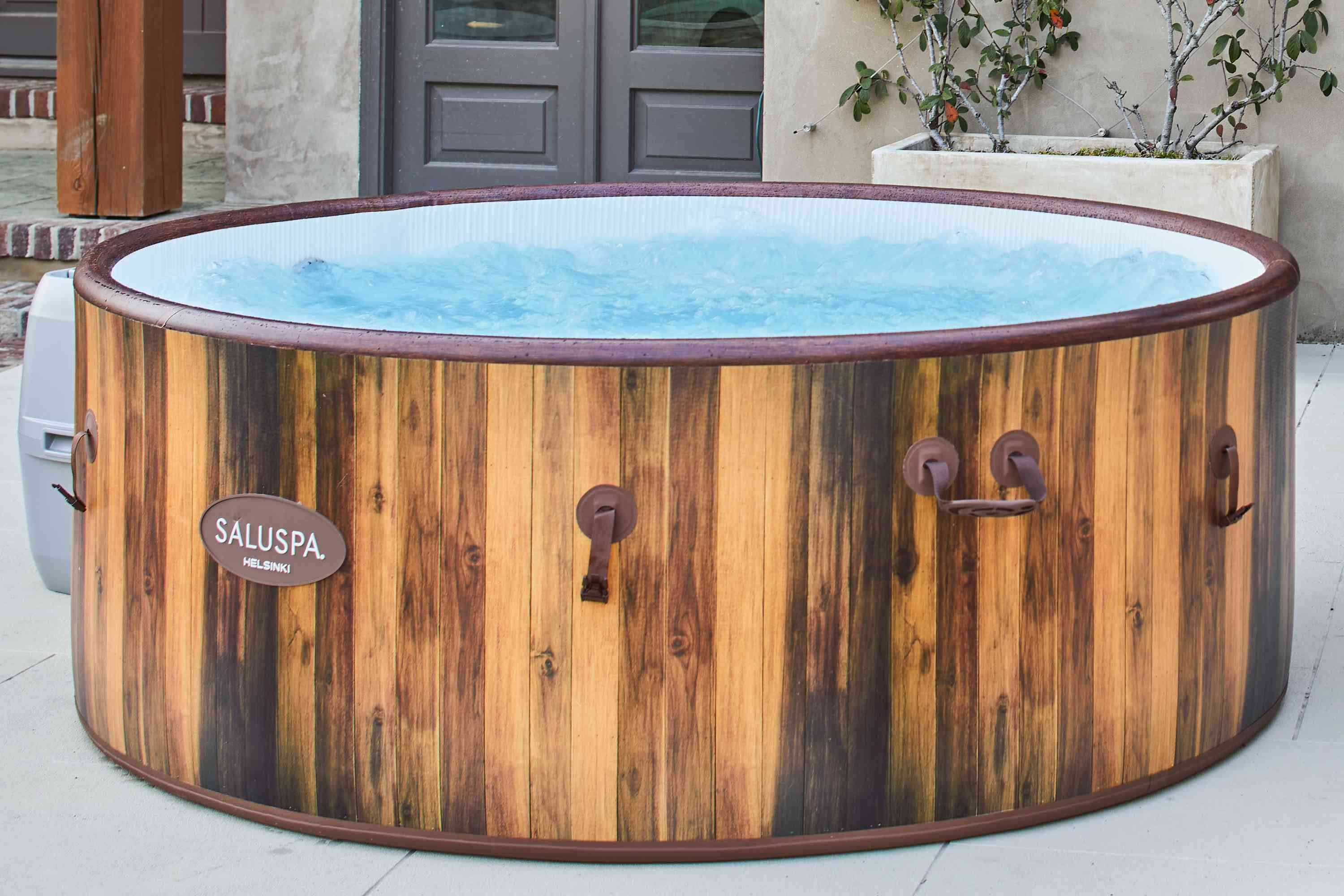 4. Wellis Spas
Wellis Spas stands out as a distinguished swim spa and hot tub manufacturer dedicated to providing luxury wellness products that are known for their energy efficiency. Renowned for their stylish design, advanced technology, potent hydromassage jets, and energy-efficient features, Wellis hot tubs are at the forefront of relaxation innovation.
From energy-efficient polyfoam insulation and a special polymer frame to mood-enhancing LED lights and premium audio, Wellis hot tubs provide an array of luxury hot tub features that make them one of the best hot tub brands. Many of Wellis' hot tubs for sale, such as the Lifeline Kilimanjaro, sync with Wellis' smartphone app that allows users to control their hot tub power, built-in speakers, water temperature, and even water quality monitoring - all from a mobile device.
5. Bullfrog Spas
Bullfrog Spas sets itself apart from other hot tub brands with its innovative JetPak Therapy System, which allows users to customize their spa experience by selecting from a range of interchangeable jetted seatbacks. This unique feature ensures that you get the perfect massage tailored to your needs.
Bullfrog Spas hot tubs also pride themselves on their energy-efficient designs, utilizing their patented Endura Frame construction and full-foam insulation for optimal heat retention. If customization and efficiency are high on your list, Bullfrog Spas an excellent choice.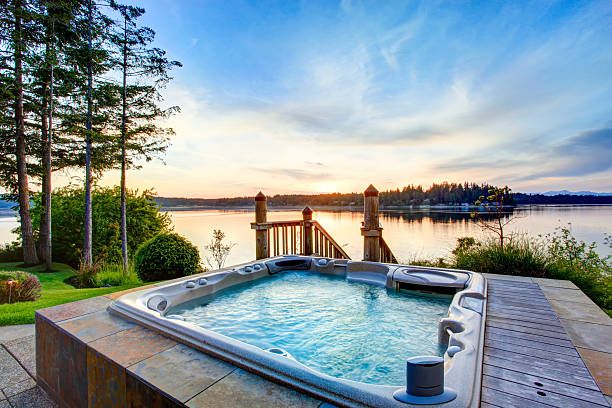 6. Marquis Spas
Marquis Spas is a premium hot tub brand that offers a blend of luxury and therapeutic benefits. Their Signature series boasts the innovative High Output Therapy (H.O.T.) Zones, which provide targeted massage therapy for different muscle groups.
Marquis Spas also features the Microsilk system, which enhances your hot tub experience by infusing the water with oxygen-rich microbubbles, leaving your skin feeling soft and rejuvenated. With their focus on luxury, therapy, and design, Marquis Spas is an excellent choice for those seeking a high-end hot tub experience.
7. Master Spas
Master Spas is another reputable hot tub brand known for its innovation, durability, and performance. Their Twilight Series and Michael Phelps Legend Series offer advanced features such as the StressRelief Neck and Shoulder Seat and the Xtreme Therapy Cove, providing targeted health relief for specific muscle groups with hydro-massage jets.
Master Spas also utilizes EcoPur Charge filtration, which combines natural minerals with advanced technology to keep the water clean and fresh. If you're looking for a hot tub that combines luxury, therapy, and cutting-edge features, Master Spas is a top choice.
Elevating Your Outdoor Space with Top-Quality Hot Tubs
When it comes to transforming your outdoor space into a luxurious oasis, choosing from the best hot tub brands is paramount. Jacuzzi hot tubs, renowned worldwide, set the standard for quality and innovation, providing hot tub owners with a sublime soaking experience. Most hot tub manufacturers strive to meet the high standards set by Jacuzzi, ensuring that the market is flooded with quality hot tubs that cater to a variety of preferences and needs. Opting for a Jacuzzi means investing in a legacy of wellness, bringing unparalleled relaxation right to your backyard.
Nordic Hot Tubs is another brand that stands out in the crowded market, known for providing quality hot tubs with a unique blend of affordability and durability. The brand's hot tubs are engineered to offer supreme comfort and efficiency, ensuring that you get the best value for your money. Like Jacuzzi, Nordic Hot Tubs contributes to elevating the standards in the industry, challenging other hot tub manufacturers to keep up and continually improve their products. This competitive spirit ensures that hot tub owners have access to an array of top-tier options when deciding to enhance their outdoor space.
Cal Spas is a name that resonates with quality spas, offering a wide range of products that cater to different tastes and requirements. With an extensive line-up of hot tubs, Cal Spas provides hot tub owners with numerous choices, ensuring that there is a perfect fit for every outdoor space. Their commitment to innovation and quality places them among the top brands in the industry, solidifying their position as a reliable choice for anyone looking to invest in a high-quality hot tub. By choosing Cal Spas, you are ensuring that your outdoor space is graced with a product that stands the test of time, providing endless hours of relaxation and enjoyment.
Conclusion: Top Hot Tub Brands
Finding the best hot tub brand for your home is a personal decision that depends on your preferences, budget, and desired features. The top 7 hot tub brands mentioned in this guide – Jacuzzi, Hot Spring Spas, Wellis Spas, Caldera Spas, Bestway Spas, Marquis Spas, and Master Spas – all offer a unique blend of luxury, relaxation, and durability.
These also come with excellent hot tub features that makes these brands the premiere choices in the hot tub industry. By considering factors such as hydrotherapy options, energy efficiency, and customization, you can find the perfect hot tub or cold plunge tub that suits your needs and enhances your outdoor living space.