What Does Under Contract vs Pending Mean in Real Estate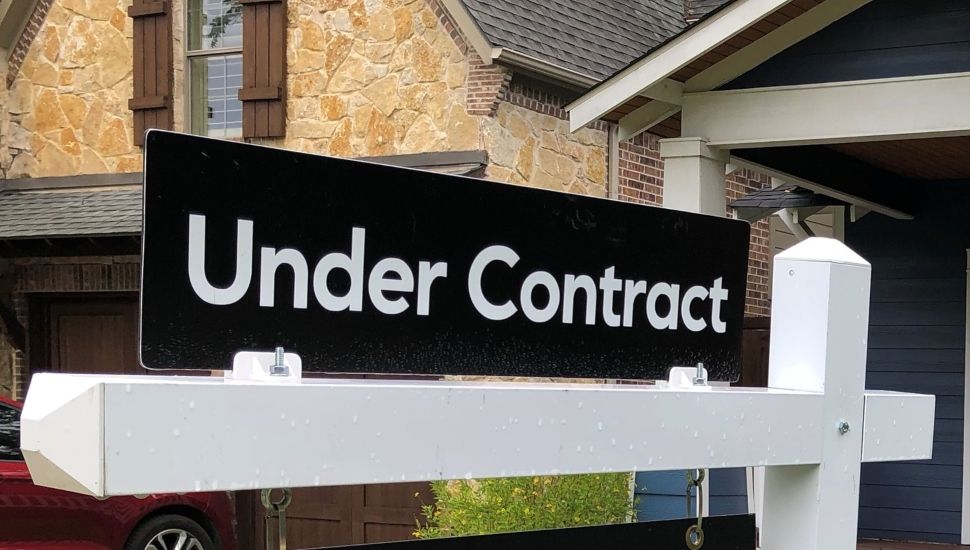 Mar 7, 2023
Ever been shopping for your dream home and suddenly it gets snagged by another buyer! You see the "Under Contract" sign or "Pending" tag on your favorite real estate app and your heart sinks. Welcome to the rollercoaster ride of a home buying process in a hot market!
Understanding contract versus pending is crucial to any real estate transaction. Below we highlight some key differences to help buyers identify the listing status.
What is Under Contract?
Have you ever asked your real estate agent to book a home tour of a property, only to find out that it's already "under contract". Yea, us too. It's a bummer!
After a property goes up for sale on the MLS (multiple listing service), it gets distributed to all the major real estate websites and apps - such as Zillow, Trulia, Realtor.com, etc. A buyer must make a formal offer for a home and if the seller accepts the offer, the contract is officially "binding". This means that it is a legal contract between two parties where legal tender is being exchanged. Once the contract is binding, the home is then officially under contract.
Typically real estate agents will then log into the MLS to update the listing status from ACTIVE to UNDER CONTRACT. To be fair, some agents drag their feet on this part and don't get around to updating the status for a day or two (or longer). This frustrates buyers when a home still shows "ACTIVE" online but is under contract in real life.
Viewing a home that is under contract
Throughout the inspection period (due diligence), the seller may still be continuing to show the home and may even be accepting backup offers. More on that later.
Under Contract vs Pending: What's the Difference?
Under contract this is the first phase of the signing and at that time, the home is also "pending". Understanding contract statuses  requires an understanding of contingencies and other terms like no show, backup offer, kick out clauses.
One of the key differences between "under contract" and "pending" is that a property that is under contract may still be available for other buyers to submit backup offers. In other words, if the original buyer's financing falls through or they are unable to close the sale for any other reason, the seller may consider accepting another offer from a backup buyer.
On the other hand, pending status typically means that all of the contingencies in the contract have been met, and the sale is in the final stages of completion. At this point, the only thing left to do is to close the sale and transfer ownership of the property to the buyer. This is known as being "in escrow."
Why do Pending or Under Contract Homes Fall Through?
It is possible that during various stages of selling process, the deal could fall through. For example, during due diligence, inspection issues can arise which may cause the buyer to back out.
Most homes sales are typically contingent on financing or appraisal. So, a low appraisal could sink the deal for the first buyer, which opens the door for you.
Can You Still Buy A Home If It's Pending?
While sellers can technically still allow showings/viewings of their home while it's under contract, it not always common. Particularly for higher priced homes, it may be very difficult to gain access as the buyer if the home is already under contract.
Also, the seller can continue to accept backup offers assuming the seller and the seller's agent still allow showings after the home is pending sale.
What Are Backup Offers?
So, while buyers are able to make a backup offer on a home that is already under contract, it may be easier said than done. In some scenarios, there are sellers that won't entertain a backup offer if their initial/current offer is very strong and unlikely to fall through. For example, if the seller has a cash offer that is over asking price with a fast closing, they might not entertain backup offers.  Keep in mind that after the seller has signed their initial offer, a seller can not back out of a contract - even if a 2nd offer is higher.
Why would a buyer back out of a contract?
Once a buyer and seller go under contract, the buyer has a short period of time to provide a deposit on the home and perform diligence, which normally includes a home inspection. This is common of nearly all real estate transactions.
The buyer's earnest money deposit is typically held by either a closing attorney, title company or the listing broker depending on your state. If the inspection results are bad, the buyer will still have a claim on their earnest money deposit during the due diligence period. So, they'll typically terminate the contract prior to then end of the inspection (due diligence) period. When this happens, the status of the property changes from PENDING back to ACTIVE in the MLS and also on other real estate websites.
Real estate agents role
When there is a sale pending for a property you love, the buyer's agent can and should help you gain access and try to submit a backup offer. As we learned, pending contracts do not mean the door is totally closed. It's still cracked!
Many seller's agents will be receptive to buyers that are well qualified even if they already have a contract in place. To give yourself a strong shot at still getting the property, make sure you have a pre-approval letter or proof of funds. Also, you want to avoid a contingent contract that requires a long appraisal period or a long financing contingency. While contingencies aren't deal breakers in normal offers, they can be tough with backup offers.
On the seller side, the listing agent has a contractual agreement with his/her client to present any offers that come in, no matter when, how or what price. Keep this in mind because if the first, current contract falls through and the home goes back on the market, you can be waiting to swoop in and snag the house before anyone else does.
>Related: Can a seller back out of a contract?