What is a Barndominium?
Nov 12, 2022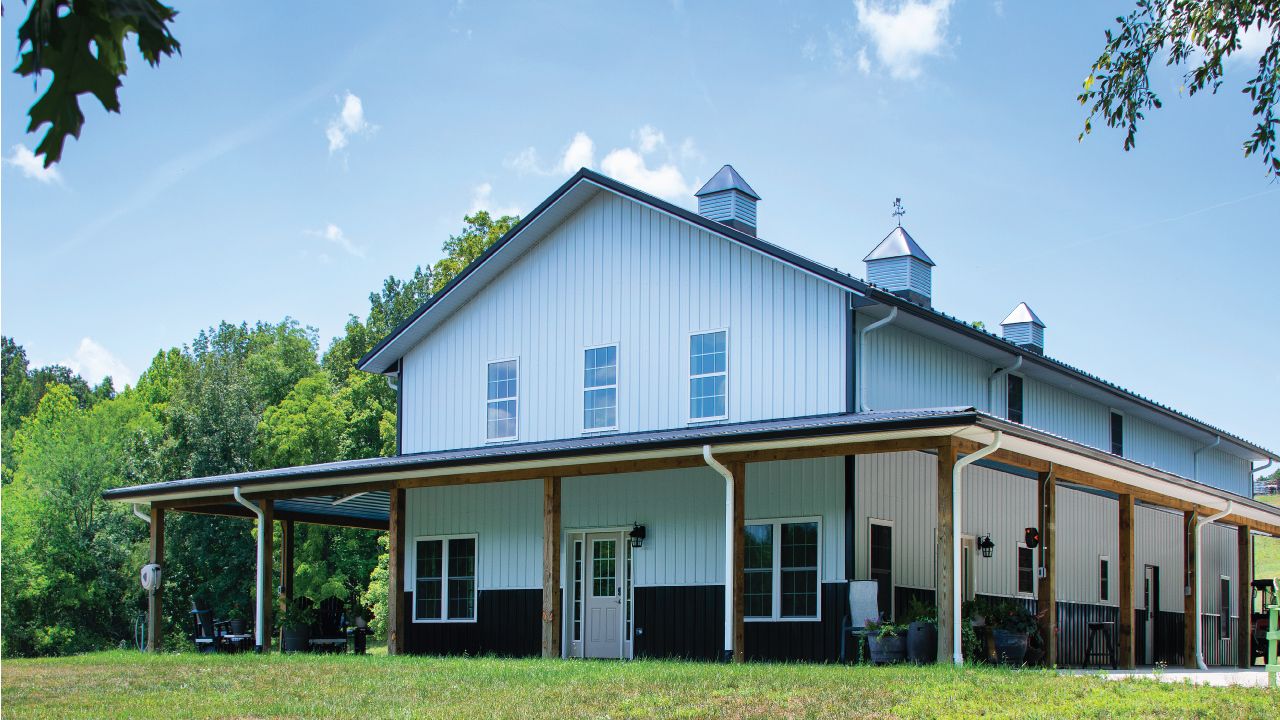 People who love living in classic yet vintage houses can't ignore a gorgeous barndominium. If you're looking to build a new house that you want an open concept with style and timeless flare, you might consider a barndominium.
So, what is a barndominium? In general, a barndominium is a structure that merges the design of a modern house with a traditional barn. The term "barndominium" is a blend of the words "barn" and "condominium."
Barndominiums can be constructed from scratch or adapted from an already-existing farmhouse or barn by adding a living area to the building. Barndominiums combine a barn's framing structure with modern or urban architecture to produce a cutting-edge fusion of two worlds.
Getting To Know Barndominium
The original concept emerged when landowners transformed former barns into residences. As you probably know, most barns are designed for animals, livestock, farm equipment or for the storage of animal feed. In other words, in the past barns had not been inhabited by people - but rather animals.
Barndominiums can be constructed in several different ways - including wide open, single-room barndominiums or huge, 7 bedroom properties. In other words, some barndominiums are as small as 800 square feet and others are larger than 5,000 square feet. Some barndominiums also incorporate more than one barn.
Benefits Of Barndominiums
1. Fast construction timeline
If you use a pre-fabricated, metal frame, the amount of time it takes to build the structure is significantly reduced. You can have your main structure ready in 30 days, in most cases.
2. Versatility for work/life balance
Barndominiums provide a versatile option for remote (work from home) employees or small business owners.
3. Tons of storage
Most people use their garage for storage. But with a barndominium, you can create a large loft, a partitioned storage area or a finished attic space to store items.
4. Green/Eco-friendly
Many barndominium use recycled material, metal roofs, or environmentally friendly construction products.
Cost to Build a Barndominium
Based on our research and depending on your area, most builders are quoting $200 - $300 per square foot to build a barndominium in 2022. Of course, this does not include the cost of land.
Types Of Barndominiums Flooring
If you're building a barndominium from scratch, here are several types of flooring to consider for your new home:
1. Barndominiums With Tile Flooring
Ceramic or porcelain tiles are excellent at controlling heat. Tile flooring is available in many patterns and sheens to complement your barndominium decor. While tiles are fantastic, your home also needs heat control.
2. Barndominiums With Wood Flooring
Any property would benefit greatly from installing wood floors. In addition to lasting longer than other forms of flooring, wood floors may be refinished whenever you choose without completely replacing them.
3. Barndominiums With Vinyl, LVP Flooring
Vinyl is water-resistant and perfect for use in kitchens and bathrooms. The lifespan of vinyl flooring is between 10 and 20 years. This flooring is excellent for places with high usage because of its greater resistance to stains and scratches.
4. Barndominiums With Stained Concrete Flooring
This kind of floor is a fantastic choice for your home. The benefit of this sort of floor is how simple it is to maintain and how stain-resistant it is. The good news is that you can pick one that perfectly complements your barndo because they are available in various hues or stains.
5. Barndominium With Laminate Flooring
Laminate is an excellent option if you want something that looks good but won't cost much. You may select the laminate type that best suits your home because it is available in many colors and textures. It is a fantastic and cost-effective flooring solution due to its longevity, price, and available style possibilities.
Conclusion
One of the residential housing trends with the quickest growth rate is barndominiums. They provide a truly unique structure that is unlike any other property. Keep in mind that many HOA's or communities may prohibit these types of structure unless first approved by a local board or municipality.
Get in touch. Send us a message now.