What is a Barndominium?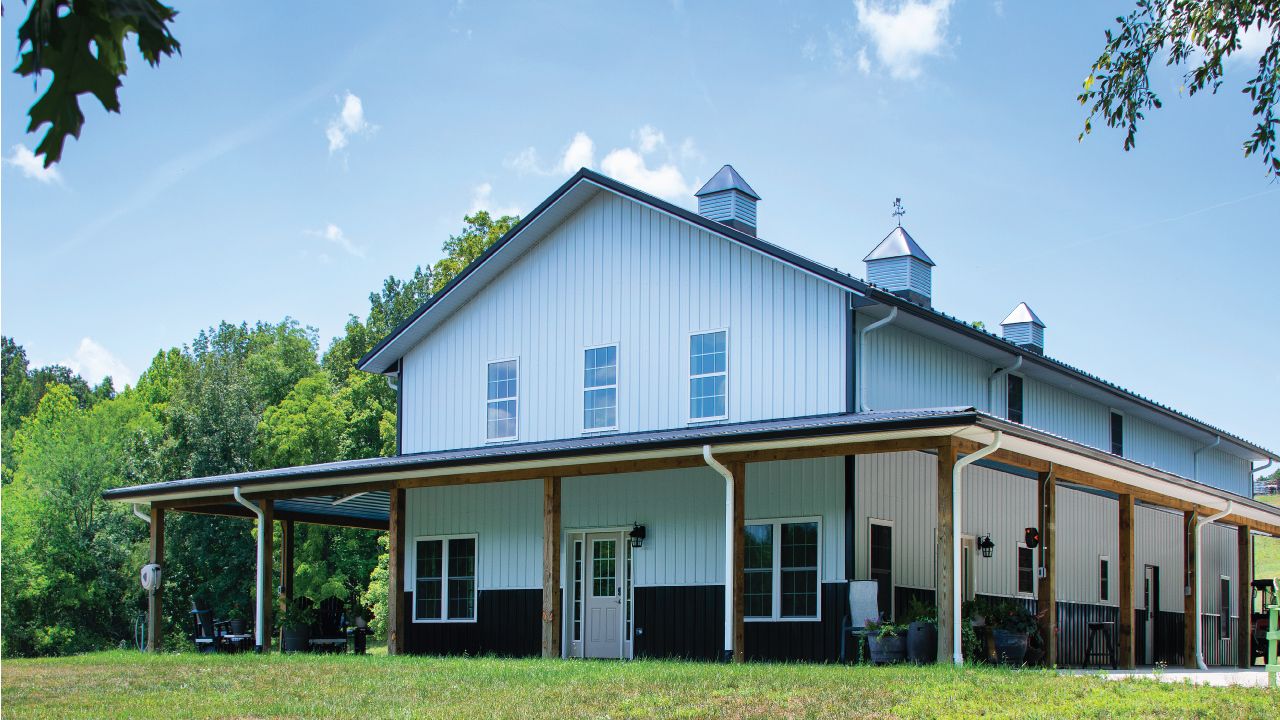 Feb 27, 2023
People who love living in classic yet vintage houses can't ignore a gorgeous barndominium. If you're looking to build a new house that you want an open concept with style and timeless flare, you might consider a barndominium. They've boomed in demand the last few years and have quickly become one of the most popular types of home to build.
So, what is a barndominium? In general, a barndominium is a structure that merges the design of a modern house with a traditional barn. The term "barndominium" is a blend of the words "barn" and "condominium."
Barndominiums can be constructed from scratch or adapted from an already-existing farmhouse or barn by adding a living area to the building. Barndominiums combine a barn's framing structure with modern or urban architecture to produce a cutting-edge fusion of two worlds.
Getting To Know Barndominium
The original concept emerged when landowners transformed former barns into residences. As you probably know, most barns are designed for animals, livestock, farm equipment or for the storage of animal feed. In other words, in the past barns had not been inhabited by people - but rather animals.
Barndominiums can be constructed in several different ways - including wide open, single-room barndominiums or huge, 7 bedroom properties. In other words, some barndominiums are as small as 800 square feet of living space and others are larger than 5,000 square feet. Plus, some barndominiums incorporate more than one barn to make a massive home.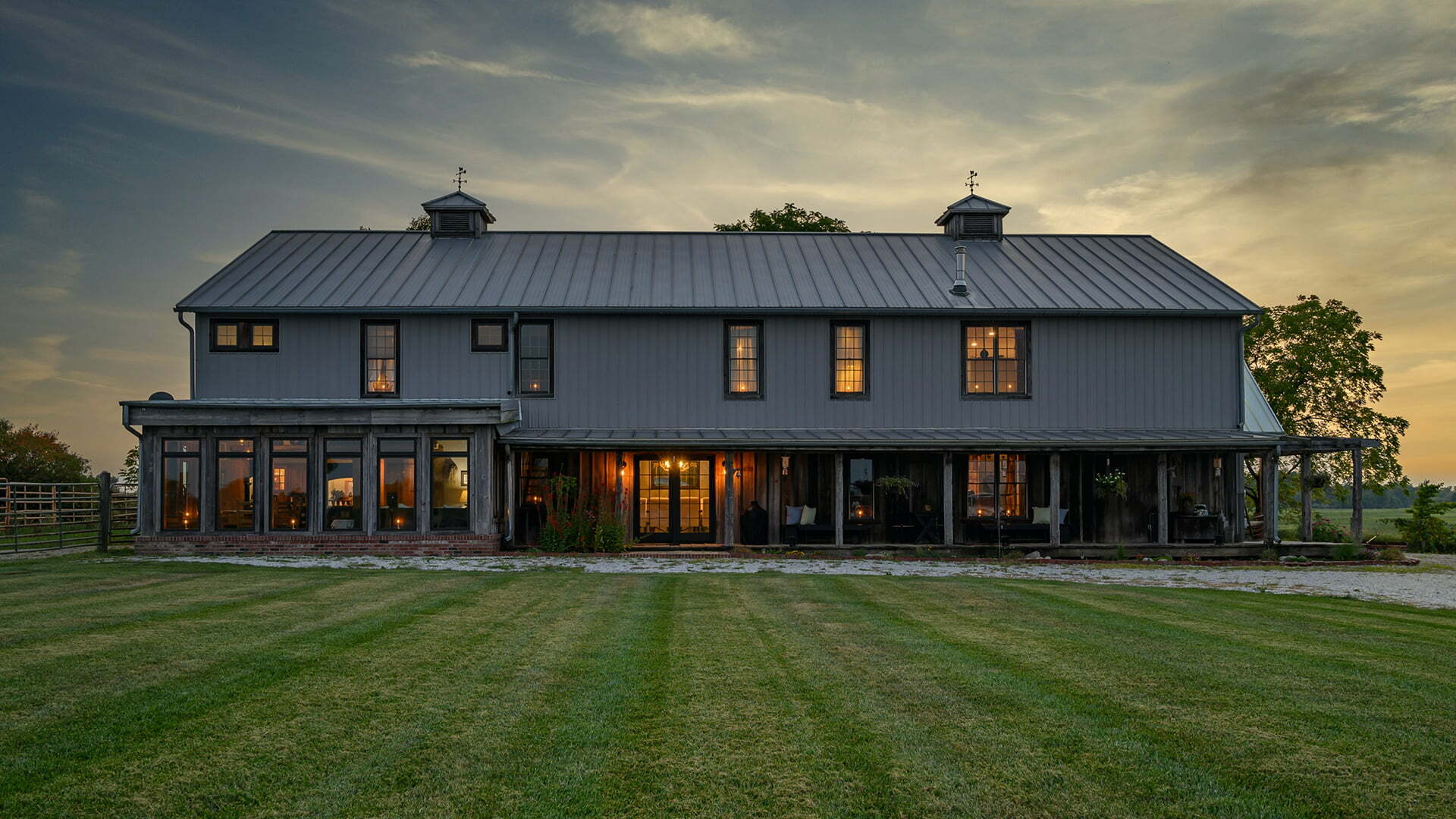 Benefits Of Barndominiums
If you're considering building your own home, it's worth comparing the timeline and process of a barn home versus a typical production/tract build from a large, corporate homebuilder.
1. Fast construction timeline
If you use a pre-fabricated, metal frame, the amount of time it takes to build the structure is significantly reduced. You can have your main structure ready in 30 days, in most cases.
2. Versatility for work/life balance
Barndominiums provide a versatile option for remote (work from home) employees or small business owners.
3. Tons of storage
Most people use their garage for storage. But with a barndominium, you can create a large loft, a partitioned storage area or a finished attic space to store items.
4. Green/Eco-friendly
Many barndominium use recycled material, metal roofs, or environmentally friendly construction products. The can also be surprisingly energy efficient, despite typically having tall ceilings and open rooms.
Cost to Build a Barndominium
Based on our research and depending on your area, most builders are quoting $150 - $300 per square foot to build a barndominium in 2022. Of course, this does not include the cost of land.
The total cost will depend on several factors, including the size of the building, the location, and the materials used. Building a barndominium in a rural area is usually less expensive than building one in a more urban location. Additionally, the cost of materials can vary significantly based on the quality and type of materials used.
To get a better idea of the cost to build a barndominium, it's essential to have a detailed plan and work with a reputable builder. A general contractor can help you determine the best materials and design for your needs while staying within your budget. Additionally, it's important to factor in permits, utilities, and site preparation into your total barndominium cost.
Types of Barndominiums
1- Pole Barn: A pole barn is constructed using vertical posts or poles that are anchored into the ground, with horizontal beams and trusses that support the roof. The walls of a pole barn are often made of metal or wood siding, and the roof can be made of metal or shingles.
Pole barns are known for their durability, affordability, and versatility. They have historically been used for agricultural purposes but when built as a residence, usually include a large open living space, a kitchen, and one or more bedrooms.  A pole barn is relatively easy and quick to construct, which makes them a cost-effective option. They also require fewer materials than traditional buildings, which can save on construction costs.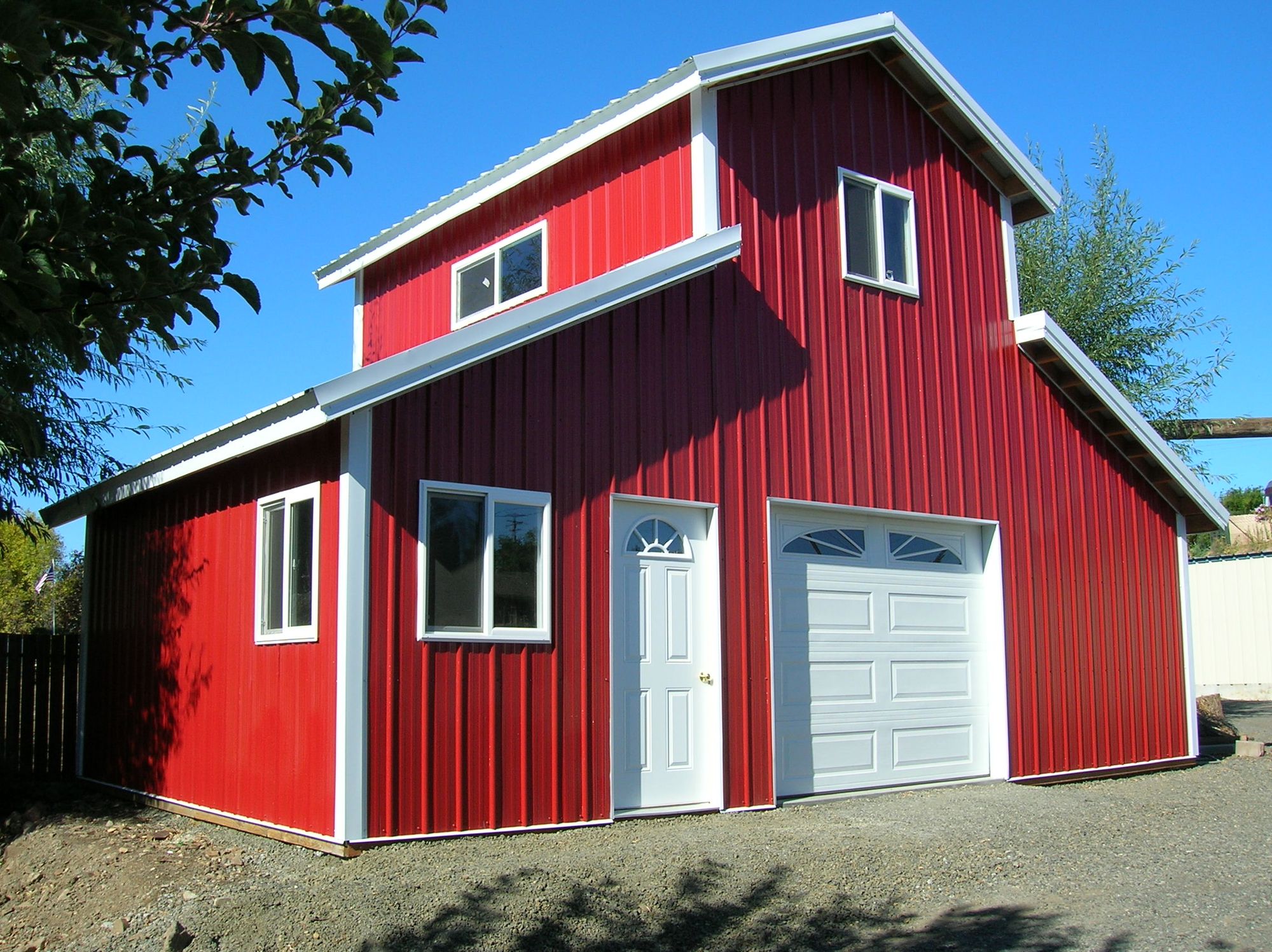 2- Modern Barn: A modern barndominium has a sleek, contemporary design that combines industrial and rustic elements. These types of barndominiums usually feature large windows, minimalist interiors, and modern finishes.
3- Dutch Barn: A Dutch barn is a type of barn characterized by its gambrel roof, which has two slopes on each side. The roof's design creates more headroom and storage space in the upper part of the barn. Dutch barns were commonly used in Europe in the 16th and 17th centuries and were introduced to North America by Dutch settlers in the 18th century.
The Amish, a religious group known for their simple and traditional lifestyle, have used Dutch barns as residences in many cases. They often use the upper level of the barn as living quarters, with the lower level serving as a workspace or stable for livestock. These types of barns are sometimes referred to as "bank barns," as the lower level is built into the side of a hill, allowing for easy access from the outside.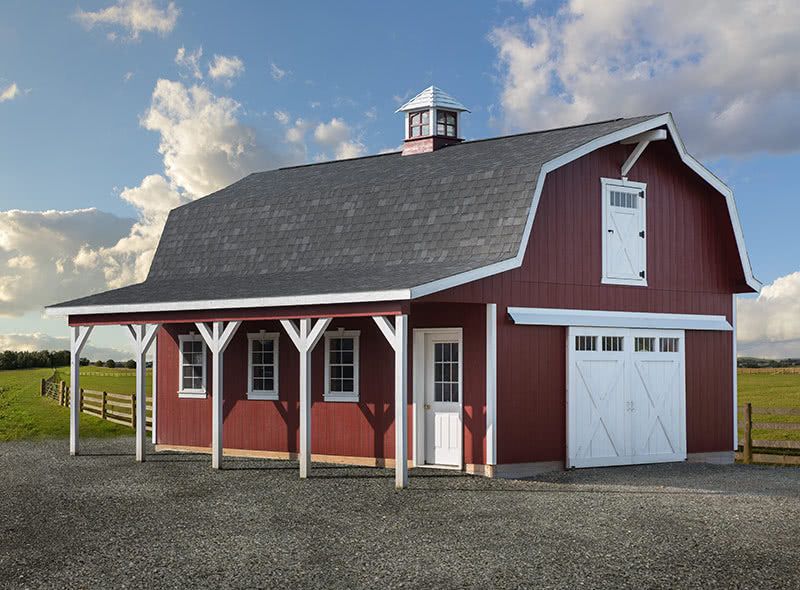 4- Two-Story: A two-story barndominium is designed to maximize the available living space by adding a second level. These types of barndominiums often feature large open living spaces on the first floor, with bedrooms and additional living areas on the second floor.
5- Custom: Custom barndominiums are designed to meet the specific needs and preferences of the homeowner. These types of barndominiums can incorporate any design, style, or feature the homeowner desires, making them highly personalized and unique.
Types Of Barndominiums Flooring
If you're building your dream barndominium from scratch, here are several types of flooring to consider for your new home:
1. Barndominiums With Vinyl, LVP Flooring or Engineered Wood
Because most barndominiums have a concrete/slab subfloor, floating floor products are very common. Luxury Vinyl Planks are water-resistant and ideal for laying on top of concrete. The lifespan of vinyl flooring is between 10 and 20 years. Engineered wood floors are also an excellent option for maintaining a rustic or farmhouse look.
2. Barndominiums With Stained Concrete Flooring
Stained concrete floors are a fantastic choice and probably the most common style you'll see with barn homes. The benefit of this sort of floor is how simple it is to maintain and how stain-resistant it is. They are available in various hues or stains and are known for having low maintenance costs.
3. Barndominiums With Tile Flooring
Ceramic or porcelain tiles are excellent at controlling heat. Tile flooring is available in many patterns and sheens to complement your barndominium decor and could be ideal for barn homes located in warmer climates.
Conclusion
One of the residential housing trends with the quickest growth rate is barndominiums. As remote work and working from home continue to grow in adoption, consumers are expected to seek alternatives to the ordinary, traditional home. And as the building process becomes more common, we expect the cost per square foot to stabilize, making the barndominium concept accessible for many more homebuyers.
They provide a truly unique structure that is unlike any other property. Keep in mind that many HOA's or communities may prohibit these types of structure unless first approved by a local board or municipality.