Your 48-Point DIY Home Inspection Checklist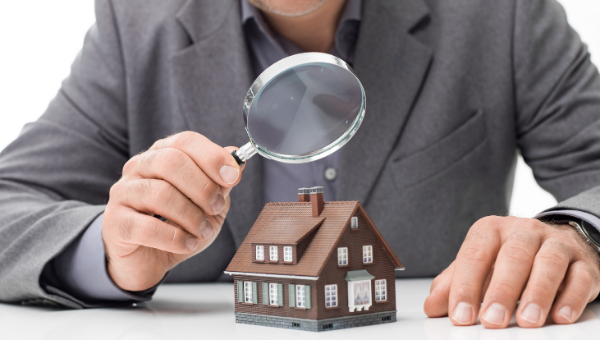 Mar 7, 2023
Before you make an offer on your dream home, there's a whole list of things you should consider before you buy – which is why it's important to do your own inspection.
Using a DIY home inspection checklist can reveal a number of issues you'll be glad you found before you've made any commitments. Some of them might be small but significant issues that can decrease a home's value, and some might be large enough to be a full-on deal breaker for you.
Here's a comprehensive, 48-point DIY home inspection checklist for your own personal home inspection so you can make sure buying the home of your dreams doesn't turn out to be a nightmare.
DIY Home Inspection Checklist
Even if you're selling your house, you should do your due diligence to ensure you haven't left any stones unturned that could result in you losing money.
It's important to note that a DIY inspection should never take the place of a licensed home inspector. Bringing in a professional, and reacting accordingly to their assessment is mandatory when buying a new home. The purpose of inspecting the house yourself is to catch any problems before you've gone and spent the money on an inspection.
General Items to Inspect in a Home
Doors: Open and close every single one and check all of the locks. Make sure they don't get stuck and that they stay closed. Have they marked up the floor from opening unevenly?
Floors: Check every room for squeaky, loose, or bouncy boards. Make sure floors are not uneven.
Ceilings and Walls: Look for mold or water damage. Check for holes. If you see any spots on the ceilings, this could mean there's an active leak which could be costly in the future if not fixed immediately.
Windows: Open and close every window to see if they stick. Check locks and look for faded or broken panes. Look for water stains beneath windows which may indicate loose sills.
Trim: Look for damaged, broken, or missing trim. This includes door and window trim, as well as baseboards.
Stairs: Check every staircase in the home to see if they are secure and don't have significant give when they are walked on. Check security of railings and spindles.
Lights: Test every switch in the home. If one doesn't seem to work, make sure it's not just a burned out lightbulb.
Outlets: Test each one with a voltage tester. Especially in older homes, it's important to make sure all of the outlets are up to code and grounded to protect your appliances, family and home from electrical shock.
Items to Inspect in a Kitchen
Cabinets/Drawers: Open all cabinets and drawers to see if they stick and that they are able to open and close properly. Check interiors for storage space and signs of pests or rodents.
Oven: Make sure the oven works and heats properly. Check the door and inspect inside for signs of neglect.
Stove: If electric, test each burner to see they each turn on. If the stovetop is gas, turn each burner on individually and then turn them all on at once to make sure they light.
Refrigerator: Check the doors of the fridge and freezer, the ice maker and water dispenser if applicable.
Dishwasher: Turn on the dishwasher and let it run for a cycle. Check the door and inspect the inside for signs of neglect.
Sink: Run water, check water pressure, and make sure it drains.
Garbage Disposal: Run the garbage disposal along with the sink to make sure it works properly.
Microwave: Turn it on to see if it works. Check displays and look at the inside to see the condition.
Hood: Make sure the fan and light work. Look for grease buildup beneath the hood.
Countertops: Check for cracks, chips, and other damage with the countertops. Make sure they're secure and sealed in place.
Tile: If the kitchen has a tile backsplash or tile countertop, check for any cracks and to ensure that the tiles are secured in place.
Windows: Make sure any kitchen windows open and close smoothly.
Items to Inspect in the Bathroom(s)
Plumbing: Check for clogs in all drains and leaks in all faucets. Run the water to listen to the pipes and look out for any water.
Toilet: Make sure the toilet is securely fastened to the floor. Flush the toilet, and check for any leaks around the base.
Tub: Check for cracks and chips in any tubs. Look for leaking around the faucet and run the water to check that the temperature changes appropriately.
Shower: Make sure the shower is properly sealed with caulking and that the shower head is functional.
Vents: Make sure the bathroom vents are okay by seeing if the fans work properly and are not excessively noisy.
Vanity: Check the mirror and inside cabinets on the bathroom vanity too make sure they are secured and aren't rusted or dirty.
Floor: Look for cracks and water damage in the floor. If found, this could be a sign of water damage or active leaks in the bathroom.
Note: If the home has a septic tank, consider a septic inspection.
Items to Inspect in the Living/Dining/Family Room
Doors: Check knobs and make sure doors work properly.
Walls: Check for damage on the walls that may need to be repaired such as cracks or holes.
Floors: Check for damage on hardwood floors and staining on carpet.
Windows: Open and close them. Check the locks to make sure they work properly.
Items to Inspect in the Bedrooms
Floors:  Check for damage on any hardwood floors and staining on carpet.
Walls: Check for damage on the walls that may need to be repaired.
Closets: Consider storage space in the closets. Check stability of any shelving and see if the doors open and close properly.
Items to Inspect in a Basement
Walls: Check for signs of cracking in the basement walls. Significant cracking can be a major cause for concern in a basement as it may signify issues with the structure of the home.
Piping: Check for any leaks in the pipes in the basement.
Furnace: Inquire about the installation date of the furnace.
Water Heater: Inquire about the installation date to determine the age of the hot water heater. Look for signs of leakage. While a leaky water tank is an easy fix, it can cause significant damage if left alone.
Odors: Strong, musty smells in the basement could indicate issues with mold or mildew.
Items to Inspect on the Outside of a Home
Lights: Check to see if all of the exterior lights turn on.
Outlets: Test each outlet.
Sprinkler System: Run the sprinkler system to see if it works.
Fencing: Check the fence for damage and make sure it's secure.
Roof: Check the roof for any loose shingles or damage. A professional home inspector will be able to determine the age of the roof and give notice if it will need to be repaired or replaced soon. If you're home is set in a good location, consider adding solar panels during this time. While initial costs may be high,  the long-term energy savings and environmental benefits make it worth it.
Siding: Is it dirty, worn, or in need of replacing?
Garage Door: Make sure the garage opens and closes properly.
Grass/Trees/Shrubbery: What condition are they in? Will you need to invest heavily in landscaping once you move in?
Note: One thing a DIY home inspection checklist can't cover is a termite inspection. Consider one after you've done your own inspection.
Work With A Licensed Real Estate Agent Who Can Walk You Through A Home Inspection Checklist
While it is important to cover all of these line items when buying a new home, you still might not know exactly what you're looking for when you check them.

This is why it's important to not only hire a professional home inspector, but you should also work with a licensed real estate agent who can point these issues out when you initially tour the home. Finding out these problems before you're under contract can save you a bunch of time and money constantly paying for home inspections.
At SimpleShowing, our licensed agents can help you identify common issues early, walk you through the entire home buying process and give you $5,000 on average towards your closing costs.
To get started, contact us or book a tour of any home.