Downsize Your Life: 5 Essential Downsizing Tips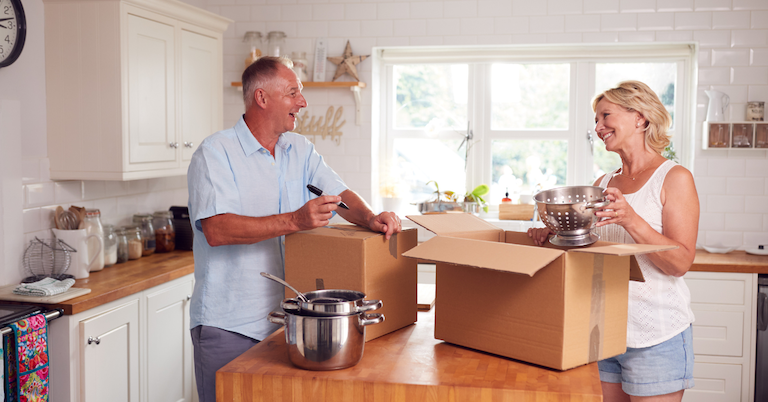 Aug 15, 2023
Moving into a new home is always bitter sweet and also a bit daunting. However, those mixed emotions can be even harder to cope with when you are downsizing as moving into a smaller home means there is less room for your current possession.
Not only do you have the stress of moving, but you also have the emotional challenge of going through years worth of personal belongings and deciding what is worth bringing with you. For some, downsizing also comes with the unfortunate difficulty of dealing with a loss. Whether it is the loss of kids moving out, the loss of a loved one or the loss of your physical ability to continue living in your current place, these situations make the already stressful process of downsizing all the more challenging.
No matter the challenges you face during your downsizing journey, we are sure that you will get through it and find happiness in your new home. To help ease some of the stress and create a more positive experience, here are 5 essential downsizing tips.
1.) Get an early start to the downsizing process
Unfortunately, most people have to downsize due to traumatic events or because of an emergency. This makes for a very rushed and unenjoyable process. If you do have the time to be preemptive, use that time to your advantage.
Transitioning from a larger home to a smaller one isn't just a size change, it's a lifestyle change. As you plan your move, you will find yourself evaluating your belongings and reducing down to just what you need for your new place. This often means giving up belongings you never thought you would part with. Starting the process give you the time to process the upcoming transition mentally, as well as plan for the decluttering and the moving process that will follow.
2.) Measure your new space and evaluate storage
One of the first steps in the downsizing process and understanding the size of your new space. Before you move into your new home, measure the interior and take a note of its storage spaces. If you don't have a new home yet, tour a few homes that are similar in size to what you are looking to downsize to and take measurements while you are there.
Measuring your new space allows you to pencil out where your furniture and other belongings will go. This will help you get an idea of what furniture will fit in the home and what furniture won't. Understanding the measurements and storage spaces also helps you to plan ahead. If the home is short on storage, you can easily plan ahead for alternate storage features like floor-to-ceiling shelves, hanging door organizers or furniture with hidden storage. This makes organizing much easier when you move in to your new home.
3.) Use evaluation questions to help you declutter
Evaluation questions help downsizing buyers declutter your home and pare down your belongings with ease. Professional home organizer Marie Kondo encourages people to evaluate their belongings with one simple question: "does it spark joy?". While this question is a great starting point, there are a few others that you might want to add to your list. Here are a few:
Have I used this in the past six months?
Is this actually something I use, want to use or plan to use?
Can this item be easily and inexpensively replaced If I change my mind?
Is the space this item takes up worth the joy that it brings me?
Does this item enhance my life or propel my goals in any way?
There are surely a few more questions that could be added to this list. However, these couple questions alone can help you be more intentional with your home decluttering. Start off with some of your least-used items and work your way up to the most-used. If you are struggling to get rid of more sentimental items, switch your focus to decluttering items that don't have as much personal significance. Take baby steps and work yourself up.
When you do get around to the more sentimental items or heirloom, hold on to your most cherished items that you will use or display in your home. If you have no use for it, consider passing the item down to a family member. That way you know it is in good hands and you can still enjoy seeing it when you visit their home.
For some of those more difficult items to part with, put them in a "maybe" pile and take some time to think over whether you want to keep it or leave it. Als, don't be afraid to do a trial run too if necessary. Pack your maybes into a bin and put them out of sight. If you miss or have need of that item during your trial run period, you have your answer.
4.) Preserve your memories and important documents
During your home decluttering, you are sure to discover just how much space paper documents take up. For most, throwing out these cherished memories or important documents is simply not an option. Thankfully, today's technology allows us to hold onto those items virtually.
Rather than keeping every physical photo or document, convert them into digital form using a scanner or digital scanning service like ScanCafe or DocuSign. Once they are converted, you have easy digital access to these photos and documents. Display your converted photos on a digital picture frame will play your photo collection on a rotation. Keep your documents in a digital file to print or email whenever you need.
5.) Sell your furniture you don't need to new homebuyers
The best way to get rid of your unwanted belongings is to sell them to others who may have use for them. This includes new homebuyers who might not have the furniture or funds to purchase brand new.
Start off by offering the items to the new buyers of your home after you have completed negotiations for the home. Many buyers will buy your furniture if it saves them time and money buying new furniture themselves.
If the buyers aren't interested, reach out to people you know who may be aware of someone in need. Post your items on social media and encourage your friends and family to share with others. If you have the time, you could even host a good old fashioned yard sale to find some new owners for your belongings.
Bonus Tip: Partner with an agent who is familiar with the downsizing process
As a downsizing seller looking to buy, the best thing you can do to make the whole process significantly easier is working with an agent with proven track record with other downsizing clients. They will provide you with more downsizing tips, ensure that you get the most money from your current house and help you find a new home that suits your needs in this new stage of life.
At SimpleShowing, our expert real estate team is knowledgeable of the downsizing process and working with clients going through this selling and buying situation. Contact us to connect with one of our expert agents to discuss your downsizing plan. Don't forget to ask about our 1% listing fee and buyer refund!
Wrapping Up
Downsizing isn't just about having as much stuff crammed into a smaller space; it's an invitation to a simpler life, where less stuff means fewer burdens. The journey towards a more streamlined existence might begin with the decluttering process, but it stretches far beyond into the realms of prioritizing what truly matters. When feeling overwhelmed with the magnitude of possessions we accumulate over the years, always remember the big picture: downsizing brings with it a promise of clarity, efficiency, and a more genuine connection to what's around us.
The five tips set goals not just for the physical aspects of downsizing, but also for the mindset needed to embrace a lifestyle with fewer things. Embracing a simple life can save time, reduce stress, and offer an improved quality of life. It's about more than just getting rid of items – it's about redefining your relationship with possessions, space, and your environment.
Lastly, the most important thing to remember is not to get bogged down by how much stuff you might still have left. Instead, focus on the progress you've made, the spaces you've freed, and the simpler life you're cultivating. With the right approach, downsizing can be a transformative experience that leads to a happier, more fulfilled existence.