Moving Guide to Tampa, FL
Nov 23, 2022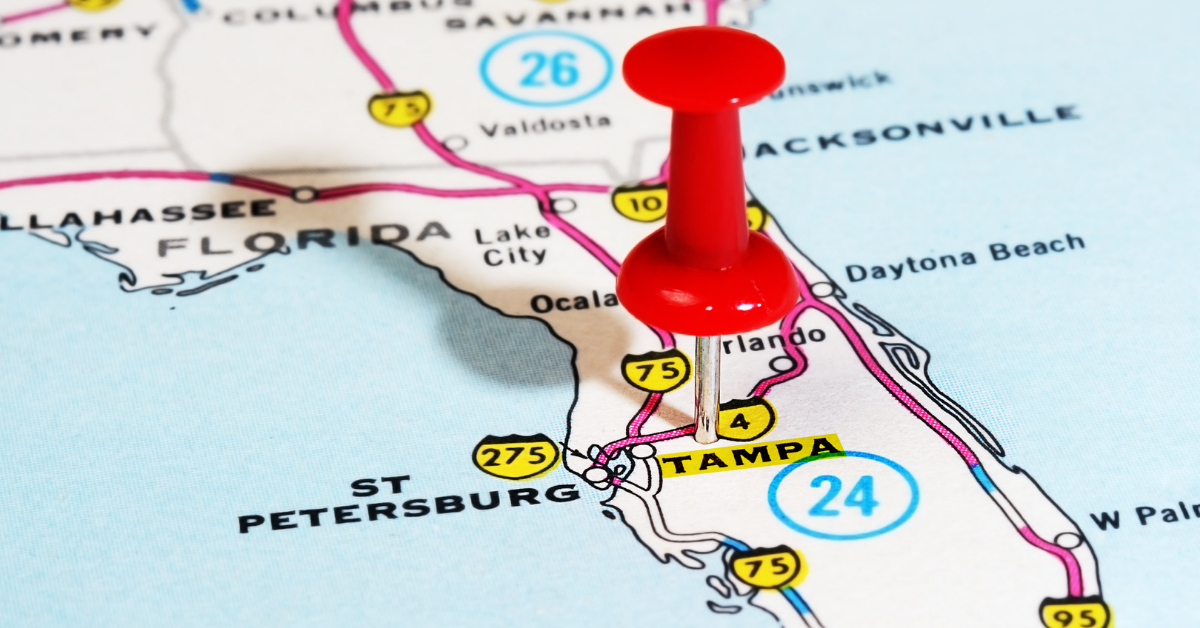 Are you planning to relocate to Florida and wondering where your destination should be? Consider moving to Tampa, which is located on Tampa Bay, the west coast of Florida. Tampa is ranked among one of the largest metropolitan areas in the Southeastern US. It's among the best places to live in Florida.
But why is Tampa among the best cities in Florida? The thriving metropolitan city is known to have various people from different places, a wonderful job market, and a flourishing business world. In fact, Tampa is ranked top 10 best places for real estate investors.
With all the goodies Tampa has to offer, no one would reject the offer to move there. But what do you need to know about Tampa before you move? Let's find that out in this article.
Is Tampa, Florida a Good Place to Live?
While Tampa may be ranked among the best cities to live in in Florida, whether it's good for you or not depends on what you're looking for as an individual. Are you looking for the hottest neighborhoods in Tampa, a quiet suburb or simply a better area for a new job? Let's have a look at some of the things that would likely make Tampa a good place to live in.
Tampa Population
Tampa is the third-largest city in Florida, with up to 380,000 people calling the place home. The largest chunk of these people makes up the Tampa Bay Area. The city also has other adjourning towns and suburbs, which expand the greater Metro area to more than 4 million residents. The Diverse city has most of its residents coming from other places. This city continues to record an impressive growth rate thanks to work activities, cheap housing, vibrant art, and good quality of life.
Tampa's Neighborhoods
When you plan to move to Tampa, you must also know which specific area will suit your lifestyle. There's an array of neighborhoods making up Tampa and the Greater Tampa Bay area. Each neighborhood has its own culture, character, landmarks, and cost of housing. Whatever place you choose to move to will depend on your desired quality of life. Here are some of the best neighborhoods in Tampa that you can choose from.
Ybor City is ranked among the best areas to live in in Tampa. If you love historic homes, this is the best place to buy a house. But you must know that the area is on the National Register of Historic Places. If you want to buy a house and reside here, you should be prepared to abide by the restoration codes. This place appeals more to the younger generation of the college-going age.
This is another great neighborhood in Tampa that's heating up at the highest rate. The city is in close proximity to the Florida Aquarium, which attracts local and tourists alike. With the neighborhood rich in high-rise condos and lofts, you will surely find it easy to move and settle here. Another place that has made the Channelside District great is the launch of Sparkman Wharf Park. This is the best place to relax and enjoy the atmosphere after a busy day.
If you want a mix of suburban affordability and city amenities all in one place, Seminole Heights is the best place to live. The place offers a wall of restaurants with delicious meals and a hearty art scene. The place is booming with business, restaurants, bars, and incredible nightlife. Seminole Heights is a charming neighborhood thanks to the bungalow-style housing.
Another incredible neighborhood is Hyde Park which is a perfect place to live for families. It's another historic district made up of bungalow-style housing, beautiful brick sidewalks, and tree-lined streets. The place has incredible nightlife with bars and restaurants everywhere. It's a perfect place for those who love trekking.
Tampa's Housing
The real estate market in Tampa is incredible. The city has relatively inexpensive housing with no state income tax. If you prefer living near the beach, you don't need a six-figure salary to buy a home in Tampa. There are attractive housing prices that are suitable for both young families and those retiring. Neighborhoods like downtown, the ones close to a waterway, or a golf course are more expensive.
Job and Employment Market
If you're starting your career life or are at the peak of it, you must live in a place with a good employment rate. Tampa Bay has a strong job market with an unemployment rate of 3.9%. The areas that employ most people in Tampa include healthcare, military, professional services, finance, and education.
Many people prefer moving to Tampa searching for jobs even if they'll make less than they would in other cities. The cultural diversity in Tampa also makes it easy for people to find jobs. With the largest population speaking Spanish, bilingual job opportunities here are on the rise.
Tampa FL Weather
Many people relocate to Tampa not to search for a job or a better life but to enjoy the incredible weather. Tampa is hot and humid in summer, with common thunderstorm occurrences.  The hot weather makes Tampa a heaven on earth for those who can't stand the harsh winter.
Tampa residents experience mild winter weather. People can go on with their normal winter activities, including fishing, golfing, boating, and almost all outdoor activities.
The negative thing about Tampa's weather is that the place is prone to thunderstorms and hurricanes. The sea levels are also rising due to global warming. This is a big threat to waterfront development.  If you live in Tampa, make sure you pay attention to the weather warnings from the state or the city.
Is Tampa Cheaper than Miami?
Miami is a more expensive city to live in than Tampa. The housing costs in Miami are relatively high, pushing the cost of living higher. The housing market in Tampa is 28% lower than that of Miami. The rent prices in Tampa are also lower than that of Miami by 30%.
The cost of housing in Tampa is generally lower than the national average. On the other hand, Miami has its cost of housing higher than the national average. But Miami gives you what you pay for, making it a much better place to live in than Tampa.
Bottom Line
Now that you know what you expect when moving to Tampa, you can make a more informed decision of whether to move or not. Tampa is a good place for family-oriented people making it a great option for those in the family phase of life. The living cost in Tampa is relatively lower than that of other places such as Miami. You spend less to buy or rent a house, pay utility bills, pay for food, transportation, among other things.
If you're planning to buy a house in Tampa or anywhere within Florida, SimpleShowing should be your best guide. Visit our site to browse available listings, book showings and connect with an experienced local agent.  
Get in touch. Send us a message now.