Peel and Stick Floor Tile Ultimate Guide: Pros & Cons, Cost and Best Brands 2023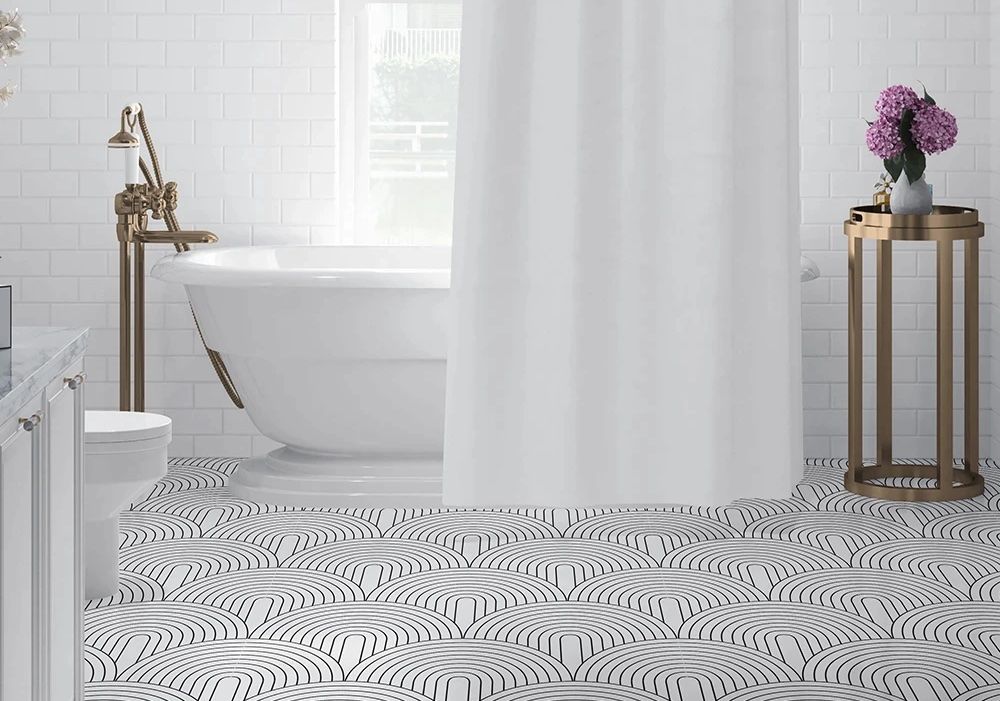 Mar 24, 2023
Before engineering wood burst onto the scene and LVP became popular, vinyl tiles were the preferred flooring choice by many homeowners who had a small budget. While available in many forms it's the simplest and most cost effective way of refreshing a home's floor.
Self-Adhesive Vinyl Floor Tile Installation
In general, vinyl flooring is relatively easy to install, but self adhesive tiles are truly the most simple. Most adhesive materials being placed directly onto the back surface,  installation doesn't require any hammering or gluing. Simply remove the paper and rip it off, place on a surface to lay the tile on the floor, and press to the bottom to hold on the substrate. A paper backing is used to protect the adhesive material prior to installation.
Best Self-Adhesive Vinyl Floor Tiles
Here are our top picks based on design aesthetics, popularity and reviews:
A leading manufacturer of vinyl flooring, FloorPops offers a vast selection of peel-and-stick products.
The popular vinyl tile is manufactured by Lucinda Surfaces and comes in packages of 5 planks.
Do-It-Yourself Installation with Natural Wood Look: Just peel and stick with this self adhesive vinyl flooring, which are easy to cut with scissors or a knife, no grout or special tools needed.
Another great option from FloorPops. The firm specializes in bold, graphic and contemporary designs of vinyl flooring tiles.
The Pros and Cons of Peel and Stick Vinyl Flooring
Vinyl flooring can be found in various forms, but peel and stick tiles are a popular option for quick rehab jobs, DIY enthusiast and cost-effective budgets. Here are some of the pros and cons:
PRO: You Can Install Peel and Stick Vinyl Over (Most) Existing Floors
Peel and Stick vinyl is a quick way to install a tile on most any type of flooring, except carpet of course!
PRO: It's Easy and Inexpensive to Install (You Don't Need HIRE ANYONE)
It's very affordable since it can easily be installed by anyone!
PRO: Self-Adhesive Vinyl Plank Flooring Comes in Tons of Looks and Styles
Peel-n-stick vinyl flooring has a variety of common look options. Despite its limited size there is no typical hardwood floor pattern or color of wood that isn't usually found in the market. Popular hardwood species exist but non-wood patterns are usually much more common.
CON: The Wear Layer is Thin
The wear layer is the biggest factor that determines the cost of peeling vinyl plans. It protects the floor from any damage. Peel and stick products are made from a vinyl material that's roughly 0.25 to 0.75 millimeters thick.
Peel & stick vinyl are thin compared with flooring such as LVP and engineered wood. Engineered wood, for example usually includes a heavy-wear layer that consists of a scratch resistant material. Plus, engineered wood or even LVP can be 3-4x thicker than peel and stick products. But to be fair, vinyl still wins a matchup of wear layer in a head-to-head matchup of vinyl vs laminate flooring.
3 Things You Need to Know When Using Peel And Stick Floor Tile
This is a list of three important aspects that home improvement stores will never explain to you!
1) The surface that you're installing the peel and stick vinyl tile over matters
Peel-and-stick floor tile can be installed on linoleum but it may be better to install directly over concrete or on a subfloor such as plywood.
2) Think about any items you might need to cut around in that room, such as molding or a staircase or the curved base of a toilet
Cutting intricate shapes to individual tiles can be tricky, for example the ones that will require adjusting the molding and the contour of the bathroom base can get complicated as they are cut.
3) Most Peel and Stick Vinyl Flooring Needs to Be Acclimated First
Typically, peel/stretched vinyl needs acclimation before installation to avoid damage. This prevent the tiles from cupping, shrinking or expanding after install. The acclimation period is usually 24 to 48 hours.
Vinyl Floor Tiles vs. Vinyl Sheet Flooring
Both standard type Vinyl Floors Self Adhesive Tile and Sheet Vinyl Roll are identical in production and have the same wear making them popular at home. While these two types share many of the same advantages such as simple cleaning and their ability to emulate other materials, such as stones or wood, there are key differences between them to improve performance. Vinyl tiles usually come in squares 9x9 inches or 12x12 inches. Sheets are available in 6'x12' wide rolls. This makes DIY install cheaper with tile, much simpler and more effective than sheet vinyl.
Important Note: Peel and Stick Vinyl Plank is Generally Not The Same as Luxury Vinyl Plank (LVP)
Stick and Peel Vinyl flooring can be quite luxurious. But when most people talk about LVP, they're referring to a floating floor product that may use an underlayment but typically does not feature a sticky/adhesive backing.
That being said, peel and stick floor tiles reviews are generally still very positive. In fact, most vinyl tile flooring products have received high praise in recent years, as the manufacturing process continues to improve. On a price per square foot basis, it's tough to beat vinyl flooring. While there are some laminate flooring options that may offer a slightly more affordable price point for the materials, peel and stick tile is still easier to install.
Peel & Stick Flooring and Sticky Tiles: Are they Waterproof?
The short answer is no. Most are water "resistant" but will deteriorate over time if regularly exposed to water - for example, in a bathroom near a tub or shower.
Are Peel & Stick Tiles Waterproof?
Most peel and stick vinyl floor tiles are water resistant and appropriate for high foot traffic, the product still as durable as ceramic or porcelain tile options. For commercial spaces, we recommend ceramic. Also, for a higher end home we recommend LVP or engineered wood, which both result in higher resale value, despite higher installation costs.
Peel & Stick Tile Cost
If you're a savvy shopper, you can find dozens of great peel & stick options for under $250 for a 500/sf room. This works out to be 50 cents per square foot for typical .4mm tiles or planks. There are certainly more expensive brands, but when you begin to approach $1.50/sf, you could begin considering LVP flooring.
The median material cost for average peel-and-stick vinyl flooring is about $700 for the materials for an entire 1,500 home. But you can get peel and stick floor tile cheap from online sources like Amazon or Home Depot.