Supercharge Your Day: Essential Online Productivity Tools For Success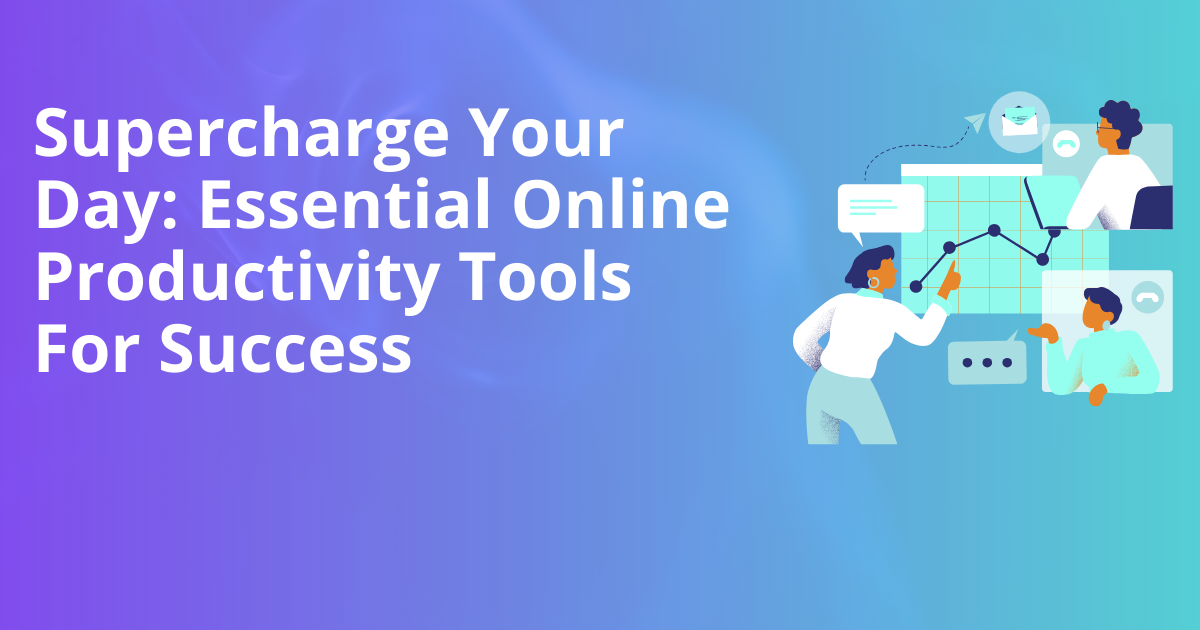 Oct 24, 2023
Are you eager to uplift your productivity and maximize your daily output? Look no further, as we have come up with the finest tools that are handy to supercharge your performance and ultimately make your path plain towards success. Let's discuss them.
Task Management Tools
Automatic task management tools are handy to increase the productivity of your daily tasks. Below are some of the top tools for this purpose:
1. Trello
Trello is one of the popular as well as simple online tools used for projects or task management. You can use the visual boards of the tool. Moreover, the tool is flexible, simple as well and powerful in its management. With the usage of Trello, you can easily reach all kinds of information;
What type of task is under consideration?
Who is working on a task?
What progress is on the task?
Deadlines of the task.
And so on…
Todoist is an online tool that can boost your productivity. This is because it efficiently makes all of your personal as well as professional projects organized and accounted for. The tool is essential to supercharge task management since it allows to;
Observe every kind of job.
Make lists of daily tasks according to their importance.
Collaborate at work.
Remind yourself of what has to be done.
Note-Taking and Organization Tools 
Online note-pad is a free tool used to craft editable notes online in your browser. All the necessary details written with a notepad will always be at hand. The tool uplifts your productivity in the following ways;
To create notes about all the tasks.
Craft ideas into words.
Organize all pertinent data in one location.
Organize the notes according to their Subjects.
It is a powerful online tool where you can capture thoughts and manage different project details and other tasks. There are several online tools on the internet that manage these things individually. However, no one supports all of them in a single place.
The tools can elevate your productivity by allowing you to handle the following tasks;
Take notes.
Track your progress.
Create a mood board for art.
Organize project details.
Create customizable documents for the organization.
Time Management Tools
RescueTime is an AI-based powerful online time management tool. When you make the tool active on your device, it will start tracking your active time.  In the meanwhile, it starts making records of all the activities on different platforms like applications, websites, etc.
Followings are some ways through which RescueTime elevates your daily work productivity;
It automatically sends notifications/alerts when you are distracted.
It makes you stay focused on the actual tasks.
Its goal-setting and focus time features make you remain attentive.
It minimizes the waste of your time.
Focus@Will is an online platform/tool that makes its users stay focused and calm during their working, studying, writing or reading time. Ultimately, the tool enhances the productivity of its users.
Moreover, the tool is equipped with several types of instrumental music. From there you can easily choose suitable ones. This will make you calm, focused, and sound throughout the working hours.
Communication and Collaboration Tools
Slack is an online tool that is built to streamline communication.  In the present era, where most of companies and businesses are becoming hybrid communication and collaboration technology is essential. You can bring into play Slack to break down the barriers of communication and connect in an innovative way. Let's discuss some points about how the tool is essential for increasing productivity;
With Slack, you can keep employees engaged/connected and productive with real-time conversation.
Here, you can easily manage all the communication by their projects, priorities and more.
Slack allows you to personalize alerts.
At Slack, you can launch immediate meetings.
Based on all the aforesaid benefits the tool will make your every task supercharged as well as superfast.
Google Workplace is a dynamic cloud suite that assists companies or business all around the world to carry out their daily tasks and reach their goals by boosting their productivity.
It was formerly known as G-suite. To boost the productivity of every business the tool provides the following  options for innovative communication/collaboration;
Google Calendar: To arrange conferences.
Google Sheets: To collaborate via spreadsheets.
Google Docs: It streamlines communication by allowing multiple employees or users to participate, write, edit, and comment on the same file.
Google Meets: Allowing communication through video calling.
Email Management Tools
Boomerang is a powerful tool that makes you easily manage important emails from your inbox. Boomerang come up with three features to streamline the email management;
Response Tracking: This feature makes you remember the important emails in case of if you don't hear any response. For this, the tool makes the email at the top of your inbox to alert you about.
Boomerang. Reminders: Using this feature of Boomerang, for special emails makes you remind about the response to those emails.
Send Later: With this feature, you can schedule emails to be sent later at a fixed time and date. Once you set this feature, the tool will automatically send those emails at the desired time.
Now, move towards some benefits or use of the tool that make it essential for supercharging your day;
It helps you always stay focused on vital messages.
Helps you remain quick and responsive.
Make you control messages to be sent at perfect time.
Helps you stay close to details and feel at peace.
SaneBox is a tool that helps you manage emails in an effective way. The tool sorts all the unimportant emails away from your inbox.
The tool does this by creating a new folder on your email account. That folder is named as "SaneLater". When the tool recognizes any emails that are deemed unnecessary to you, it will automatically filter them to that folder to be seen later. Let's discuss how the tool makes you productive;
It makes you stay away from unnecessary emails.
Makes you stay focused on time by filtering distracting emails.
Helps you find prioritized emails easily from inbox.
File and Document Management Tools
It is an image extractor tool that is stocked with the most recent technology known as OCR. Using this technology the tool scans and extracts the printed text on the images into digital form. The image-to-text converter makes you productive by transforming the physically formed documents, files, images, etc. into a digital form that is;
Easily storeable.
Quick accessible.
More Secured.
Based on the above usage, the tool makes all the processes or tasks streamlined regarding documents.
Google Drive is a user-friendly as well as versatile tool that helps you manage multiple types of files and documents. For this, the tool provides ample storage to be used. Now head towards, how the tool manages the files and ultimately makes your tasks more productive;
It provides an option to store and share multiple types of files like Google Docs, Sheets, Slides, and many more.
At Google Drive, you can categorize different files and documents into folders.
You can collaborate through the documents on the Drive allowing different people to participate, edit, and suggest in the same file.
Dropbox is a cloud-based online tool that can organize all types of documents and files for you and your team.  The tool can be used as your document/files repository. It helps you easily manage, organize, share, and find or access all the stored digital files.
Below are the ways "Dropbox" make your tasks more productive;
Making you create a document organization system for efficient and fast collaboration.
Consolidate your workflow by presenting all the files together in a single and convenient shared workspace.
Enables you to Download or back up any document to a more secure offline location.
Make you easily control access of others to files.
Conclusion
In the world of innovation, everything is going to be faster and more productive. In this scenario, it is necessary to make your everyday tasks streamlined and more productive to pave your way towards success. For greater productivity is essential to rely on some online tools that are efficient at automating multiple tasks for you. In the above section of this article, we've talked about some essential online productivity tools for success. It's time to deploy these tools and make supercharge your day.