Ten Creative Backyard Ideas to Transform Your Outdoor Space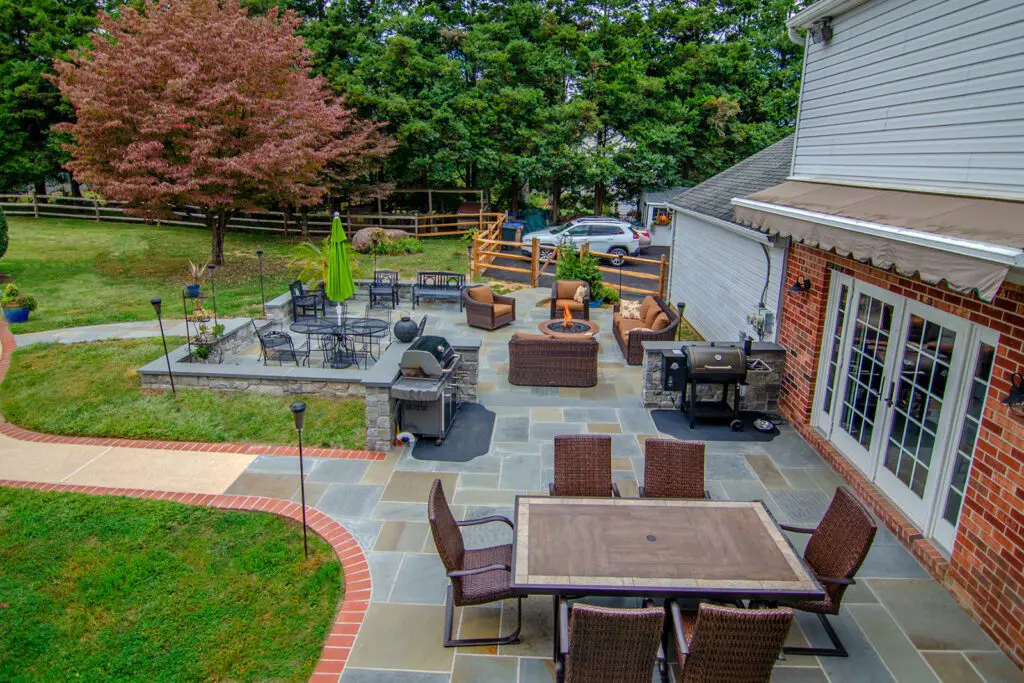 Jun 13, 2023
Backyards serve as an extension of our living spaces, offering the perfect setting to relax, entertain, and enjoy the outdoors. If you're looking to create a backyard paradise, there's no shortage of creative ideas to consider. From gardening and landscaping to outdoor entertainment and relaxation, the possibilities are endless.
In this article, we'll explore ten backyard ideas that can inspire you to transform your outdoor space, regardless of your budget or size constraints.
Backyard Landscaping Ideas for Outdoor Living Space
Garden Path, Stone Patio, and Vegetable Gardens
To have your own backyard space opens you up to many opportunities. Regardless of it being a large or a small backyard, these ideas are guaranteed to fit any of your needs to make your home experience much better.
From a vegetable garden to a cozy seating area to an outdoor fireplace, these options provide you with the multitude of possibilities on how to utilize the outdoor spaces available to your home.
1. Create a Multi-Level Landscape
One way to add visual interest and depth to your backyard is by incorporating different levels. Using retaining walls, raised planters, and terraced gardens, you can create a multi-level landscape that adds dimension and intrigue to your outdoor space.
This approach also offers a practical solution for dealing with sloped or uneven terrain.
2. Establish a Cozy Fire Pit Area
A fire pit is an excellent addition to any backyard, providing a warm and inviting gathering place for friends and family. Choose from various styles, including portable fire pits or built-in fireplaces, to suit your preferences and budget.
To enhance the cozy ambiance, add comfortable seating and soft lighting around the fire pit area.
3. Install a Water Feature
Adding a water feature to your backyard can create a soothing and tranquil atmosphere. Whether you opt for a pond, waterfall, or fountain, a water feature can serve as a stunning focal point and attract birds and other wildlife to your outdoor space.
Consider incorporating aquatic plants and fish to create a thriving ecosystem and further enhance your backyard's beauty.
4. Grow a Vegetable and Herb Garden
A backyard vegetable and herb garden is a rewarding and practical addition to your outdoor space. Growing your own produce not only promotes healthy eating but also reduces your environmental footprint.
Choose plants suitable for your climate and soil conditions and arrange them in raised beds or containers for easy maintenance. Consider companion planting to optimize space and boost the overall health of your garden.
5. Build an Outdoor Kitchen
An outdoor kitchen can elevate your backyard's entertainment capabilities, providing a convenient and enjoyable space for cooking, grilling, and dining al fresco.
Depending on your budget and preferences, your outdoor kitchen can range from a simple grill station to a fully-equipped kitchen complete with appliances, countertops, and storage.
6. Design an Inviting Seating Area
Create an inviting seating area in your backyard by incorporating comfortable outdoor furniture, colorful cushions, and cozy blankets.
Choose from a variety of seating options, such as benches, chairs, or even hammocks, to suit your space and style. Add an outdoor rug and potted plants to further enhance the welcoming atmosphere.
7. Add a Pergola or Gazebo
A pergola or gazebo provides a shady retreat for relaxation and outdoor dining. These structures can also serve as an elegant focal point in your backyard design.
Customize your pergola or gazebo with climbing plants, hanging baskets, or string lights for a personalized touch.
8. Set Up a Play Area for Kids
If you have children, a dedicated play area can transform your backyard into a fun and safe space for them to enjoy.
Consider installing a swing set, sandbox, or playhouse, along with a soft surface such as rubber mulch or artificial turf to cushion falls.
9. Incorporate Outdoor Lighting
Thoughtful outdoor lighting can significantly enhance your backyard's ambiance and safety. Illuminate walkways, seating areas, and focal points with a combination of path lights, spotlights, and string lights.
Solar-powered options are an eco-friendly and cost-effective choice for illuminating your outdoor space.
10. Attract Wildlife with a Bird Feeder and Bird Bath
Encourage birds and other wildlife to visit your backyard by providing a bird feeder and bird bath. These simple additions can promote local biodiversity while offering hours of enjoyment as you observe the various species that come to visit.
Choose birdseed suited to the species native to your area and maintain a clean bird bath to ensure the health and wellbeing of your feathered friends.
Conclusion
Outdoor Living Room
Transforming your backyard into an inviting and functional space doesn't have to be a daunting task. By incorporating these creative backyard ideas, you can create an outdoor oasis tailored to your preferences, lifestyle, and budget.
Backyard Landscape
Whether you're looking to entertain, relax, or enjoy a thriving garden, your backyard has the potential to become your favorite spot at home. With a little planning and creativity, you'll be well on your way to enjoying the ultimate outdoor sanctuary.