What Are Real Estate Brokers?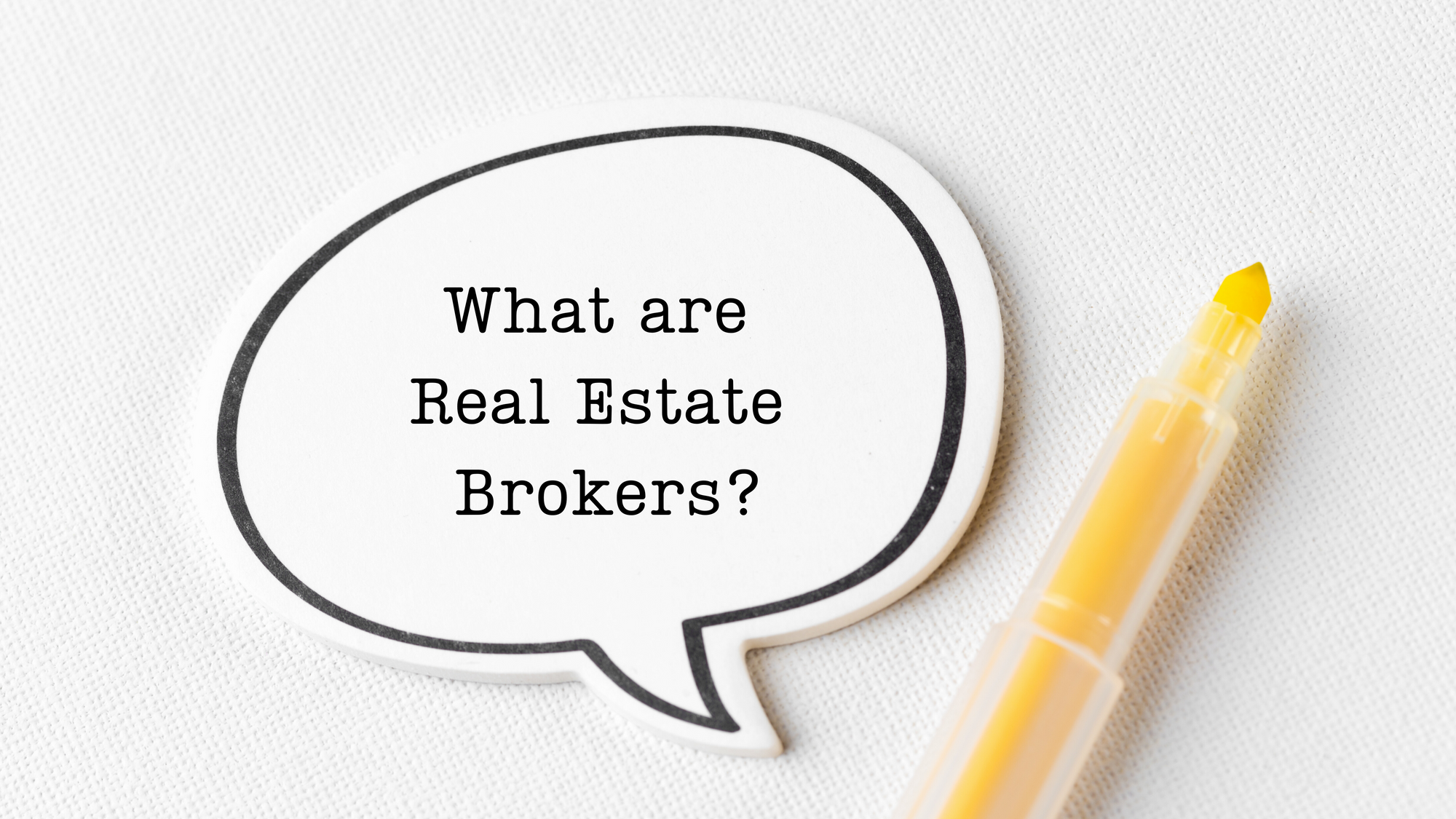 Mar 10, 2022
Whether you're about to put your house up for sale or are ready to start looking for a new home, it's inevitable that you'll eventually come across the term "real estate broker."
Of course, most people are already familiar with the title, even if they're not 100% sure what it is that real estate brokers do.
However, if you're thinking about buying or selling soon, it's important that you understand exactly what these professionals have to offer.
Real Estate Brokers vs. Agents vs. Realtors
In order to understand what real estate brokers do, it's best to begin by distinguishing them from two other real estate professionals: agents and realtors.
Many buyers and sellers confuse the three, but their roles are different enough that it's helpful to understand what each role brings to the table.
Real Estate Agents
We'll actually start with real estate agents as they're considered a step below real estate brokers.
A real estate agent – sometimes referred to as a real estate associate – is someone who has taken the classes their state legally mandates in order to carry this title and passed the prerequisite exams. This includes their state's actual real estate licensing exam.
Real estate agents can work for sellers, buyers, or both.
For buyers, they learn about everything their client wants in a new home and then work to find it for them. For first-time buyers, they often serve as educators, too. This is one of the most important reasons to work with a real estate agent if you've never bought a home before. They can answer any questions you have and provide helpful direction throughout the entire process, which is great for peace of mind.
Sellers rely on real estate agents to aggressively market their homes and solicit potential buyers. Again, they're also great resources for first-time sellers who don't understand all the ins and outs of this important decision.
Real Estate Brokers
Real estate agents can also decide to take their education further and become a real estate broker. Among other things, this would require passing the real estate broker license exam.
While real estate brokers can choose to work independently, the big advantage to becoming one is that they can also start their own agencies and have other agents work for them. These real estate brokers can still serve clients directly, but they'll also have managerial work to do as well if they're overseeing a team.
One benefit of working with a real estate broker is that they typically have more experience.
There are also brokers who actually decide to work for other brokers. They are called, "real estate associate brokers."
Realtors
Finally, realtors are real estate professionals who have joined the National Association of Realtors (NAR). Aside from real estate agents, other professionals who commonly join NAR include home appraisers, property managers, salespeople, and brokers.
At the moment, more than 1.3 million professionals belong to the NAR, making it one of the most recognized real estate organizations in the entire industry.
Of those 1.3 million, some 20% are brokers.
It's important to note that not every "realtor" is a "real estate agent". As mentioned above, any member of the NAR such as a property manager or appraiser can refer to themselves as a "realtor". Therefore, it's important to double check their license status before working with them to buy or sell.
NAR offers a service to find realtors in your area and you can then use Arello to confirm they have their real estate license.
How Real Estate Professionals Help Sellers
If you're hoping to sell your house in the near future, it might be a good idea to work with one of the real estate professionals we've mentioned above. They can:
manage and prepare documents, and answer questions about them
Entice buyers' real estate agents, realtors, and brokers by sharing their commission
Help negotiate offers and execute a final contract
Help you prepare your home for showings
Help you with the closing and move-out process
List your home on the MLS
Share your listing with other brokers to drive buyers to your property
Supervise showings and share feedback from buyers
Work on your behalf to coordinate the transaction
Perhaps the biggest advantage of working with a real estate agent, broker or realtor is their experience and resources. They'll likely have a network to leverage and resources that can help sell your house.
Even better, at SimpleShowing, we can pair you with one of these individuals who will only charge a 1% listing fee, despite all these helpful services.
How Real Estate Professionals Help Buyers
Real estate professionals can be a huge help to buyers, as well.
If you're in the market, a real estate broker, agent or realtor could help you:
Coordinate inspections and repairs
Craft initial offers and purchasing agreements
Deliver and explain documents
Locate properties that meet your criteria
Manage the transaction once a purchase contract is completed
Negotiate with sellers
Schedule times to view desirable properties
Again, the big advantage is just how many resources they have at their disposal to assist you because of their experience level and, potentially, the team of real estate agents who work for them.
At SimpleShowing, we'll connect you with a local real estate agent or broker when use our platform to book a showing. Plus, you'll qualify for our Buyer Refund Program. After you close on your new home, you could receive as much as $15,000 back.
Are You Looking for a Qualified Real Estate Broker, Agent or Realtor?
Every year, countless people will turn to real estate agents, brokers and realtors because they want to buy a house, sell theirs, or both.
Most are perfectly happy with their choices, too.
Whether you have unique requirements, simply want the process to be over with quickly, or you'd just prefer to work with someone who has lots of experience and resources, it might be best to work with one of these professionals.
At SimpleShowing, we have a team of real estate agents, brokers and realtors in your area. Give us a call at 800-456-8075, and you can begin the process of selling or buying a house ASAP with complete confidence.