What Are the Pros & Cons of Living in Atlanta?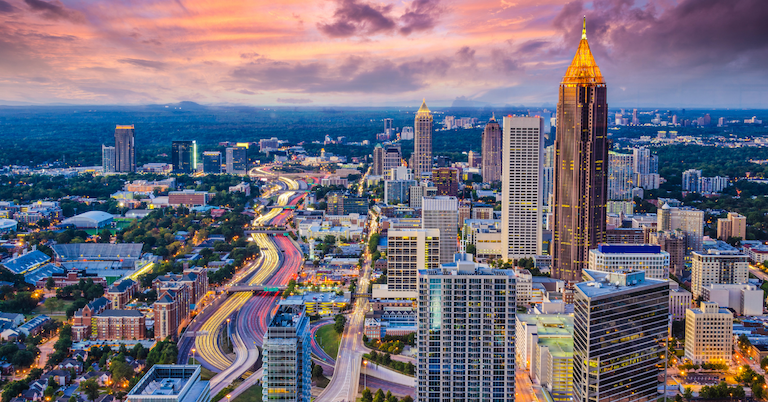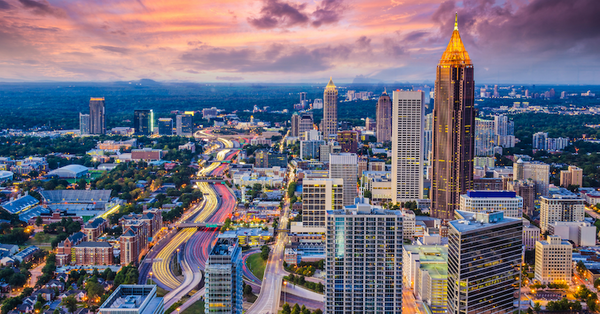 Oct 30, 2023
Atlanta is hot right now! This Metropolitan city is home to nearly 6 million people. With an extended history, top-notch restaurants, a popular nightlife scene, plenty of things to do, the benefits of big city living AND mountains and lakes only a short distance away, there's no wonder why the city's population is increasing. While Georgia's capital may have a lot to offer, not every aspect of the city is ideal for homebuyers.
Here are a few pros and cons to consider before packing your bags and moving to Atlanta.
What You Should Know Before Moving to Atlanta
People are looking to make big changes this year and that includes the extremity of moving to an entirely new city.
Also known as the New South or "Hotlanta" to some, Atlanta, Georgia has its desirables and downfalls but all of this comes down to your current situation. Do you have a family? Are your kids attending school? Where is your work located? Do you have a neighborhood in mind? City or suburbs?
Keep reading to find out if living in Atlanta is a great option for you.
Pros to Living in Atlanta
Newcomers may know about the highlights of the city, but let's dig a little deeper to uncover the unspoken benefits.
Stable Job Market
Finding a job can be challenging when moving to a new city but with 16 Fortune 500 companies in the area, opportunities are plentiful. According to learn.roofstock.com, there are rising employment gains in the healthcare, scientific and technical, as well as construction industries adding 1.2 million jobs over the next 30 years!
Affordable Cost of Living
With the cost of living 2% below the national average, we'd say Atlanta is a relatively affordable place to live. After all, you are paying to live in one of the nations' most desirable destinations.
To put it into perspective, this is equivalent to Dallas and way more affordable than New York!
A large contributor to the city's cost of living comes from housing. The median home price in Atlanta is $390,000 as of July 2022. A slight increase from the past few years. In this competitive real estate market, homebuyers are choosing to live in the suburbs versus in the city, however, with such diversity you will have no problems finding a beautiful home in the area.
Renters can even pay less for a furnished home here than in other major cities.
Overall, fuel and utilities, and property taxes can be found cheaper here than in the rest of the U.S. also.
Whether you choose to buy or rent, there are a plethora of homes within your budget!
Charming Neighborhoods
If you are wondering "Where are the best places to live in Georgia" Atlanta offers some of the most beautiful and charming neighborhoods if you're looking for cultural diversity.
One of our favorites is Inman Park, which ranks high on our list of hottest neighborhoods in Atlanta. The city's first planned suburb is full of stunning homes built in the 19th century into the early 20th century. This neighborhood is a quaint reminder of Atlanta's history and as far as Atlanta crime, it is listed as one of the safest neighborhoods in the city!
Want a taste of upscale living within city limits? Castleberry Hill is a well-known historic district that first began as warehouses needed for the cotton industry. This neighborhood has since been converted into a trendy hot spot for art galleries, shops, cinemas, and more!

The West End, located in southwest Atlanta, is also known to be one of Atlanta's popular historic districts. West End is highly attractive to home buyers because of its affordability and proximity to downtown. Young professionals, especially, love this neighborhood because of all it has to offer such as parks, trails, and museums!
Wherever you decide to plant your roots, Atlanta has an array of beautiful houses waiting for you to call home.
Cons to Living in Atlanta
Where there is an advantage there is also a disadvantage. Here are a few cons that locals consider drawbacks to living in Atlanta.
Overcrowded Population
Due to the newcomers from out of state, the population is seeming more overcrowded with each passing year. The metropolitan area comprises of almost 8,000 square miles and 14 counties. Add on top the numerous job opportunities and cost of living! The Atlanta growth projections are said to see a 2.9 million increase in population in the year 2050. We all know the more housing that is constructed the more people will come. As previously mentioned, the congestion of the city is one of the reasons why people are looking to purchase and rent homes in more suburban areas in recent years.
Limited Transportation
With more people come more traffic! One of the seemingly popular answers to the cons of living in Atlanta is the overwhelming amount of traffic. This is a disadvantage to consider if you are moving to Atlanta with a family. With kids' sports games, practices, activities, and school on the daily to-do list, commuting may become an unexpected burden.
With the majority of the town spread out, one of the biggest complaints is the walkability to get around town. Unless you live downtown where walking is feasible, the city's only means of transportation is driving in the consistent and dreaded traffic or taking the MARTA, the city's public bus and rail system which, unfortunately, doesn't reach much of Metro Atlanta.
If you are looking for a public transportation-friendly city to call home, Atlanta isn't going to be it.
Extreme Climate
Its nickname is Hotlanta for a reason! In the Summer months of July and August temperatures usually reach the high 90's and 100's. If that isn't extreme enough humidity usually lingers around 70%! Atlanta residents stick to indoor activities and air conditioning mid-year and Winters are often mild. Snowstorms are rare in Atlanta, but when it does snow it may seem like a foreign substance.
Other Considerations
Exploring the Heart of the City: Downtown Atlanta
Downtown Atlanta stands as a bustling hub, embodying a unique blend of historic charm and modern allure. Home to over half a million residents, the area is pulsating with energy, offering a diverse range of activities and amenities. Here, southern hospitality meets urban sophistication, providing a warm welcome to newcomers and visitors alike. Despite being more affordable than the national average, living in Downtown Atlanta ensures access to a plethora of cultural hotspots, such as the renowned Georgia State University and the vibrant Ponce City Market. However, it's worth noting that, like in most major cities, the cost of living can vary significantly depending on the neighborhood and lifestyle choices.
Green Living in the Atlanta Metro Area
The Atlanta Metro Area is acclaimed for its commitment to providing ample green space, contributing to the overall quality of life and offering a breath of fresh air in the bustling city. In comparison to other cities, Atlanta stands out with its numerous parks and green spaces, including the famous Centennial Olympic Park. This commitment to green living is a testament to the city's dedication to creating a sustainable and livable environment for its nearly six million residents. Moreover, the presence of Atlanta United, the city's beloved soccer team, adds a layer of excitement and community engagement, making the entire city come alive during game days.
Connectivity and Convenience: Atlanta's Transportation Hub
Atlanta's status as a major transportation hub is significantly bolstered by the presence of the Hartsfield-Jackson Atlanta International Airport, commonly referred to as Atlanta Airport. As one of the busiest airports in the world, it ensures unparalleled connectivity, making travel for business or pleasure highly convenient for residents. Additionally, the city is home to major employers such as Delta Air Lines, further solidifying its reputation as a key player in the aviation industry. While the metro area is sprawling, the comprehensive transportation network facilitates easy movement across the city and even to neighboring states like South Carolina. However, it is important to consider that, as is the case with most major cities, traffic congestion can be a challenge during peak hours.
Should I Buy A Home In Atlanta?
We hope we've made it easy for you to make a decision on whether or not you should buy a home in Georgia. With so many pros and cons, it all boils down to your personal preferences and your top needs in a home.
At SimpleShowing, our full-service agents are knowledgeable in finding you an ideal home in the Atlanta area. Plus, we offer a Buyer Refund Program which pays out an average of $5,000 towards your closing costs. To get started, you can book a tour of any home in Atlanta or contact us today to learn more!