What is the cost to refinish hardwood floors?
Oct 2, 2022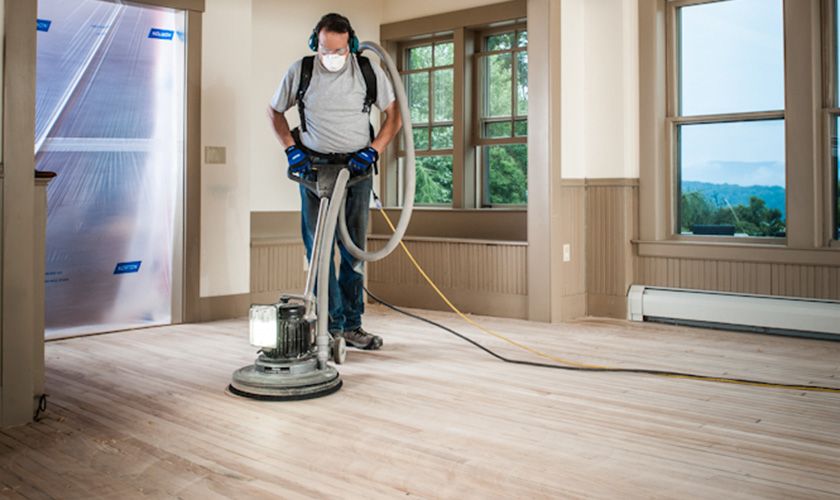 Every home is different, but one thing every house has in common – whether it's a three-bedroom craftsman or a sprawling colonial – is flooring.
Of course, floors don't always get a lot of credit when people are considering their favorite styles of architecture, but there's no escaping that they play one of the most prominent roles in any house. They're literally in every single room.
So, it shouldn't come as a surprise that many homeowners eventually consider how to spruce theirs up a bit. Refinishing hardwood flooring is a popular consideration, especially when the owner is thinking about selling soon.
3 Factors to Consider When Refinishing Hardwood Floors
With that being said, don't rush into refinishing hardwood floors. Even though they'll improve your home in more than one way, it's still a big decision.
To make sure it's the right one, consider these three factors before proceeding.
1. Not all hardwood floors are the same
Condition, location and type of flooring will dictate the cost of sanding and staining. If you're refinishing a symmetrical (square or rectangular) area or room with no stairs or difficult nooks, the cost per square foot could be quite affordable.
However, if you are refinishing floors in a multi-level townhome or in a property that has small closets and laundry areas that need to be refinished, the cost could increase drastically.
Obviously condition of the floor also plays a role. If several boards/planks need to be replaced, you'd also need to have "installation" performed as well. While most flooring experts offer both services, some flooring crews do installs but not refinishing or refinishing but not installs. If the condition of the subfloors is also bad, and require replacement, then the project cost could increase substantially.
2. Other home updates may be wiser investment
A report from the National Association of Realtors concluded that, while refinishing hardwood floors are almost always a valuable addition to any home, there are several other projects that tend to add more to a home's value.
For example, in terms of both "appeal to buyers" and "likely value to home for resale", the top three projects were:
Kitchen renovation
New roof
Bathroom renovation
In terms of projects that are likely to be more valuable if you sell, adding a new bathroom or master suite also beat out "new wood flooring."
3. The ROI or refinishing hardwood floors
It's extremely important that you consider the return-on-investment (ROI) of any home renovation, especially refinishing hardwood floors. As we've already touched on, installing new hardwood floors could increase your asking price by as much as 5-8%. But how about refinishing existing hardwoods?
Luckily the cost of sanding and staining is a fraction of the cost of installing new flooring. And the good news is that generally the ROI is higher as well. Based on our research, you can expect a return of about 30-70% when investing in refinishing. For example, if you spend $5,000 refinishing your floors, you may see a property value increase of up to $8,500 (70% ROI).
What are the average costs to sand and stain hardwoods?
If you're ready to hire a contractor or flooring company, use this guide as a measure or what we see nationally in terms of sanding and staining costs:
Average cost to sand red oak, white oak or pine flooring that is in "good" or "average" condition:
Low end: $2.00/square foot; High end: $5.00/square foot
Average cost to stain and poly red oak, white oak or pine flooring that is in "good" or "average" condition:
Low end: $1.50/square foot; High end: $3.50/square foot
Average combined cost to sand, stain (plus 1 coat of polyurethane finish):
DIY: Refinishing hardwood floors yourself
If you're considering refinish flooring but are worried about the labor costs associated with hiring a flooring company, you may consider tackling the project yourself. Here are the steps to get started:
Go to Home Depot or Lowes and rent a commercial drum sander for about $65 to $120 a day. You'll also have to purchase sanding paper in varying grits. For example, you will need to start with a low grit paper (e.g. 60) and then finish with a fine grit paper (e.g. 180).
Purchase stain and topcoat finish (polyurethane).
You may also need an edger, which is a smaller, hand-held sanding machine. This helps with corners and tight places in a room.
Keep in mind, approaching this type of project will not be easy! We recommend watching several YouTube videos before deciding to go this route. Refinishing hardwood floors can a lengthy process when you consider moving furniture, prepping the floors, dealing with all the dust and learning how to use the sanding equipment.
Is Refinishing Hardwood Floors Worth It?
The national average cost to refinish hardwood floors is about $4.50 per square foot. Depending on how many square feet you intend to cover, the average time investment is about 4-5 days for sanding, staining and two coats of polyurethane or equivalent topcoat.
Every year, thousands of homeowners make the investment and most are happy with the results. A survey by the National Association of Realtors found that 73% of Americans that refinished their flooring in 2019 would do it again if given the choice.
Speak to an Experienced Real Estate Agent About Improving Your Home's Value
Few would argue that newly refinished hardwood floors don't look incredible.
Most would also agree that there's a certain allure to them, as well. Most homebuyers associate hardwood floors with greater value, compared to LVP (luxury vinyl planks) flooring for example.
If you're thinking about selling your home in the near future, it makes sense that you'd consider spending some money to increase its price. It's just that refinishing your hardwood floors may or many not your best option.
At SimpleShowing, we'd be happy to connect you with an experienced real estate agent who can help you with this decision. Best of all, they only charge a 1% commission when you sell.
Contact us today and we'll explain exactly how it works.

Get in touch. Send us a message now.