Savor the Flavor of The Gulf: 17 Best Restaurants in 30A, Florida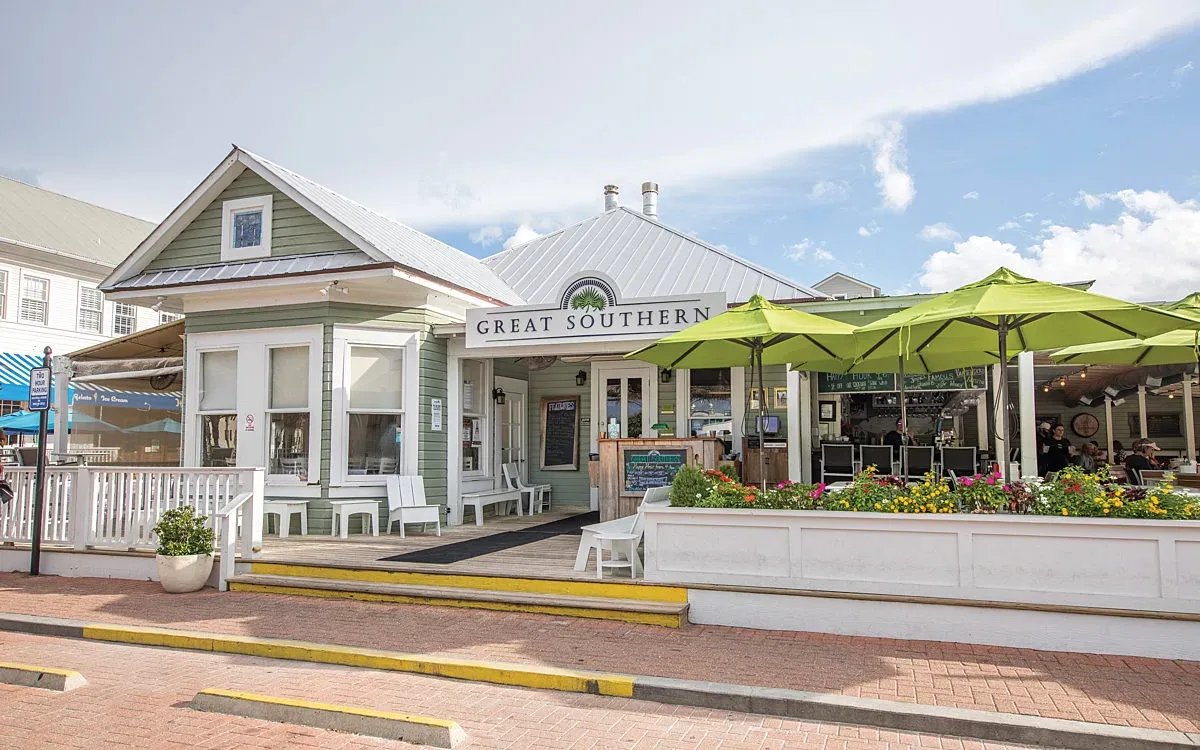 Sep 28, 2023
The 30A area of Florida is a scenic haven known for its pristine beaches, unique architecture, and diverse culinary scene. To help you explore the best that 30A has to offer, we've compiled a list of the top restaurants you must visit.
From cozy cafes to fine dining establishments, these eateries offer an incredible array of flavors and experiences that will delight your taste buds.
The Vue On 30A
For an upscale dining experience, The Vue On 30A is hard to beat. Offering breathtaking views of the coastline, this restaurant serves a delicious fusion of American and Caribbean cuisine.
Pescado Seafood Grill & Rooftop Bar
Located atop a four-story building, Pescado offers incredible panoramic views of the Gulf, along with a menu that showcases fresh seafood, prime steaks, and handcrafted cocktails.
Surfing Deer
(https://www.surfingdeer.com/)
With a focus on locally-sourced ingredients, Surfing Deer serves up innovative dishes inspired by the flavors of the Gulf. Enjoy expertly crafted cocktails alongside your meal for a truly unforgettable experience.
Cafe 30A
Cafe 30A is a fine dining establishment known for its elegant atmosphere and delicious cuisine. The menu features an array of fresh seafood, steaks, and pasta dishes that will leave you wanting more.
Fish Out Of Water
FOOW boasts stunning views of the Gulf of Mexico and a menu filled with fresh seafood dishes. With an open kitchen, you can watch as your meal is expertly prepared right before your eyes.
Shunk Gulley Oyster Bar
(https://www.shunkgulley.com/)
Named after a historic shipwreck, Shunk Gulley Oyster Bar offers a relaxed atmosphere with stunning gulf views. Enjoy a wide selection of oysters, fresh seafood dishes, and an extensive cocktail menu.
Black Bear Bread Co.
(https://www.blackbearbreadco.com/)
This artisan bakery and café offers freshly baked bread, pastries, and delicious sandwiches made with local ingredients. Stop by Black Bear Bread Co. for a delicious and satisfying breakfast or lunch.
Bud & Alleys
(http://www.budandalleys.com/)
A local institution, Bud & Alleys offers a relaxed beachside atmosphere and a menu filled with fresh seafood, wood-fired pizzas, and other mouthwatering dishes.
Great Southern Cafe
(https://thegreatsoutherncafe.com/)
Celebrate the flavors of the South at Great Southern Cafe, where you'll find mouthwatering dishes like shrimp and grits, fried green tomatoes, and a variety of po' boys.
La Loba's Bakery
(https://www.lalobasbakery.com/)
For a taste of homemade goodness, visit La Loba's Bakery. This charming bakery offers a variety of freshly baked bread, pastries, and other delicious treats perfect for satisfying your sweet tooth.
Local Catch Bar & Grill
(https://www.localcatch30a.com/)
This lively bar and grill serves up an array of coastal-inspired dishes, including tacos, seafood platters, and burgers. With live music and a laid-back atmosphere, Local Catch Bar & Grill is a great spot to unwind after a day at the beach.
The Perfect Pig
With a focus on Southern cuisine and barbecue, The Perfect Pig offers a mouthwatering menu filled with smoked meats, scrumptious sides, and decadent desserts.
Old Florida Fish House
(https://www.oldfloridafishhouse.com/)
Elegant and sophisticated, Florida Fish House offers an upscale dining experience with a menu that focuses on fresh seafood and fine steaks. Enjoy your meal with a selection from their extensive wine list and a great outdoor space for kids.
Blue Mountain Beach Creamery
(https://bluemountainbeachcreamery.com/)
Craving something sweet? Blue Mountain Beach Creamery serves up delicious homemade ice cream and sorbets made from locally-sourced ingredients. With flavors that change daily, there's always something new to try.
Hibiscus Coffee House
(http://www.hibiscusflorida.com/)
This quaint coffee house is a local favorite for breakfast and brunch. Enjoy an array of scrumptious dishes like omelets, pancakes, and avocado toast, all while sipping on freshly brewed coffee.
Pickles Beachside Grill
(https://www.dawsongroupseasidefl.com/pickles)
For a laid-back beachside dining experience, look no further than Pickles Beachside Grill. Enjoy classic American fare like burgers, hot dogs, and sandwiches, all served with a side of gorgeous ocean views.
Stinky's Fish Camp
(http://www.stinkysfishcamp.com/)
Stinky's Fish Camp offers a casual atmosphere with an extensive menu of seafood options, including fresh oysters, shrimp, and fish tacos. The lively environment and friendly service make it a must-visit spot.
Others
In the heart of South Walton County, the scenic highway of 30A Florida offers a diverse array of top-notch dining experiences. From casual lunch spots to romantic dinner venues, 30A is a culinary paradise where the picturesque communities of Santa Rosa Beach, Grayton Beach, and Rosemary Beach welcome foodies to indulge in local flavors.
Among the must-visit restaurants on 30A, the Blue Mountain Bakery in Santa Rosa Beach is the perfect spot for a casual lunch, where you can enjoy their signature crab cakes or a delicious chicken salad sandwich. For a more nostalgic experience, head to Grayton Beach's Great Southern Cafe, where you can savor their iconic grilled cheese and mouthwatering crawfish pie from their dinner menu.
Further east in Alys Beach, explore the wide variety of family-friendly restaurants that cater to different tastes. Take a trip to Inlet Beach and visit the pizza bar for a unique spin on classic Italian dishes, or spend a leisurely Sunday brunch at an elegant wine bar in Rosemary Beach. Don't forget to save room for dessert! Indulge in a heavenly scoop at the local ice cream parlor, or opt for a lighter alternative at one of the many frozen yogurt shops.
With so many exceptional dining options, the restaurants on 30A Florida never cease to impress visitors and locals alike. Whether you're seeking a romantic dinner or a family-friendly restaurant, 30A's Santa Rosa Beach, Grayton Beach, and Rosemary Beach are the ultimate destinations for food lovers.
Conclusion
Nestled among the pristine white sand beaches of 30A, Florida, the dining scene offers a rich blend of coastal cuisine and southern cooking that both locals and tourists alike can't get enough of. Seagrove Beach is home to the legendary Seagrove Village Market Cafe, a place where a delicious breakfast meets the charm of an eclectic menu. Not far off, in Seacrest Beach, food aficionados flock to Edward's Fine Food, promising a fine dining experience that complements the ambiance of the private beach nearby.
From the irresistible goat cheese dishes of Wild Bill's Beach Dogs to the authentic seafood paella that you can enjoy in the cozy dining room of Shrimp Shack, there's no denying that 30A is a culinary paradise. If you're looking to elevate your evening, indulge in the wine bar offerings at Gulf Place or make your way to the renowned red bar. Whether you opt to valet park or take a leisurely stroll along the waterfront, every restaurant mentioned serves a testament to the region's commitment to high-quality dining.
Furthermore, the allure of 30A's culinary landscape isn't just in its diverse selection but also in the stories that each restaurant holds. Places like Wild Bill's Beach Dogs, known not just for their exquisite dishes but also for their rich history, make dining in 30A a truly immersive experience. And with establishments like Shrimp Shack providing a front-row seat to the mesmerizing views of the Gulf, it's no wonder that the region is often hailed as a gastronomic haven.
From the welcoming atmosphere of Seagrove Village Market Cafe to the upscale aura of Edward's Fine Food, every dining spot in 30A is unique in its own right, offering a blend of tradition, innovation, and sheer passion for food. So, as you savor the flavor of the Gulf, you're not just treating your taste buds but also getting a slice of 30A's vibrant culture and heritage.