Can You Negotiate Listing Agent and Buyer Agent Commissions?
Dec 18, 2022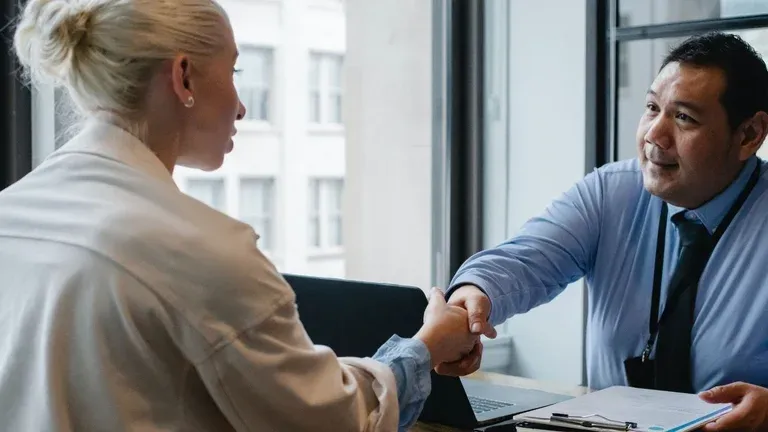 Realtor commissions are unfortunately a necessary evil for most consumers. For home sellers, agent commission is easily the biggest expense in selling a home - totally more than $25,000 for the average home seller in 2022.
What's more startling is that most people believe that using an agent as a homebuyer is "free" - which is incorrect. More on that later...
In short, yes - Realtor commissions are negotiable in most scenarios
Below we'll dive into when and how you can negotiate a lower rate and situations where you'll likely be more successful in obtaining a reduced rate.
When to Negotiate Commission Rates
As the Home Seller
The vast majority of Realtors in the US will advertise a 6% total commission, despite media and consumer backlash against the real estate industry.  Generally, agents will pitch you a 6% total commission rate with a 3%-3% split. This means that as your listing agent, they will receive 3% and then the buyer's agent will receive the other 3%.
Because there are two components the commission structure, you have an opportunity to negotiate both sides - the listing agent side and the buyer agent side.
Many agents will claim "I don't lower my fees", or "are commission rate is locked." Typically the agents will blame the brokerage, stating that the commission rates are set by the brokerage. As a broker myself (the author of this article), I can tell you with certainty that this is not true. There is no such thing as a locked/set commission rate.
My recommendation is to request that your agent reduce both the listing side commission and the buyer commission down by 0.5% on each side, for a total of 1%. For example, if the agent advertises a 6% total commission, ask the agent to lower the total commission to 5% which would result in a 2.5% commission to each agent.
Your target total commission rate should be 4.0 - 4.5%  
Many agents will accept a commission rate as low as 1.5 - 2.0% on the listing side, however I do not recommend reducing the buyer agent commission below 2.25%. Many agents will push back at reducing the buy-side commission below 2.5 or 2.75% because it may disincentivize some buyer agents from showing the property. In my experience, 2.25 - 2.5% on the buyer agent side is acceptable but 2.0% buyer agent commission is too low.
💡
Just because an agent is savvy at negotiating rates does not mean they will be a savvy negotiator during your home sale. Some agents are better at negotiating rates than they are at selling houses.
Negotiating Listing Agent Commission
While many big brokerages (such as Keller Williams, ReMax, etc.) have long resisted lower their fees, many independent brokerages have flourished with more creative and efficient pricing models.
SimpleShowing, the author of this post, has a 1% listing fee model for home sellers. Below is an illustration of how this breaks down from a cost saving standpoint, with total commission paid resulting in 4% versus the typical 6%.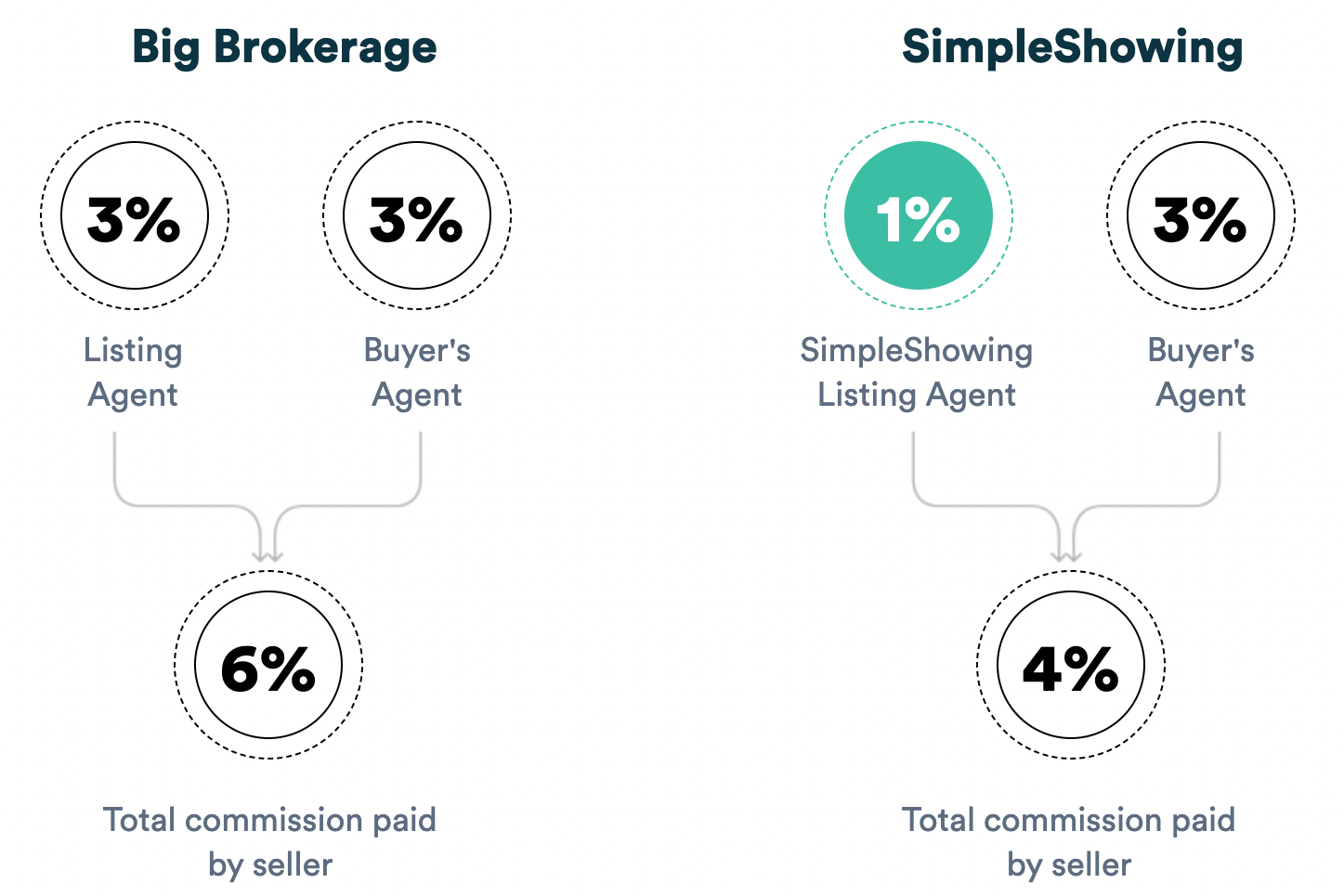 Negotiating Buyer Agent Commission 
When buying a home, most consumers believe that it is totally "free" to use a buyer agent when shopping for a home. Technically, this is not true. While we could argue the semantics around the term "free," it is true that you as the buyer do not pay them at closing. You won't hand them cash or write them a check.
While we recommend using a buyer agent (and we also employ buyer agents), keep in mind that there is a big cost to hiring one.
When you close on a property, the seller technically pays the buyer agent commission out of the home sale proceeds, however the cost of that agent is paid for by you, the homebuyer. Said another way, if you did not have an agent, you could buy the home for 3% less than the price that a competitive buyer was offering. In short, you can get a lower price on nearly every house by simply not using a buyer agent, which cuts into the seller's proceeds.
Nevertheless, most people do use agent and you can still "negotiate" with your buyer agent.
Ways to Negotiate Buyer Agent Commission
1) Closing cost credit
Tell the buyer agent you will hire them if they contribute a portion of their commission towards your closing costs. A commission refund or commission "credit" is a great way to reduce your closing costs as the buyer.
We recommend asking for 0.5% of the purchase price of the home. If the agent is paid 3%, they'll give you 0.5% and keep the other 2.5%. On a $500,000 home sale, this would be $2,500 for you and $12,500 to the agent. As a point of comparison, SimpleShowing, the author of this post provides a 1% commission refund.
2) Home inspection
Tell the agent you will hire them if they pay for the home inspection (value of $400 - $600) and/or a termite inspection (~$100).
3) Home warranty
Tell the agent you will hire them if they pay for a home warranty (value of $500 - $750) and/or a termite bond (~$500).
4) Repair allowance/credit
Tell the agent you will make an offer on a house if they contribute $x towards a certain repair. This will be reflected as a closing cost credit on the settlement statement.
5) Title insurance
Tell the agent you will hire them if they agree to pay for your title insurance policy. This is based on the price of the home and mortgage amount, but the average cost is about $1,500 and is paid at closing.
6) Commission contribution towards purchase price
You can also negotiate commission contribution as a method of improving your offer. For example, if the seller is offering a 3% buyer agent commission, you could require that your agent only accept a 2.5% commission, which would make your offer stronger. This is helpful in competitive, multiple offer scenarios.
Conclusion
SimpleShowing is a tech-enabled, low commission brokerage that operates in Florida, Georgia and Texas and has sold more than 1,000 homes since 2018. Get a free online home estimate or contact us to learn more.
Get in touch. Send us a message now.