The 5 Best Areas to Live in Atlanta, Georgia
Sep 28, 2022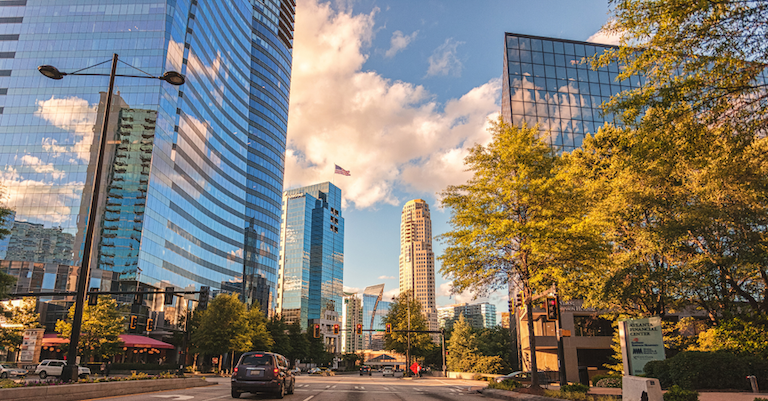 Atlanta is one of the best cities to live in the entire United States.
It has excellent weather most of the year, a diverse job market, fantastic food, and vibrant nightlife. It comes as no surprise that Atlanta was the fourth fastest-growing metro area within the US for the years between 2010 and 2019 – just behind Dallas, Houston, and Phoenix.
If you're looking to move to Atlanta, and you're wondering where you should locate, here are the five best areas to live in Atlanta for you to consider.
The 5 Best Areas To Live in Intown Atlanta
Below, we have included our choice of the 5 best areas to live in Atlanta and what makes these areas so desirable.
Morningside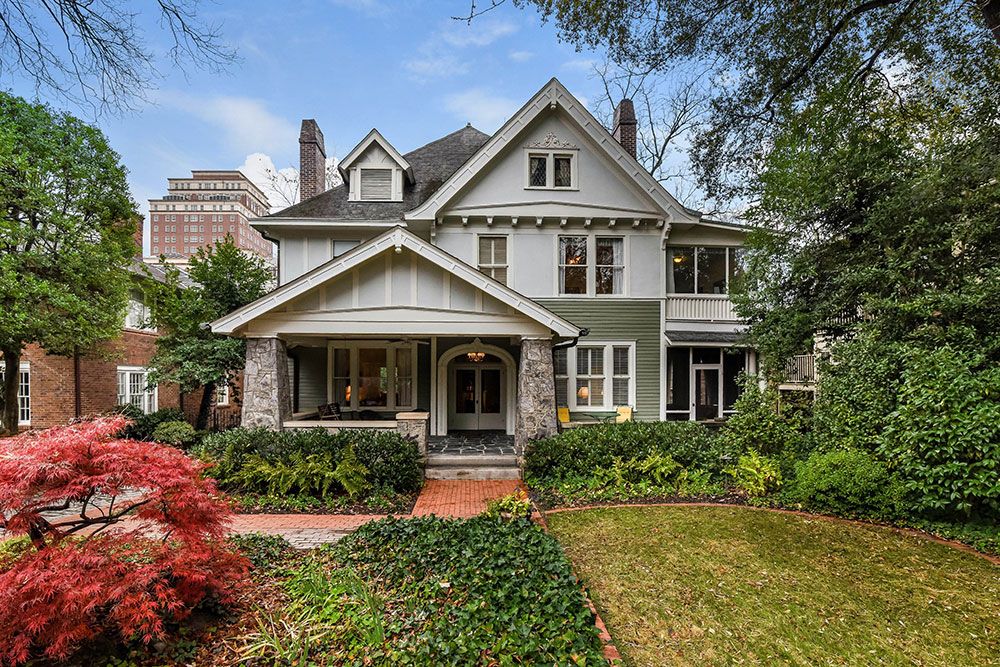 If you're looking for an upscale vibe, plenty of premier shopping, and some of the best dining options in all of Atlanta, then you'll want to check out intown Atlanta neighborhood Morningside. You'll see gorgeous homes that are walking distance to Piedmont Park and Midtown Atlanta.
Morningside is a safe neighborhood with plenty of excellent schools. If you have younger children, some great options include Jackson Elementary or Smith Elementary.
It is not uncommon for homes in Morningside to reach the multimillion dollar price point. If you're looking for a more affordable option and still wish to live in this area, there are tons of great condos buildings in the area as well.
View Homes For Sale in Morningside
Midtown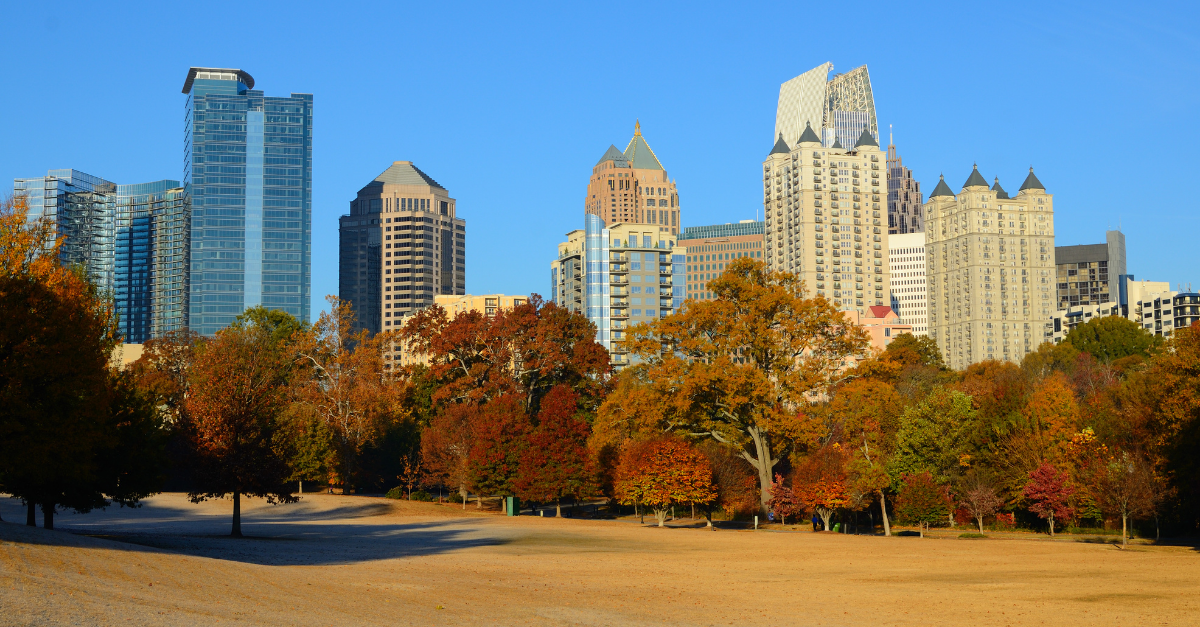 Prospective residents who are looking for a more urban place to live will undoubtedly enjoy the Midtown neighborhood. Situated north of 78 and east of the 85, this centrally-located area is in high demand.
Residents and visitors love going to the Fox Theatre or the High Museum of Art. This neighborhood is also home to the Margaret Mitchell house, the author who, of course, wrote Gone With the Wind.
Being in an urban environment means that there are many shopping, dining, and other venues to enjoy. However, Midtown Atlanta also includes Piedmont Park and the Atlanta Botanical Garden which are two of the tops reasons this neighborhood is so popular. With both of these excellent getaways so close, Midtown residents get the benefit of being in close proximity to downtown while also having the option be close to nature and a less-dense environment.
As expected from an area that makes the best areas to live in Atlanta list, Midtown Atlanta is a relatively safe place to live. And, like the other areas on this list, there are excellent schools in Midtown and nearby.

Condos are very popular in this neighborhood and represent a good portion of the housing options available. You can also find renovated bungalows in this area, but these will come with a million dollar price-tag. If you haven't checked out Midtown, then you need to add it to your list because you're missing out on a hidden gem in the city of Atlanta.
View Homes For Sale in Midtown
Old Fourth Ward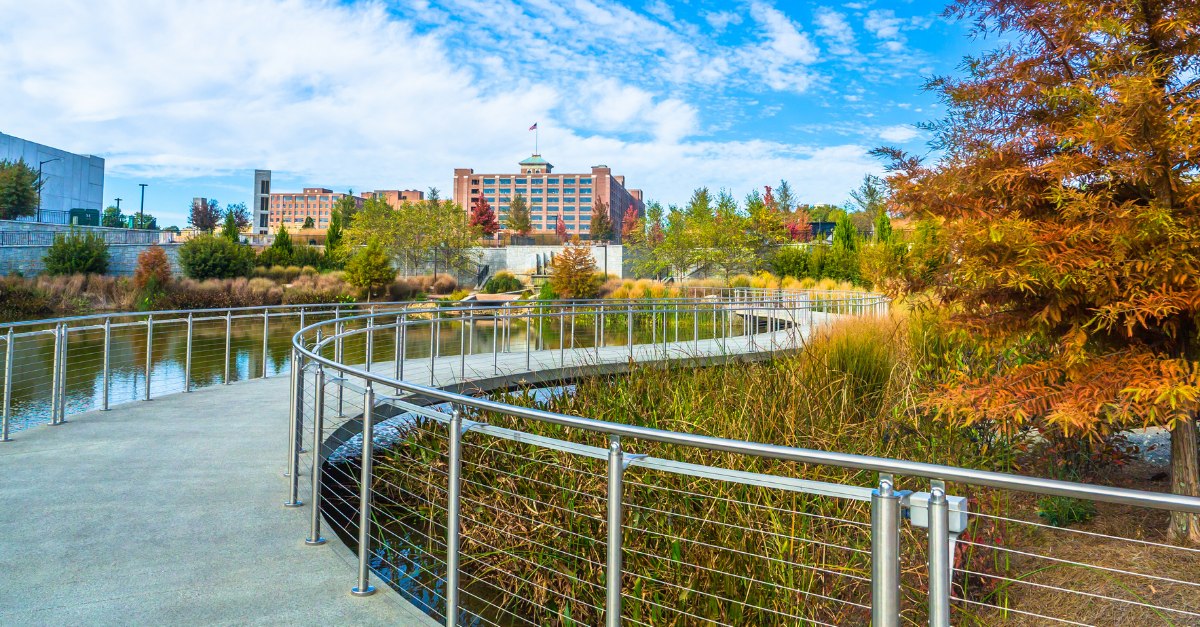 South of Midtown Atlanta is Old Fourth Ward, the area just below 78 and east of the 85. Much like its northern counterpart, Old Fourth Ward is an urban area with plenty of things to see and do! Indeed, Old Fourth Ward is becoming one of the hottest places to live in Atlanta with new developments popping up daily.
Part of what makes this place so attractive is the rich, vibrant history in it. This area has plenty of roots in the Civil Rights movement, and thousands of residents and visitors go to the Martin Luther King Jr. National Historical Site every year. At this National Park, you'll be able to see the birthplace of Martin Luther King, Jr. You can walk in his footsteps and hear his voice at the church where he became a positive force of change in America.
In addition to its historical ties, Old Fourth Ward has become increasingly popular for the community it has built around the Atlanta BeltLine. Old Fourth Ward is home to Ponce City Market, Historic Fourth Ward Park and many restaurants and breweries that have popped up nearby making this neighborhood one of the most visited spots on the BeltLine. With so many desirable places within walking distance, it's no doubt that Old Fourth Ward is one of the best neighborhoods to live in Atlanta.
Condos and lofts are very popular in Old Fourth Ward and are among the most affordable options for housing in this neighborhood. You can also find townhomes starting in the low $500K range and homes past the million dollar mark.
View Homes For Sale in Old Fourth Ward
Inman Park (Beltline)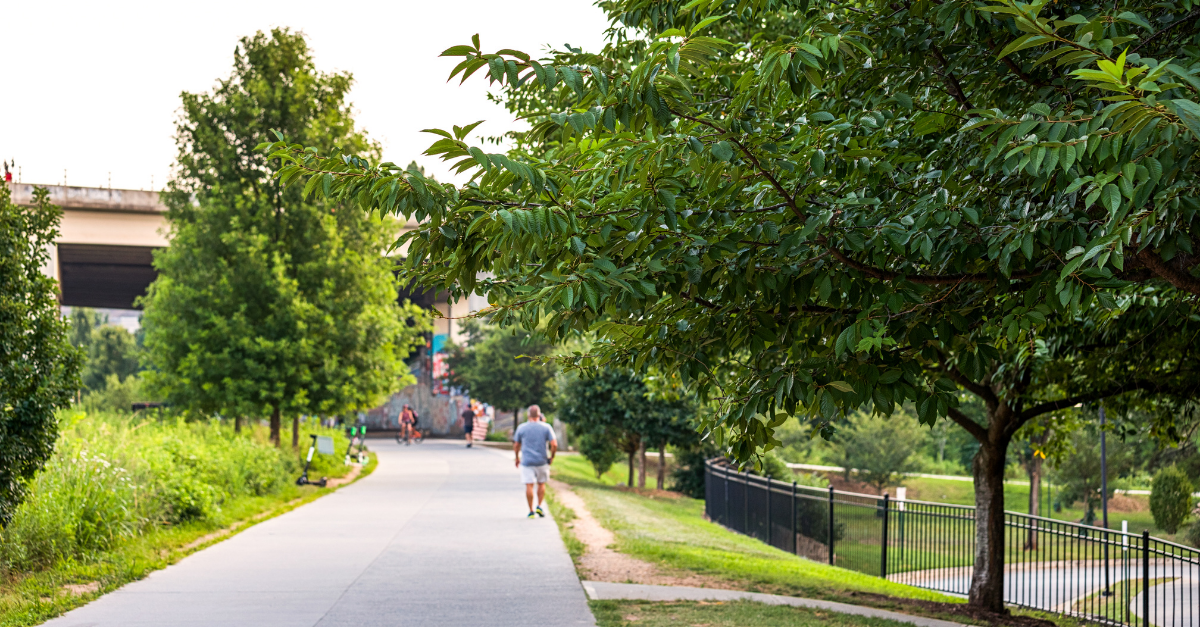 Technically, the Atlanta BeltLine refers to an abandoned railway, but people also know it is one of the best places to live in the city. It's no longer a railway but instead an extremely popular, mixed-use path.
When people refer to living on "the BeltLine," they mean living in one of the condos, apartments, or townhomes nestled along this path. The BeltLine path stretches from the already-mentioned Midtown and Old Fourth Ward neighborhoods, so it should come as no surprise that this area also makes this list.
It's essential, though, to call out the BeltLine area specifically because buying a home near this path is something that you'll almost certainly love. You can walk, bike, and skateboard on the trail, which has pubs, restaurants, parks, and grocery stores alongside it.
Since it is right by the neighborhoods we already discussed, residents go to those same quality schools and have the same vibrant areas as mentioned above!

Homes on the BeltLine are some of the highest in demand and come with a pricetag to match, but you can also find more affordable some properties on the BeltLine where it's expanding. For those who are less inclined to take a car and would rather live in one of the most walkable areas of Atlanta, a home along the Atlanta BeltLine is the perfect choice!
View Homes For Sale on the Atlanta BeltLine
Virginia-Highland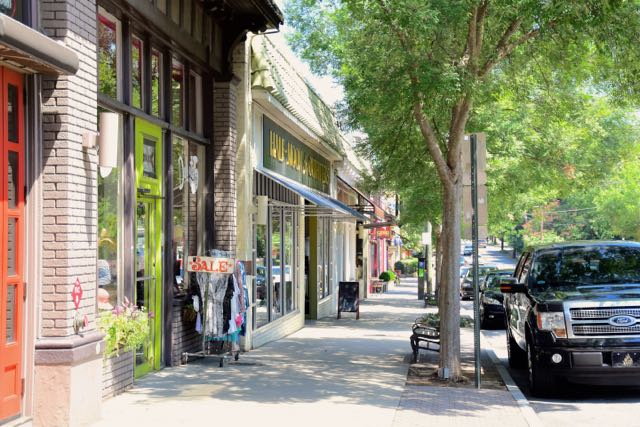 If craftsman homes are your idea of perfection (and who doesn't love the craftsman style?), the Virginia Highlands neighborhood is probably the perfect place for you. Situated just to the right of Midtown Atlanta, the "VaHi" neighborhood features plenty of history and fun things to do.
The Virginia-Highland's neighborhood is known for its shopping and restaurants. You'll find some fantastic Italian food at La Tavola, or classic American fare at Tom Murphy's eponymous restaurant. Both of these places are highly-acclaimed and have excellent reviews.
Virginia-Highland is also a safe neighborhood, with two elementary schools that receive an 8/10 rating on Great Schools (Morningside Elementary and Springdale Park). This area is secure, has excellent schools, and plenty of fun activities.
If you're looking for a neighborhood with tree-lined streets, a smaller community vibe, close proximity to the city and one that's ideal to raise a family, then the Highlands may be the perfect place for you to be.
View Homes For Sale in Virginia-Highland
Work with SimpleShowing to Find a Home in One of the 5 Best Places to Live in Atlanta
People are coming from all over the US to Atlanta for a reason. There are tremendous economic, educational, and cultural opportunities here.
From the MLK, Jr. National Historical Site in Old Fourth Ward to walking down the Beltline path, there's always something exciting and inspiring waiting for those living in this city.
If you're looking to move to the city, start your search by checking out the homes in these five best areas to live in Atlanta. There's an excellent chance that one of those homes would be perfect for you!
When you're ready to start touring, get connected with a local SimpleShowing agent who knows the area. Plus, we'll give you $5,000 on average towards your closings costs. To get started, contact us or book a showing of any home in Atlanta.
Get in touch. Send us a message now.