How To Sell a House Without a Realtor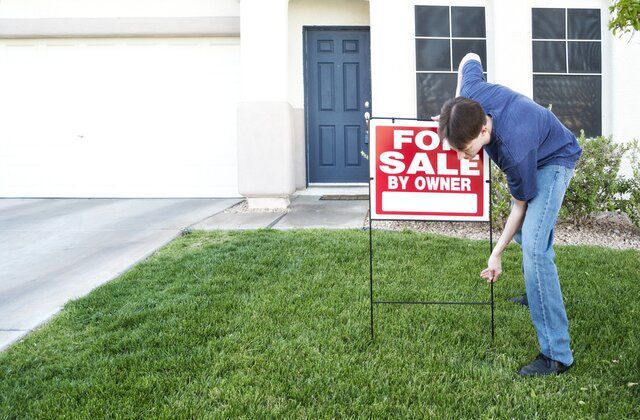 Dec 22, 2022
As home prices rise and inflation lingers, there's been an increase in homeowners listing properties without a Realtor. Each year, about 1 in 5 homeowners avoid agent commissions by selling their home without an agent.
Many homeowners ask themselves "is it worth it to paying an agent $25,000 to sell my house?" Prior to the internet era, selling a home largely depended on the skill, local connections and creative marketing efforts of your agent. Today, however, much of the selling is actually done by the house itself as well as the MLS - not so much by the actual listing agent.
While it's not an easy process, selling a home without an agent is very doable and could save you thousands in agent selling fees. Before you decide if you want to use an agent or not, check out these pros and cons:
Pros and Cons: Selling Without a Realtor
✅ You'll save thousands in commissions
The biggest benefit of selling without a realtor is avoiding some, if not all of the agent fees. When selling through a typical real estate brokerage, you'll be on the hook for 6% in total commission. Usually, you're expected to pay about 3% as a listing fee and then another 3% to the "cooperating" buyer's agent that brings an offer.
If you procure a buyer on your own, who is not represented by an agent, then you'll save the full 6%. This is easier said than done, but it does happen! Just in case, you'll still want to advertise that you're offering a buyer agent commission, even if you list FSBO. Most FSBO sellers offer between 2 - 3%.
So, in effect you'll for sure save the 3% listing fee, but you may also be able to avoid the buyer agent fee as well - although, this is less common.
✅ You'll get to call all the shots
Experienced home sellers tend to enjoy this aspect of FSBO. You will be able to determine your asking price, how to market the property, and how to negotiate the contract.
✅ You won't have to sign any brokerage agreements
Many sellers don't like being forced to sign a listing agreement that traps them with one listing agent for a defined period of time - usually 3-6 months. When selling FSBO, you can list for 3 weeks or 3 months and remove the listing any time and for any reason.
Cons
❌ You might not get top dollar for your home
Perhaps the biggest downside of selling FSBO or selling with an agent is potentially overpricing your home.
Many FSBO sellers list their home too high, which leads to high market time and eventually low-ball offers.
❌ Legal docs and can be intimidating
The purchase agreement and the associated amendments can be scary for first time sellers. While most states have standardized contracts, you'll want to make sure that you don't unknowingly agree to something that could put you or your sale at risk.
In particular, you'll want to be very cautious with disclosure docs and also agreeing to contingencies.
❌ Negotiating can be tricky
In hot markets, you may get a cash offer or a full price offer that requires little to no negotiating. Unfortunately, these are not common in cold markets, when inventory is high or when mortgage rates are high.
In a normal market, you'll need to negotiate things like the purchase price, contingencies, financing terms and contingencies.
Steps For Selling Without An Agent
1. Determine the value of your home
Pricing your home accurately is often the most difficult part of the listing process. That's because nearly every homeowner is tempted to try and list too high. It's easily the biggest mistake that most rookie "FSBO" (for sale by owner) home sellers.
Using only valuation tools from Zillow and Redfin are a great place to start. But remember that most online valuation tools have a 10-15% margin of error. Researching the price per square foot for comparable homes nearby will help you create a pricing window of what your home might be worth.
Next, you'll want to consider upgrades of your home and any renovations you've done. Even still, many homeowners will recruit agents to give them a CMA (comparable market analysis) and then use the data to inform them of their potential asking price.
2. Prep, Declutter and Make Repairs
Declutter: When you're ready to list - and on the day you get your photos taken - your home should look the best it has ever looked. Decluttering your house allows the buyer to envision what the space will look like. Tips for doing this include removing large furniture, removing items from counters or knick-knacks, clearing the floor, storing dishes and decluttering closets and garages.
Make Repairs: Major maintenance issues can turn buyers off and prevent showings before you even get started. Many agents recommend getting a "pre-listing inspection" before you list your property. While it's not required, it could help you uncover potential issues prior to selling. At a cost of only about $350, a pre-inspection might save you big headaches before the buyer's real inspection occurs.
Also, if you have obvious repair needs that you already know about - for example, you've got a leaky sink, faulty light switch or mold in the shower, you'll definitely want to tackle these because the issues will be easily discovered by homebuyers during showings and prevent a potential offer.
3. Get Professional Photos
Professional, high-definition photos lead to more showings. The majority of home buyers are searching online or via a mobile app for their next dream house and the major feature they have to look at is photos. Professional photos ensure that viewers will stop and pay attention to your listing.
If you rely on iPhone photos that you took in a rush, your listing is probably going to get hidden amongst the other hundreds of listings in your area. Finding a photographer is as easy as a quick Google search.
4. List Property on Zillow or the MLS
The easiest, albeit the less effective way to list your home fast is to use Zillow. You can do this absolutely free once you've determined your asking price and obtained photos.
That being said, hands down the most effective way to market your home is to list it on the multiple listing service (MLS). You can still list on the MLS and sell "FSBO." In other words, you can list on the MLS without retain a local real estate agent and without paying the hefty agent commission. While technically, an "MLS only" (or flat fee MLS) listing does require a broker, it does not require the typical 6% commission structure.
There are two ways to your home on the MLS without using a big, national brokerage like ReMax, Keller Williams, etc.
Flat-Fee MLS Listing:
These providers charge an upfront fee of usually around $500. They typically will provide a la carte services for additional charges - such as lockbox or yard sign. They generally do not do provide any valuation or contract advice.
1% Listing Agent:
A tech enabled, discount brokerages like SimpleShowing provide free photography, an MLS listing, coordination of home tours, contract negotiation and management of paperwork for a low commission rate of 1%.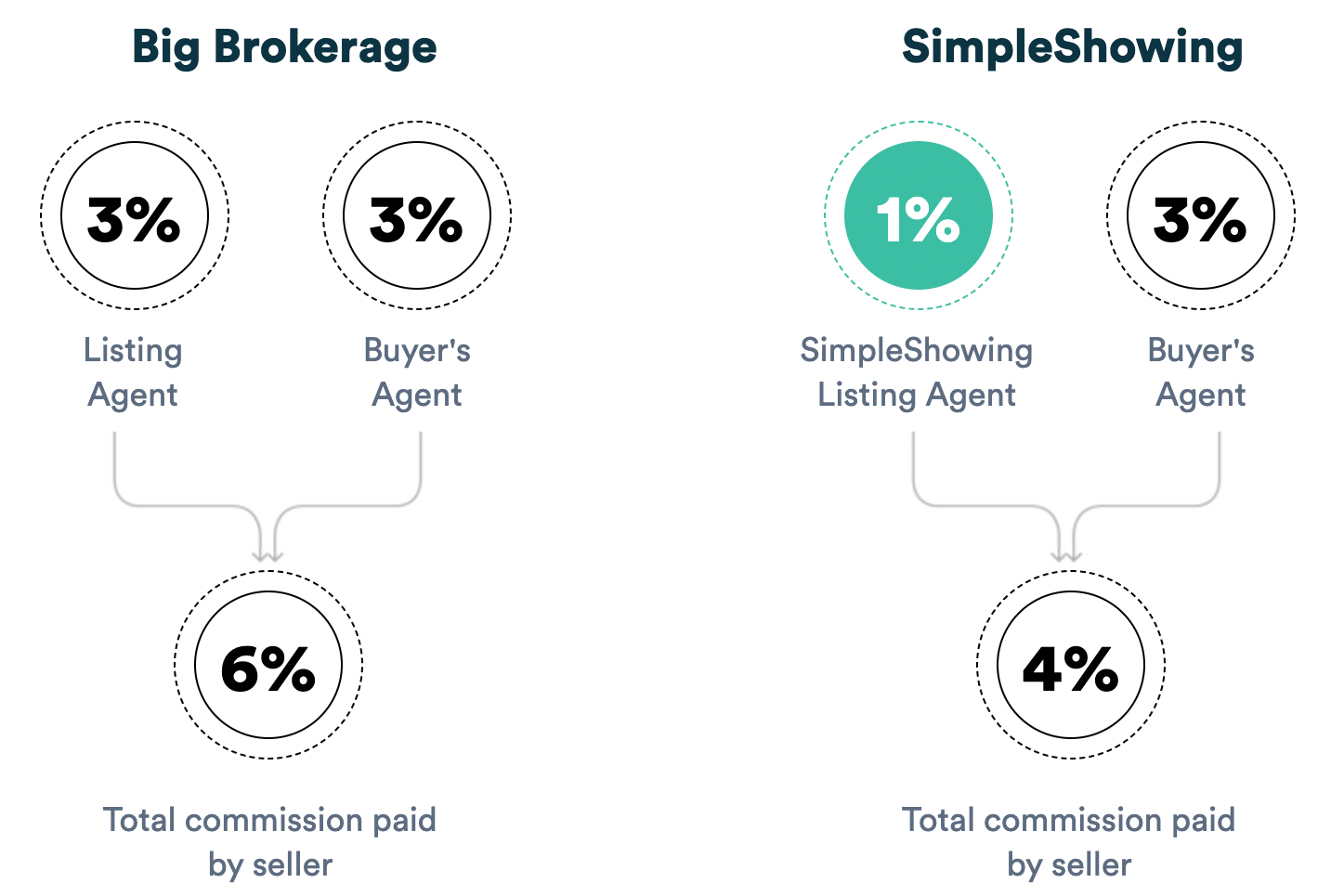 5. Receive & Accept Showings
Showing volume is truly the best proxy for buyer interest. In other words, the number of buyer tours you get dictates how much demand there is for your property. If your home price is $500,000 and only get 1 showing the first weekend, this is generally a bad sign. In contrast, if you get 5-6 showings the first weekend for the same house, this may indicate strong demand and an accurately priced property.
Once showing begin to roll in, it's also important to not decline showings, especially on the weekend. This has become more difficult in recent years with work-from-home setups, but if your home is priced accurately, prepare to have lots of showings - particularly the first week. And best practice is to accept them all!
6. Negotiate and Accept Contract
The prospective homebuyer will most likely be working with a buyer's agent. So, once you have legit interest, the buyer's agent will reach out to you with an offer. When you list the property, you'll set a buyer agent commission that you are offering. Remember, you'll be avoiding the 2.5 - 3% listing agent fee, but generally you'll still be on the hook for the buyer agent commission.
In rare situations, prospective homebuyer may contact you directly and may not be working with an agent. This is a great scenario if this happens, but in reality, it does not happen often.
After a buyer makes an offer, you can counter any terms you don't like - such as the price, the close date, financing or appraisal contingencies or any other special stipulations.
Alternatives to Selling on Your Own
SimpleShowing, the author of this post is one example serving Florida, Texas and Georgia. For a 1% listing fee, we provide a full service approach that includes everything you'd expect from a traditional agent without the hefty price tag. In fact, SimpleShowing sellers save around $11,000 on average compared to using a traditional, national brokerage.
Conclusion
Some tech brokerages can help when you're buying as well.  At SimpleShowing, you can also get full service and save thousands when you buy. When you work with a SimpleShowing Agent to purchase a home, we will pay up to a $15,000 towards your closing costs when you buy through us.
In conclusion, selling on your own is complicated but doable. And if you choose to list on the MLS, don't feel forced to use a big brokerage with an expensive commission structure.