Safest Cities to Live in Florida
Jun 9, 2021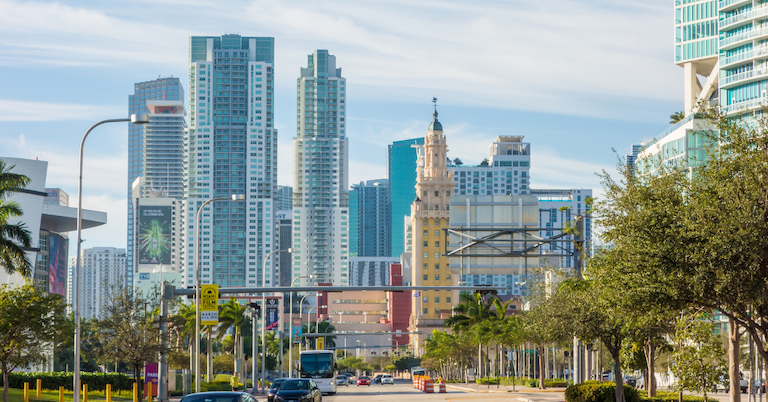 What's the first thing you consider when moving to a new place? Is it security, cost of living, schools, or the housing market? Well, all these are important considerations to put in mind when moving to a different city. There's no exception when moving to Florida.
Florida has always been considered a retirement location thanks to its abundance of beaches, golf courses, and opportunities for post-career relaxation. It is an ideal place to live for those looking for warm weather and plenty of sunshine.
But amidst all the luxury and fun that comes with living in Florida, is it a safe place? What are some of the safest cities in Florida? Read this article to find out.
1.  Tampa
Tampa in Florida is not only famous for its low housing rates but also the low crime rate. Life in Tampa is affordable, and finding jobs here is also easy, thanks to big companies and many employers. If you move to Tampa, expect to enjoy great cultural diversity as it continues to welcome newcomers from all walks of life.
The Tampa metro area ranks as the most attractive area in terms of development and job growth. There are many great neighborhoods to choose from if you're wondering where to live in Tampa.
2.  Weston
Weston is another excellent place to live in Florida, especially for retirees, because it's a pretty quiet community. The peace and calm in the area is due in part by the city being bordered by wildlife management. Weston can be termed as a new city with its first homes dating to 1984. With many houses coming up, it's sure to offer the best real estate commission for home sellers in the area and undoubtedly the best place to buy a home.
The residential suburb features various golf courses and numerous parks, making it a great recreational area. The place is also known for having the highest percentage of internet access and the lowest hate crime indices in Florida.
3.  Satellite Beach
Another great place to consider settling in when you move to Florida is Satellite Beach. Just the name alone is enough to tell you that this is a great retirement place for those who need to relax after long years of working. The residential area is located on an island on the East coast of Florida.
It's a small town and highly rated as one of the safest cities in Florida. The city prides itself on selfless volunteers who've worked hard to ensure its success. Move to Satellite Beach and experience the unique feeling of the beachside view.
4.  Miami
Miami is a popular city in Florida thanks to its flamboyant lifestyle, low cost of housing, and excellent safety. If you're moving to Florida either to stay or just visiting, you'll never run out of things to do if you land in Miami. The place is overflowing with activities, beaches to visit, and restaurants to try. But Miami is much more than a place to visit for a vacation.
The cosmopolitan flair and the beauty of the coastal city will surely invite you to settle permanently in Miami. Miami also boasts of one of the places in Florida with perfect weather. The cost of living in Miami is generally low, so you're never going to strain to live a comfortable life here.
5.  Cape Coral
Cape Coral is a place many will describe as a paradise. If you love the waters, the area welcomes you with all kinds of water activities, including fishing, boating, kayaking, among others. Cape Coral is only miles away from Disney World, making it easy for people who love to spend some family hours away from the confines of their home.
The city has a large senior population making it appear like a perfect destination for retirees. Recently, the place started flowing with career opportunities; hence, attracting a large population of the younger generation. A 2019 report ranked this place as the fastest growing in terms of the job market in Florida. Cape Coral is one of the best places to raise a family.
6.  Parkland
Parkland is one of the best places to live in Florida, thanks to its low crime rate. The crime rate in Parkland is 70 percent below the national average, which is pretty impressive. The place is home to around 30,000 people and boasts of up to five parks. If you love nature, this will be a perfect place for you. Parkland also has an Environmental Partner program that recognizes eco-friendly businesses.
This place also borders some wildlife management areas and might be why other parts are relatively quiet. The place doesn't have any traffic lights or stores, which indicates that it's peaceful and calm here. On the downside, the housing cost in Parkland is high because most of its residents earn the highest annual average income.
7.  Jacksonville
Jacksonville is popular for being one of the safest places to live in Florida, but it's also a place with a good job market and affordable housing. Businesses thrive in this place as it houses the famous Johnson & Johnson, Fidelity Investment, and Mayo Clinic. The unemployment rate in the city is as low as 5 percent.
There's a lot to do in the city, and if you have children, the best place to enjoy some family moments would be New York City's Central Park. The city also enjoys a low cost of living in Florida despite having an excellent employment rate. This is the place to be if you want to spend less and do more.
8.  Orlando
Orlando recorded a steady growth projection before the pandemic hit. The city is still one of the places with a low cost of living in Florida. Orlando has long been known to be the perfect tourist destination thanks to Disney World, the winter sun, and Universal Studios.
But moving here to live will offer you much more than just the attractions. Orlando is ideal for people who are looking for a job, as it is leading in terms of job growth in the U.S. The housing market here continues to grow and if you're looking to buy a house, do it as soon as possible.
9.  Temple Terrace
Temple Terrace was once a vast hunting ground that belonged to Temple Terrace, a socialite from Chicago. The place is now an excellent residential area located between the Tampa Executive Airport and the University of South Florida.
Temple Terrace is one of the places in Florida known to have low costs of living with a huge job market. It also has a high rate of internet access.
10.  Gainesville
Another great place to move to when you're looking for the best places to raise a family is Gainesville. With the low unemployment rates in this place, you have high chances of growing your career and supporting your family with a stable lifestyle. The city is nowhere near the beautiful beach life, but with up to seven nearby state parks, you're still going to have lots of outdoors to explore.
Being the youngest city on the list, expect it to be filled with young people who love a vibrant lifestyle. There are numerous opportunities here for young people. It also boasts of a flourishing real estate market in Florida.
Conclusion
Are you still looking for the safest cities in Florida? You have plenty of choices to make from the list above. If you're looking to retire after many years of work, you can choose a quiet city surrounded by beach life and several golf courses. If you're a young professional looking to build your career and grow your family, move to a vibrant place with many employment opportunities.
If you intend to buy a home in one of the safest cities in Florida, SimpleShowing will be at your service. Talk to us and let's help you find a good home in a safe neighborhood.
Get in touch. Send us a message now.